I gave up going to England home internationals about three years ago.  I got fed up with the fans around me who missed half of the game to have a piss, get a beer, leave early to avoid the rush.  I was fed up with the Mexican wave, the happy clappy cardboard things and the whole dumbing down of our passion.  And I was fed up with irrespective who is in charge of the squad, the team never rarely changes.  
Last night despite their long season we were being influenced to feel sorry for Lampard, Terry, Cole, Ferdinand et al for dragging their weary bones out of bed to play one more time for the national team.  After all, it is tough these days earning £5 million plus for an afternoon's work occasionally.
Unfortunately due to the fact we really do not take the development of our young players seriously enough we really have no other option but to keep playing the slowest centre back pairing in International football, or a one dimensional midfielder who last put a tackle in back in 2004.  So when the inevitable boos ring around the ground as we concede a goal (SHOCK, HORROR Another team cannot score against us…and at Wembley! ) those fans from Chelsea, Man Utd, Spurs etc are actually booing the fact we have no choice but to keep picking players who stopped being world class years ago.  And in part that is down to their own clubs set up.  One example?  Rewind five days to the very same pitch.  Two stars from Swansea on show were Scott Sinclair and Fabio Borini.  Both from Chelsea, both never had a chance of getting in the first team at the expense of another costly foreign import and both have now gone elsewhere.
Anyway, I chose to go and watch Rugby League rather than England v Switzerland.  But instead Brian Parish went along to Wembley…Over to you Brian whilst I go and lie down for awhile.
There have been times over the last ten and a half months when I didn't think today would ever arrive, but eighty-odd games and plenty of miles later, today is a momentous day; it's my last game of the 2010/11 season.
Despite the fanfare of that opening, it's not a game that has really got the juices flowing. England v Switzerland has not really set the pulses racing; despite the fact that the game is a sell out, it's almost a month since the Football League season ended (not including play offs) and the enthusiasm levels have had a chance to calm down a bit. Watching the occasional game has been fine, but after the excitement of Barcelona, Dublin and then Fulham last week, we're back on international duty.
Way back in September, we made the trip (via Zurich) to Basle for the first meeting in this qualification group between the two teams. In the pouring rain, we escaped with our bank balances more or less intact, and with an impressive 3-1 win. On the way home, we returned to Zurich to catch our flight, and in the time between the game and the flight home, we paid a short but damp visit to FIFA house.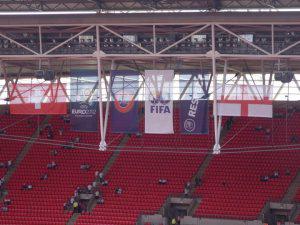 These were of course, the heady days when we were still bidding for the 2018 World Cup, and optimism that we would get it was running high. While we were in the building, Dan even asked if Sepp was in, and if he was, to pass on our best wishes. Since then, it's all gone just a bit wrong; the resultant bid was sunk without trace, as Russia won the right to stage the tournament, and then Qatar got 2022. Events in the last few weeks have not helped the image of the organisation in this country, and it's going to take quite a while before the FA and FIFA are best buddies again.
Of course, some have already argued about whether it's worth staying in FIFA, but then what's the alternative? Go it alone? And would anyone bother to join us? If we left FIFA, then not only would our national team be left in limbo, but our club sides would not be able to take part in European competition, and that's something that would never be contemplated.
It's probably worthwhile remembering that our relationship with FIFA has almost always been rocky; when the organisation was formed in 1904, it took us a few years to join, before we left again prior to the first World Cup in 1930. We didn't play in the showpiece tournament until 1950 (we re-joined just after the end of the war), and although we have had three presidents of the organisation, our history is not great. Perhaps this is just another spat in that fractious history.
The fall out from the failed bid for 2018 is still going on. Almost immediately, a proposed June friendly in Thailand was cancelled (arranged during the bid and then cancelled in a fit of pique?) and then we've had the recent parliamentary hearings, with Lord Triesman doing his thing. Consequently, we're not exactly everyone's cup of tea at the moment.
In a way, it's perhaps fitting that we should be playing the national team of the country where FIFA (and UEFA for that matter) is based. The Swiss have recently been trying to force these organisations to clean up or get out of Switzerland. Hopefully they've got better proof of wrong doing than a picture of some money in front of a brown envelope, or remembered conversations.
Saturday 4th June, England v Switzerland, Wembley Stadium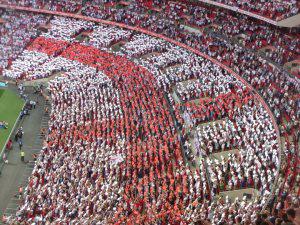 For some reason, today's game kicks off at 4.45pm. It must be a June thing, because two years ago, a Wednesday night home game against Andorra started at 8.15pm. And on the day of a tube strike as well. As anyone who has been here before will tell you, getting away from the stadium can be a bit of a mission, so with only a handful of Jubilee trains running, it was perhaps a testament to the support for the national team (or the blind faith we have in it), that an impressive 57,000 showed up that night. Given the unusual kick off time, perhaps Britain's Got Talent is now more important that the national football team, and what is an important qualifier.
The apparent lack of interest has been heading this way for a while now. The World Cup, pinnacle of the game, is now bloated and mostly dull. The unfortunate thing is that the Champions League, bloated with too many teams that aren't champions of their own country, is more exciting, but only when it gets to the knock out games. Most of the group games this season (with the honourable exception of Inter v Spurs) were not very interesting. Is the international game slowly becoming an irrelevance?
A full house at Wembley would suggest not. Most England games since Wembley was re-opened four years have had decent attendances, so it's either blind support of the team (and after last year in South Africa, it must be), or the "new stadium" factor is still in full swing. It's hard to imagine it getting the same as with Wales, who have only managed to sell out Cardiff twice in god knows how many years, and both of those games were against England, but it's possible. I can remember going to England home games at the old stadium when there were about 25,000 there. And it was still hard work getting to the station afterwards.
There are empty seats as we approach kick off, but these soon fill up as the game gets under way. The FIFA thing will just not go away though; the screens show a banner with the text "Swiss Family Robbing Son" and there's a picture of someone well known on there as well, but it's a "blink and you miss it" moment, as the image is only up for a couple of seconds before it's changed.
We have a couple of very early chances, and for a few minutes, it's looking like Basel all over again, where we will ease through the gears and win the game. However, on a day more suited to being at cricket than football, the Swiss start to get into the game. Joe Hart is forced into a good save after a shot from outside the area is deflected, and England are starting to look very narrow despite what looks like five in midfield. For ten or fifteen minutes, we don't look that good, and aside from a Rio Ferdinand header that loops over the bar on to the roof of the net, we haven't created anything apart from those early few minutes.
Around the half hour, it's all change. Firstly, Ashley Cole is forced off having picked up an injury in an earlier challenge, and is replaced by Leighton Baines. Then Switzerland score. Tranquillo Barnetta takes a free kick in an area more suited to just getting the ball into the area and scores; to be honest, I'm not sure how much he meant it, but the floated ball just eludes everyone, including a slightly surprised Hart, and bounces into the net. The Swiss team runoff in the direction of the large support, and the home fans are stunned. This wasn't meant to happen.
There's not much time for an England response, as within three minutes, its 0-2, and this one is even worse. It's another free kick, and from a tight angle, but Tranquillo is helped by two things; the wall splits as he takes it, and Hart is clearly not expecting the shot, as he tries in vain to keep the ball out with his feet. It's been thirty years since Switzerland last beat England, and they've got a great chance here.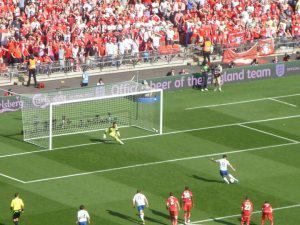 At this point, myself and Dan start discussing where each of us will be spending next year's holidays, when Jack Wilshire is fouled in the penalty area, following up his own blocked shot. Lampard scores from the spot kick, but only just; Benaglio has dived the right way, but just over the ball.
At half time, there is the usual rush to the bar or the toilets, while out on the pitch, the England women's team makes an appearance, before they go off to Germany for the World Cup. Perhaps they would like to play the second half for us?
As the teams remerge, there's been a change; Lampard has been replaced by Ashley Young, which is a move greeted with surprise by some, but mostly as a "finally he's done something" kind of reaction by others. We now have a bit of pace up front, as both Milner and Walcott haven't had the best of games so far.
Young's impact is almost immediate. Six minutes in, and its now 2-2. Some excellent play down the left hand side results in Baines knocking the ball back to Young who places it into the far corner of the net past Benaglio. From here, the hope is now that we can push on and win the game; the momentum is with us, despite the fact that we haven't really played that well.
For a few minutes, it looks as though we will, but then it descends into a stalemate, and neither team, aside from an occasional burst, looks like they want to win. Darren Bent, who had scored in September in Basle has a great chance twenty minutes from the end, but he skies a rebound after Young's shot is saved.
Ten minutes from the end, Young puts the ball over, after a mistake by Djourou allows Milner to get a cross in, but that's been it. England have looked tired, despite pre-match assurances that they are fine and ready to play. Injury time is announced as three minutes, and there is a late scare for both teams.
Firstly, the Swiss go within an inch of getting a winner (and an audible groan from the remaining home support), then Downing has a chance in the last seconds but his effort hits the side netting.
It ends 2-2, and an unsatisfactory end to the season. The plans for next year in Poland and Ukraine are still on hold, and this team has the annoying habit of making you think they may have finally got it worked out, only to frustrate once again. The next round of qualifiers in September will make or break this campaign.