GPS tracking of taxi drivers in NYC is at the heart of a new complaint filed in Manhattan federal court. Cabbies and the Taxi Commission are gearing up for a knockdown, drag-out fight.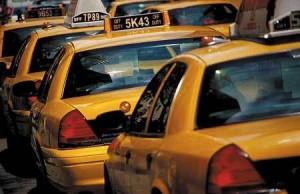 GPS tracking of cabbies causing an uproar. Federal complaint filed.
It seems that NY taxi drivers are already perpetual victims of rampant greed and mistreatment from shady garages. Cab lease fees are exorbitant, drivers pay out of pocket for their fuel, they are excessively surcharged for credit card transactions, and they do not share in the spoils when taxi fares are raised. To all these things, the drivers really have no recourse. If they complain, they lose their job. And now this.
The crux of the complaint is that the taxi commission is using GPS tracking devices to gather information on cabbies in violation of their fourth amendment rights against unlawful searches. The data received from the taxis has already resulted in prosecutions, lost cab licenses, and the imposition of large fines.
The cabbies and their attorneys will be fighting an uphill battle as there is already fairly extensive precedent for this new case. Drivers have already had numerous past complaints rejected by NY judges regarding the implementation of GPS tracking devices in NYC taxi fleets. The taxi commission has stated in the past that the devices help facilitate communications and dispatch capabilities, but it was inevitable that the vehicle tracking data would eventually lead to this. On an interesting footnote, NYC Mayor Michael Bloomberg is also named as a defendant. These are some pretty ambitious cabbies!
Source: http://www.businessweek.com/news/2013-05-31/new-york-cabbie-says-gps-tracking-used-to-punish-drivers-1
We have more great articles in our archives on GPS tracking technology. "GPS Tracking Meeting Resistance From Police and Fire Unions."

4113
Thanks! An error occurred!