When the
Livermore Valley Winegrowers Association
refused to assist us in designing an itinerary during our visit to the region, Dane Stark of 
Page Mill Winery
 quickly responded and scheduled a tour and tasting of his facility. Over pours of wine and a tour, he described the history of the winery. Page Mill was founded in 1976 by his father Dick Stark, but construction started a year before when he dug a huge hole under the family's house on Page Mill Road in Los Altos Hills to build out a winery and cellar. For the next 28 years. the winery operated at their home at the base of the Santa Cruz Mountains. Eventually, Dane took over the operation, and in 2004, Dane moved the operation to the "underestimated" Livermore Valley.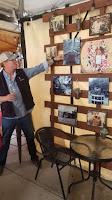 Stark refers to Livermore as being underestimated because he says there is a false impression in the Bay area that the region is too hot for grapes. Apparently, the S.F. news channels include Livermore in their daily weather reports and not only does it have the highest temps in the region, but that high temperature often reaches into the 90s. However, Stark noted that these broadcasts don't include the nighttime temperatures which show a large diurnal swing and help prolong the growing season and increase acidity.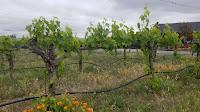 Since moving to Livermore, Page Mill Winery's estate vineyard has been farmed organically and driving into the premises visitors immediately notice the cover crops and tractor-pulled chicken coup.  The chickens help control the insects and babydoll sheep are an alternative to mowing as their manure also acts as a fertilizer. In fact. "sheep offer some of the best natural fertilizers as their manure pellets take time to dissolve into the soil". And in 2019, Stark moved toward biodynamic farming with the first release of biodynamic wines planned for the 2022 vintage.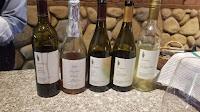 In the meantime, Page Mill's current portfolio is outstanding.  We started with a lively
2021 Livermore Valley Sauvignon Blanc
followed by the
2021 San Francisco Bay Chardonnay
. The grapes derive from Page Mill's former location near the Santa Cruz Mountains. Interestingly the hierarchy of AVAs starts with the
Central Coast AVA
then down to the
San Francisco Bay AVA
 which the
Livermore Valley AVA
is a sub-AVA within. We sampled a range of reds that truly showcased the diversity of the region from cool-climate Pinot Noir to a Merlot and Cabernet Sauvignon. My favorite was the GPS - a blend of Grenache, Petite Sirah, and Syrah that just melts the palate.  Looking forward to posting on its longevity by opening the 2016 I purchased.  
I also want to return on the third Sunday of every month for Page Mill's BYOB program where consumers can fill one of their bottles for $10. A great idea.