…a graphic designer's dream…
Got a new "Design Under the Influence" on La Dolce Vita today!
Subject: you guessed it, Goyard…a little history, a little eye candy, and a few inspired-by products to make that covetable pattern your very own.
While researching, I collected a bunch of street style and celeb style images with Goyard bags front and center, clearly stealing the scene. Buggers.

Samantha via Racked.com



Nicky Hilton



Shania Twain



Gwenyth Paltrow



Abby via Racked.com

Lauren Conrad



Jinna, greaseandglamour.com



Rodarte's Laura Mulleavy



Diane Kruger



Nicky Hilton
I honestly wasn't that familiar with the legendary French luggage manufacturer beyond the iconic pattern. I was most impressed with the fact that the pattern is hand painted! And the monogramming as well, which apparently you can custom order with family crests, crowns, you name it.
And like Louis Vuitton, L. Maison Goyard has expanded its product line beyond luggage and bags to include scarves, dog collars and bowls, an iPhone cover and iPad cases, and…did I really see a pink Barbie doll trunk?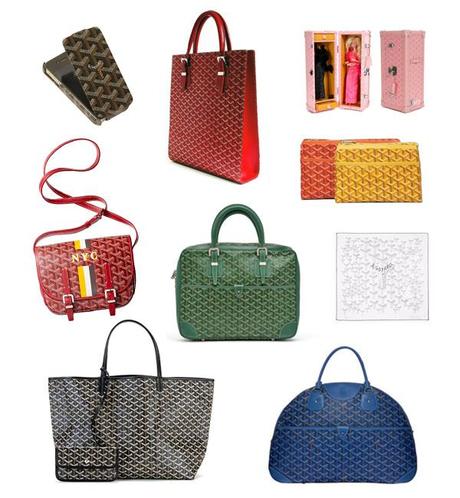 For more, go check out my "Design Under the Influence" post and let me know if you learn something new too!