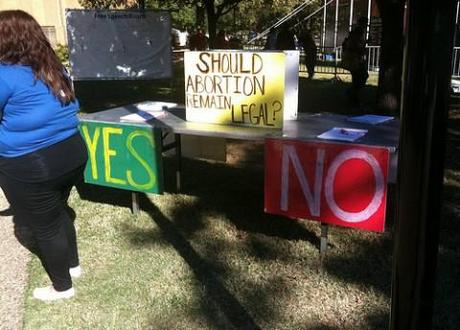 Abortion: Emotive issue. Photocredit: Wesley Fryer http://www.flickr.com/photos/wfryer/5172605748/sizes/m/in/photostream/
The government has announced a U-turn on proposals to take away from doctors and charities the exclusive responsibility for counselling women looking for an abortion. The proposals were tabled in an amendment to a health and social bill by a backbench Conservative MP, Nadine Dorries, and would allow advice for women independently of the abortion provider.
Dorries' argument is that since charities are paid to give abortions, they face a conflict when counselling. Her proposition "would reduce abortions by a third." The Guardian took the angle that if approved, the amendment "could sideline abortion charities such as the British Pregnancy Advisory Service and Marie Stopes International, and leave the system in disarray."
The Department of Health has now announced that there will be a consultation to discuss counselling for women. It comes on the same day that new research shows abortion increases the risk of mental health issues, reported The Daily Telegraph. So what's going on? Is this bill a sideways attempt at getting the abortion limit reduced? Does Nadine Dorries have Christian connections? This tiny amendment seems to be catalysing a storm of opinion, as pro-lifers and pro-choicers face each other across the battle lines.
Is God playing a role? The website Liberal Conspiracy highlighed Nadine Dorries' Christian connections, claiming that whilst she said she was pro-choice, she had in fact received advice from Dr Peter Saunders of the Christian Medical Fellowship, and had attended the Christian Alpha Course.
The insidious nature of the amendment. Zoe Williams in The Guardian gave Nadine Dorries' proposals the what for. It looks "innocuous," she said, as who on earth would object to women getting more choice in counselling? But it's actually very dangerous. Her amendment is carefully worded, advising that the government should provide "independent information." Independent means anything – like CareConfidential, known for its misinformation. And it takes away the rights of the Marie Stopes organisation, and the British Pregnancy Advisory Service, to give information. Dorries' objection that the BPAS are "salesmen" is ridiculous – they're a non-profit charity. Whilst Dorries claims she is "pro-choice", she is actually seeking for the time limit on abortions to be brought down. The argument's been "dishonestly made," and it represents the worst of "backstreet politics."
"It would obviously be brilliant if there were no abortions at all.  It would be great if, as Ms Dorries suggests in her forthcoming Private Member's Bill,  young women could feel comfortable saying no to sex, and even more astounding if young men could take some of the responsibility for sex on themselves.  
It would also be marvellous if I could get my unicorn in time to ride to watch England win the Rugby World Cup Final – politics should not stoop to wishful thinking," said Ben Archibald on Dale & Co
Listen to America, pro-lifers. Zoe Williams is getting hysterical, said Tim Stanley on The Daily Telegraph. To avoid these sort of reactions, if pro-lifers want to learn how to outlaw abortion, they should look at the Republican Party in America.  The message is clear – don't talk about Jesus, just deal with it as a matter of medical ethics. If it can be shown that "abortion is applied dangerously, uncleanly, casually and all too frequently," then people might want to curtail it. Though Dorries says she doesn't want that, "her emphasis upon regulation is a brilliant first move," as it's using the Left's bureacracy against them. "The strategy is starting to work in the US and it might just catch on here."
"Nadine is all for choice. She just intends to make it for you and you're damned to hell in a side cart or branded a stalker if you dare disagree with her," said Spiderland.
What does Cameron really think? It's about time there was a U-turn, said The New Statesman's Staggers blog. Downing Street has now showed they've understood that Dorries' proposals don't stand up to scrutiny. Dorries claims that the BPAS and Marie Stopes are paid millions to provide abortions – and yet they have no financial stake at all. There's no evidence for Dorries' claim that abortion clinics are "abusing women." There's nothing in Dorries' amendment that prevents religious organisations offering advice, and no prohibition against groups with an anti-abortion stance. Cameron's taken a long time to perform this U-turn, which begs the question: "what does he really think?"