Rumour has it that Casanova, the writer and diplomat, who ended up being famous for his numerous conquests, was so convinced of the aphrodisiac qualities of raw oysters that he ate at least forty for breakfast everyday. He would also share the taste of oysters with his lovers, offering this delicious morsel as part of the foreplay. Today, some question the aphrodisiac qualities of oysters, but what is certain is that had he lived today in Barcelona, Casanova probably would be ruined within a few months. And, although it is inexplicable that in a coastal city with a port as important as Barcelona, excellent quality oysters at keen prices are rather difficult to find. However, a few years ago Frenchman Thierry Airaud an importer and distributor of French oysters had an excellent idea.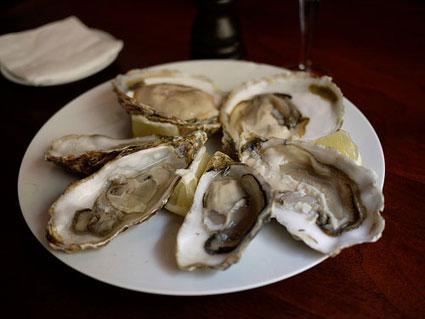 In various European cities an interesting concept has been around for a number of years: a mixture of a store and restaurant specializing in oysters, usually called oyster bars. Good quality oysters used to be found in the Catalan city of Barcelona in restaurants but the concept did not exist until the fist oyster bar opened 10 years ago as the first establishment of this type. Thierry Airaud opened his first in the hip district of Sarri. Called Gouthier, this quaint oyster bar has become extremely popular over the past few years, becoming a shining example of an oyster bar that is able to offer quality products at reasonable prices.
Fresh oysters from the Marennes region in France are the most popular and they come in different sizes, with prices ranging from one and three euros per unit. As an ideal companion, monkfish, foie gras, octopus and marinated salmon in malt whiskey is also offered. There is no information about what type of beverage Casanova drank during his oyster tasting conquests, but in any case the Gouthier Oyster Bar recommends white wine or French champagne served by the glass from their selection of drinks.
This unashamed luxury may seem a bit on the expensive side at first glance, but the commercial vision of Monsieur Airaud has led him to offer reasonable prices with a wide range of products where you can dine in contentment for around twenty euros. Nevertheless, those who want to enjoy the superior varieties of oysters should be willing to pay double or triple – I suppose it just depends on your love for good quality oysters.