This post may contain affiliate links. Please read my disclosure.
Melted brie and taleggio cheese, sliced pear, arugula, and honey are sandwiched between a whole wheat baguette and pressed to perfection to create this gourmet grilled cheese sandwich. Ready in just 15 minutes and kid-friendly too!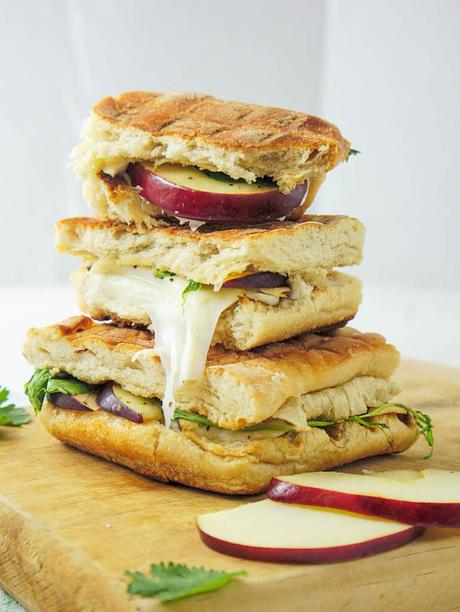 Grilled cheese gets a MAJOR upgrade with this recipe, and once you taste this you'll never want plain grilled cheese again! We love grilled cheese sandwiches in our house, but I don't love that the traditional recipe (white bread, butter, American cheese) is more of a treat than a dish you can have all the time. This gourmet grilled cheese has all of the decadence of the traditional recipe, but is lightened up and healthy too!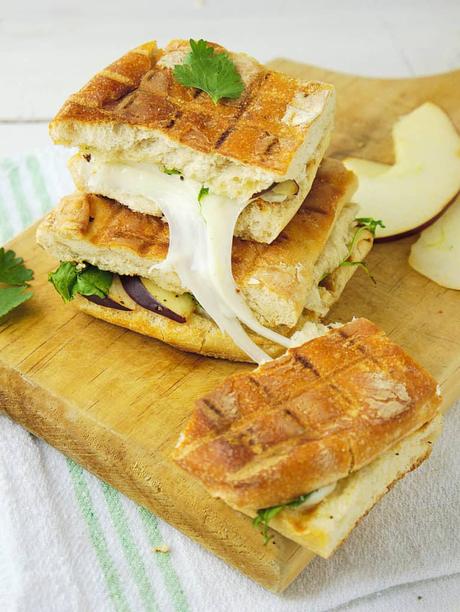 Kitchen Tools and Equipment You'll Need To Make This Gourmet Grilled Cheese
What makes this gourmet grilled cheese with pear healthy?
With just a few substitutions, you can turn regular grilled cheese into a more delicious and nutritious version of the original! Here are some of the ways this gourmet grilled cheese packs a healthy dose of nutrition in every bite:
Use whole grains: Instead of using ciabatta or white bread which uses refined white flour, make these paninis using a whole wheat baguette. This adds fiber and complex carbohydrates that give you energy rather than refined carbohydrates which act as sugar in the body.
Reduce the amount of olive oil: You only need about 2 tsp per sandwich - which reduces the fat and calories in this recipe.
Less cheese: You don't need a ton of cheese to still get that gooey melted version of grilled cheese. Thin slices melt well and reduce the amount of fat and calories
Adding fruit and veggies: pear and arugula provide fiber, vitamins, antioxidants, and minerals to this dish!
A small amount of honey goes a long way: Use a small amount of honey to drizzle so that you taste the sweetness but don't go overboard and add too much sugar.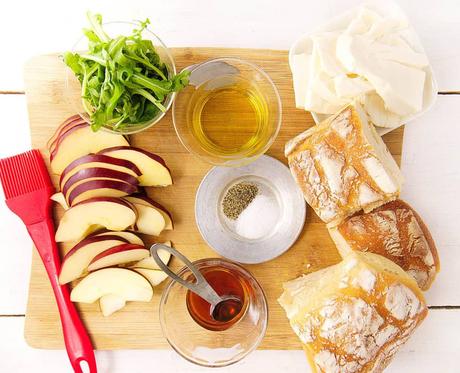 How To Make This Gourmet Grilled Cheese Sandwich - Step by Step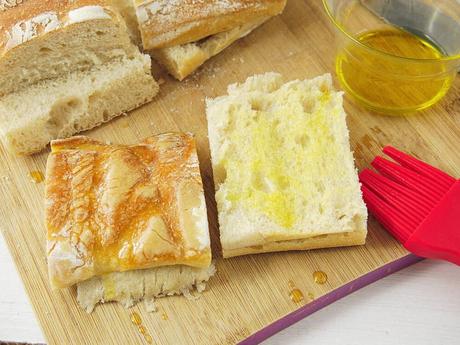 Step 1: Preheat the Panini Press. Cut the baguette loaf into 4 equal pieces. Halve each piece horizontally to make 4 sandwiches. Brush the bread on both sides with olive oil.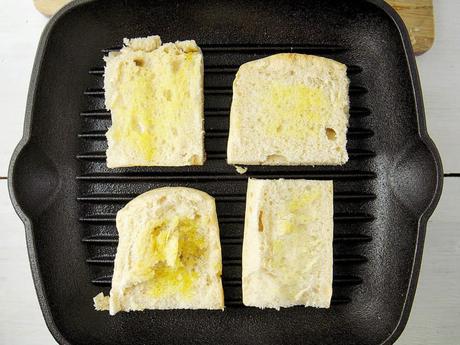 Step 2: Place the bottom half of the bread slices in the panini machine in a single layer. Heat until golden, about 3 to 4 minutes. Continue with the remaining top slices of bread.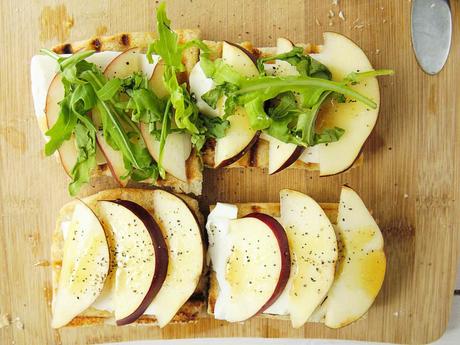 Step 3: While the top slices of the bread are in the Panini machine, begin forming the sandwiches. Divide the cheese among the warm bread. Cover the cheese with slices of fruit. Drizzle the fruit with honey. Sprinkle with salt and pepper. Top with a handful of arugula.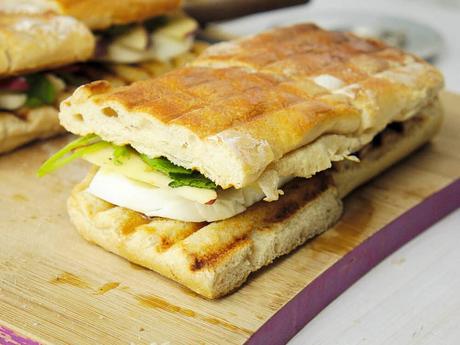 Step 4: Place the warmed top half of the bread over the arugula and return the completed sandwich to the panini machine for 1 to 2 minutes more to finish melting the cheese.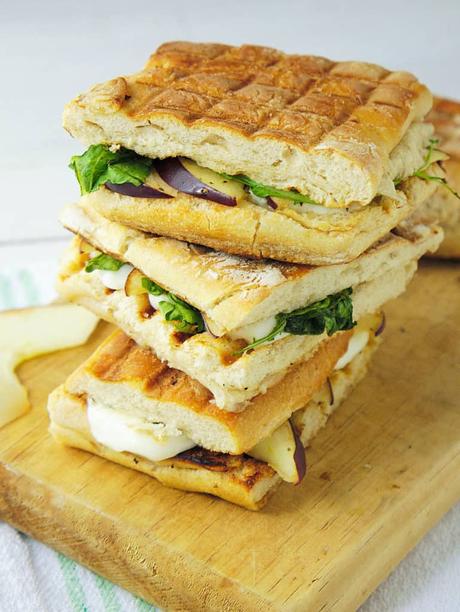 Step 5: Remove from the panini machine. Cut the sandwiches in half and serve immediately. Enjoy!
Is Gourmet Grilled Cheese Kid-Friendly?
Yes! What kid doesn't love a grilled cheese. Adding some fruit and leafy greens into this grilled cheese is a great way to add some extra fruit and veggies into your child's meal when they might be resistant. They will love the melty cheese and the sweetness from the honey.
How do you make the best sandwich ever?
When making a gourmet grilled cheese or other sandwich it all starts with the bread. Choose ciabatta or a whole wheat baguette, or other type of fresh bread from your local bakery. Store bought bread, especially white bread is very soft and your sandwich can end up soggy.
The key is to creating layers in your sandwich. Start with condiments on the bottom slice of bread. Then stack your cheese or other fillings on top and then add veggies. Don't forget to always season Getting creative with your veggies can make for an over the top sandwich!
What cheeses are best for grilled cheese?
When you're making grilled cheese you might want to opt for pre-sliced cheese since it's easy and convenient. Those cheeses work just fine, but using more unusual cheese can take a standard grilled cheese sandwich and make it gourmet. Try using brie, taleggio, gruyere, manchego, or a white cheddar. Use a combination of different types of cheeses to get a full flavor and the perfect melt.
What pairs well with this gourmet grilled cheese with pear?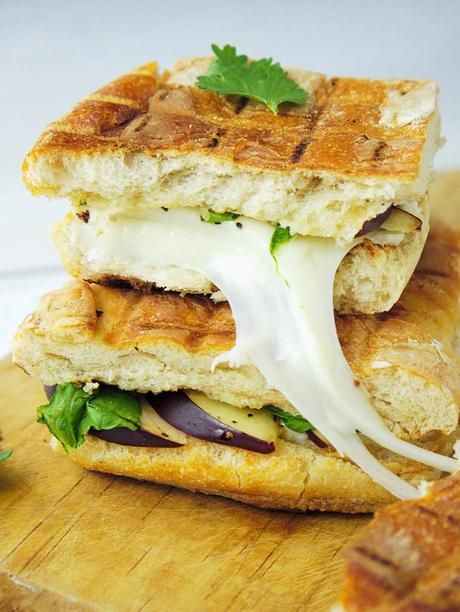 Tomato soup is always a favorite to pair with a grilled cheese sandwich. Using some of the leftover pear and arugula you can assemble a quick pear and walnut salad to pair with this sandwich. Some oven baked sweet potato fries, or zucchini oven chips would taste great too.

Preheat the Panini Press.
Make sure to brush all sides of the bread with olive oil. This will help it toast nicely.
Toast both the bottom and the top of the sandwiches in the panini press before assembling the sandwiches. This will give you a toasty bottom and crunchy inside. Begin with the bottom half of the bread, then the top. While the top is toasting, begin assembling the sandwiches.
Check the bread after 3 minutes. Be careful not to burn the bread.
After you've assembled the sandwiches you'll put them back in the panini press to melt the cheese for 1-2 minutes.
If you can't find taleggio cheese, brie or fontina cheese also work well in this sandwich.
You can use thin apple slices or peach slices instead of pear.
If you don't have arugula, spinach works well.
If you don't have honey you can use a small amount of pure maple syrup.
To add even more fiber and protein, try using sprouted wheat bread instead of a whole wheat baguette.
If you don't have a panini machine you can also use a grill pan or a large skillet! Just use another pan to press down on the paninis to give that "grilled" feeling.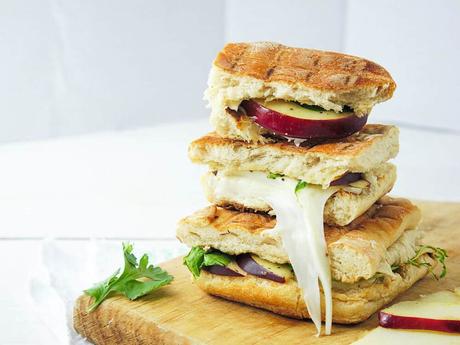 Top Tips for Making This Gourmet Grilled Cheese Sandwich
BE SURE TO CHECK OUT THESE OTHER HEALTHY SANDWICH RECIPES!
If you have tried this Gourmet Grilled Cheese Sandwich recipe, or any other recipe on my blog, then please rate it and let me know how it turned out in the comments below! You can also FOLLOW ME on FACEBOOK, TWITTER, INSTAGRAM and PINTEREST to see more delicious, healthy, family friendly food!
Gourmet Grilled Cheese Sandwich with Pear