Having spent most of the last 8 years in China – a land which sells matching dog and owner outfits in approximately the same size, and a half dozen brands of toilet paper, which may have logos resembling Kleenex, but the absorbency and texture of sandpaper – it's with bowel-cleansing relief that I now fling myself back into North America's safely predictable and flabby-armed embrace.
In North America, you can bet that a Starbucks blueberry scone that's not much larger than the size of my Chinese fist will always have 460 calories, 190 of them from fat.  When I take my car to the dealer for servicing, I know that their profit margin will always be higher than my cholesterol count.  However, the best part about being back is that I've gone from too-fat-to-kowtow in China to a size 4/6 in the United States and Canada.  Never mind that my retired bras can be hung on clotheslines to catch migrating geese in flight, or that a family of ten in Asia can sew three pairs of my jeans together to make a house.  Finally, clothing is abundantly available in my size, even if that size might get me ticketed for a moving violation in China.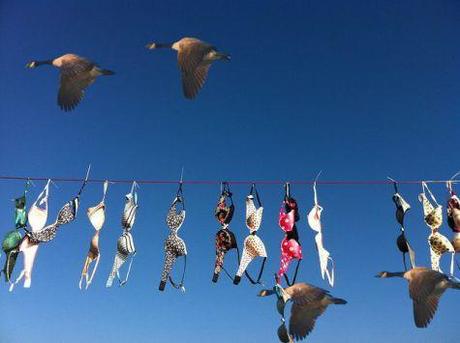 When lingerie and waterfowl collide.
Unfortunately, years of paying discount in China have made me unable to stomach 21st century, North American prices.  My cleaning lady in China charges a mere $2.41/hour.   It costs only $0.65 to get my pants hemmed. (Both legs and no, they don't sew the legs together.  That would be extra.)  An entire day at the spa with four giggling Chinese women dressed like Hello Kitties punching and kneading my fat is less than $20.00.  And these are before any discounts.
My search for China-priced products and services in North America led me to the website, Groupon.  For you sad saps who still pay full price for everything, websites such as Groupon and its inbred cousins, Living Social, Tippr, Zozi, allow you to try out restaurants, products, and services at (sometimes hugely) discounted rates.  With Groupon, I was finally able to upgrade the harem of giggly Chinese women to one surly med-spa employee who gives lipotropic B12 vitamin injections into people's asses.  For another $10, I got one month of unlimited (Big Swollen Booty) Boot Camp, which was held outdoors in the mud and cold of the Pacific Northwest in December.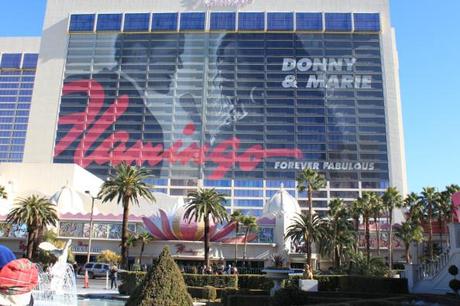 Donny & Marie – the legend continues….
These online shopping sites also have a nasty habit of suggesting related deals based on the ones I've purchased before.  For example Amazon.com knows that, because I'd purchased The Best of Donny and Marie Osmond: 20th Century Masters: Millennium Collection for my hard-of-hearing dad, I might also want to purchase a mallet to beat myself into oblivion with, when he plays the CD repeatedly at full volume.  Knowing my unhealthy obsession with staying slim and healthy, Groupon started bombarding me with beauty-related deals, such as…
Eyelash Extensions – $25 for $50 worth of extensions
Unlimited Tanning – $10 for one-month of unlimited tanning
Lingerie – $15 for $50 worth of lingerie
Boudoir Photo Shoot – $45 for a boudoir photo package, which include 3 costume changes with a female photographer, who promises not to laugh (too loudly)
Burlesque Classes – $25 for four Burlesque Classes, including Swivel Your Nipples and Bump & Grind (nipple pasties – available in small, medium, and large sizes – must be purchased separately prior to class)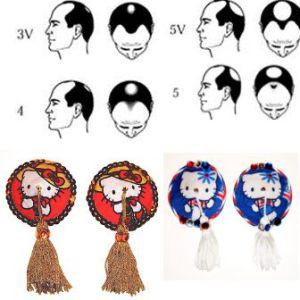 Stage One Male Pattern Baldness in the Shape of Hello Kitty Nipple Pasties
Flying Trapeze Classes – $37 for one trapeze class (swinging from your knees upside down 50 feet up in the air and screaming like a Banshee is included in the purchase price)
It was clear that a pattern, not unlike male pattern baldness, was rapidly developing and couldn't be salvaged by massive applications of Rogaine.  What began as a sincere attempt at frugal weight loss and wellness quickly spiraled into massive monetary loss.  I'd spent over $200 on unnecessary things, which also run counter to each other.  The B12 injections were a necessity, but years of ingrained Chinese frugal logic told me to wait till I had more fat, so that I could get my money's worth.  On the other hand, the lingerie voucher, burlesque classes and boudoir photo shoot required that I be as slim as possible.  The weight limit for anyone on the flying trapeze was 245 pounds and, although I was nowhere near the max, I'd figured that the less I weighed the less likely I'd fall, or suffer irreparable brain damage after falling (apart from the brain damage I already had).
You might think all these purchases were frivolous, but I had a plan.  After tanning myself to the color and consistency of tree bark for only $10 a month, I was to purchase an exquisite piece of discounted lingerie made out of recycled mosquito netting, which would show off my sculpted and B12-injected midriff – all the while batting eyelashes as long as my Visa bill and striking unnatural poses I'd learned as a burlesque-school drop out during my boudoir photo shoot.
I've not had the opportunity to use any of the discounts purchased, because:
1.  …on the day of my eyelash extension appointment – which was appropriately timed before a Christmas party – the lash lounge proprietor, Ms. Lucky Charms or Mme. Coco Puffs, calls me and describes, in hushed squeaky voice, how her two-month pregnant eyelash technician was suddenly overcome with *crippling pain* while performing the arduous task of applying individual, high quality mink lashes to somebody's eyes and had to go be rushed to the ER for pregnant woman issues, leaving her client half-eyelashed, looking like that guy from A Clockwork Orange.  I was forced to reschedule my appointment for after the holidays, when having eyelashes as tall as Lucky Coco's tale no longer mattered.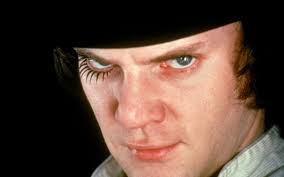 Lashes gone wild.
2.  …till this day, I have no clue what B12 vitamin injections are, although I've had plenty of BS injections from the med spa who offered the discount.
Doctor Thalia – who was also the Receptionist, the Salesperson, the Office Manager, and the Nutritional Counselor…everyone, except the med-spa employee who actually performed the injections, or knew when the next batch of B12 supply was going to arrive…was a gorgeous Amazonian-looking six-foot tall woman.  The B12 gimmick was to get new clients for the med spa's HCG program, which is basically a diet which limits you to six hundred calories a day, while you take a hormone that's found in pregnant women or cancer patients.
Six hundred calories per day, by the way, is two McDonald's Cheeseburgers, about two margaritas, or one-and-a-half slices of Pizza Hut's Meat Lover's Pizza.  If I could limit myself to these nutritional guidelines, I wouldn't have to subject myself to phantom B12 injections in the first place.
3.  …I'll admit, I chickened out on the trapeze class.  I mean, the *thought* of swinging upside down carelessly fifty feet up in the air from my saggy, popping knees is attractive and daring – and the subsequent video of me screaming for Vishnu, Allah, Confucius and Ali Baba worthy of internet viraldom – but who among us really wants to die before her time?  Hanging like that also reminds of the dried meat and squid you'd find at the street vendors in Asia: they all eventually get eaten.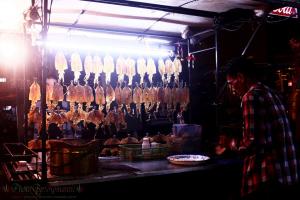 4.  …in the history of
boudoir photo shoots
, I must be the only woman who can't bring herself to get her picture taken, not because I'm shy, but because I have
nothing appropriate to wear
.
Contrary to popular belief, boudoir photo shoots are not about nakedness, but about being *tasteful*.  Unfortunately, the only times I appear *tasteful* is when I'm fully clothed from head to toe, swaddled in an over-sized cape or a purple sleeping bag and preferably asleep.
I'm sure that when the boudoir photo lady, Michelle, offered the Groupons for $45.00, she never thought she'd attract neurotic women with trapeze envy, grandiose visions of a flat stomach and over-grown eyelashes, who had also believed that wearing a shapeless black garbage bag of a dress with transparent red stockings held up by sock suspenders are "sexy" and boudoir-worthy.  And I'm sure she didn't sign up for pen pal-ing an Asian woman half a world away.
Hi Michelle,
I just purchased your Groupon for a boudoir photo shoot ($45.00 package) and want to know whether we wear our own clothes or you provide?  I'm not sure whether my clothes are entirely appropriate, or that they even fit.  Would a one-piece bathing suit be appropriate?  (It's black, with ties on the side without the bra pads.  One pad had fallen out, so I got rid of the other one to make the breasts look even.  I won't wear the cap, don't worry.  It's got plastic flowers on it anyway.) 
I also have a cape and something that looks like mosquito netting, but I'm not quite sure how to put it on and where it should go exactly.  My head usually gets stuck in the arm holes.  Can you retouch photos?  How much extra would that be?  Will you be the only one at the photo shoot, or will you have an assistant?  I've never done this before, so I'm sorry with all the weird questions.  I think it's safe to say that I want all my photos to be in black and white under as poor lighting as possible.

Thanks,
Susan
*****
Hi Susan!
I'm so excited to be working with you on your BOUDOIR PHOTO SHOOT!  I'm sure it will be a GREAT experience for you! We ask that you provide your own clothes, although we can provide if needed.  If a bathing suit makes you feel comfortable, then by all means bring it, although this is not commonly a boudoir item!  The only thing I ask you not to bring are teddy bears and squeaky toys.  Buddy has a thing for them!
We also have an array of accessories, such as beads and marbles, floppy hats with bunny ears and silk flowers to dress up any outfit.   Retouches can be done and are charged according to the area and size of area that needs to be redone.  A hair stylist and makeup artist are also available on site for extra.  I always work alone, except my bull terrier, Buddy, who is always with me wherever I go.  Buddy is non-judgmental and neutered, so he shouldn't be a problem. 
As I'm working most of the day, it's best to call me, if you have any further questions!
Thanks and looking forward to working with you soon!
Cheers,
Michelle & Buddy
*****
Hi Michelle & Buddy,
Thanks for getting back to me so soon.  I'm overseas at the moment so emailing is probably the best option for me.  I'm sorry if this causes any problems.
I'd like to make an appointment for sometime in May, any day is OK, except Mondays – afternoon is best.  I'm not sure what clothing is most appropriate, so I'm going to bring everything I think is remotely OK.  (Paul Frank boxer shorts, pig hat, reindeer ears with jingle bells, black corset, the garter belt I don't know how to put on or take off or which is the front or back, the silk stockings that have lost their elasticity, so one sits on my thigh while the other hangs miserably around my ankles, Chinese New Year panties with LONG LIFE written in Chinese on the crotch, and a pair of girl-sized Hello Kitty cotton panties I can't even get my big toe into.)  However, if the reindeer ears with bells is too much for Buddy, I can leave that at home.  Just let me know.
Thanks,