Communication is key for any enterprise or business to thrive. If the team can't collaborate effectively, how are they supposed to create effective products?
In a time of global pandemic such as the one we are living in right now, communication has become a challenge. We, collectively, have to ensure social distancing and follow safety norms but at the same time, we must also adopt new business practices.
'Work from home' is the way for many today and the debate 'GoToMeeting vs WebEx' was almost inevitable. Both the services are well-known names and have been the market for longer than 10 years at least.
Video conferencing software is more in demand than ever and making the right choice for your needs is crucial. Choosing the wrong alternative can not only result in incompletion of goals but also reduce efficiency and cause unnecessary delays in projects and eventually your profits.
GoToMeeting Vs WebEx: Comparison

Video/Audio conferencing has more or less become imperative for businesses to operate in 2020. It is not a new phenomenon and has been practiced widely across the world for years now to ensure efficient communication amongst clients and colleagues alike. It helps to bridge the distance and mitigate travel time and expenses as well.
Over the years, many video conferencing software has come and gone as the practice was receiving a lukewarm response with many adopting the path, while some sticking to the traditional route.
But in 2020, the world has changed forever.
With the travel restrictions, social distancing norms enforced, and health risks involved, the traditional way of meetings is a thing of the past. Businesses are forced to adapt to the new norms and that is Video Conferencing, Online Meetings, and collaborations.
GoToMeeting and WebEx come forth as natural choices as they are both reliable and very effective in their task.
was developed by LogMeIn, Inc back in July 2004. It initially started as 'remote access' and screen sharing software. GoToMeeting became what it is today in 2017 when their web conferencing and training software were merged into one all-inclusive package. Citrix's GoTo Business was also a part of this merger. GoToMeeting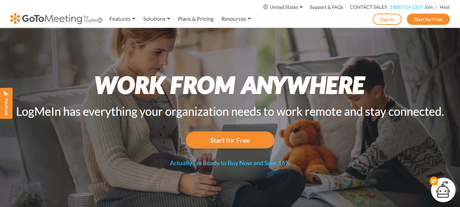 Since then, GoToMeeting has become very popular in its segment and has received quite a few awards in 2011, 2012, and 2016 for categories such as Best Web Conferencing Solution, Best Productivity App, Best Collaboration Solution, etc.
Prominent GoToMeeting customers include Virgin Holidays, Coalfire, IAEE, American Government Services, to name a few.
Webex- Overview
is owned by CISCO and is based out of California. It has been around since 1995 when they started selling web conferencing and WebExbest video conferencing solutions. WebEx got taken over by Cisco Systems in 2007. WebEx got listed on NASDAQ with it's IPO in July 2000.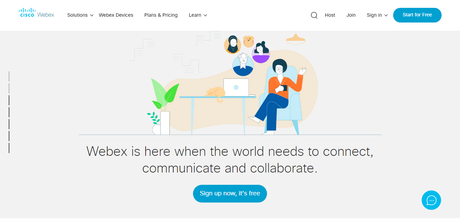 Cisco Systems shelled out a massive $3.2 billion, yes, billion for WebEx when it acquired it back in 2007. WebEx has been very successful ever since. In May 2020, Cisco CFO Kelly Kramer shared that WebEx had a massive 500 million meeting attendees in April 2020 which came out roughly to be 25 billion meeting minutes.
WebEx is trusted by some very big companies and associations like NBA, PUMA, Ellen, Wipro, IBM, Pirelli, etc. Their list is certainly long and includes a lot of prestigious names.
GoToMeeting Features
Schedule meetings from any place, any time - You can schedule meetings from any device from anywhere. Your colleagues can join in from any device, so you don't have to be on the same device as them.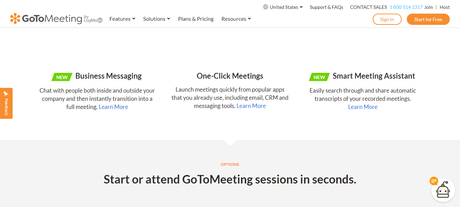 Built-in Audio - GoToMeeting offers VoIP and Toll based at no extra cost for the meeting audio needs. The audio is found to be crisp, clear, and reliable.
Screen Sharing - At any time in the meeting, you can start sharing your screen with every participant. You can show them that the Annual Expenditure Excel Sheet you've been working on or share an informative video for everyone to see. This feature makes it all possible.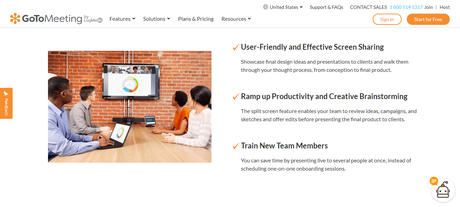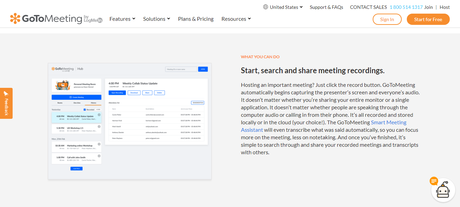 Simplicity - WebEx makes it very simple to schedule and launch meetings from any device such as your browser, desktop, mobile, or tablet. One app for video conference, audio, content sharing makes the process easy and streamlined for you.
WebEx Features
Award-winning Video - WebEx boasts life-like video quality and reliability across its platforms. Their number of customers and great user reviews are a testament to this fact. The awards, of course, speak for WebEx's amazing video quality. Global presence of data centers allows WebEx to make this a possibility, consistently.
Intelligent features - Features such as People Insights for WebEx Meetings allow you to know more about your meeting participants as it collects data and presents stats to you. Another intelligent feature is automatic video connect when you get in front of the camera. There's also intelligent background noise detection to help keep a distraction-free environment.
High-standard Security - WebEx takes its security seriously and it shows with the multi-layer security they've implemented for their web solutions. Their security is industry-leading and keeps your meeting safe and secure from unwanted intrusions.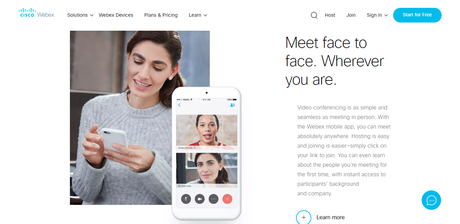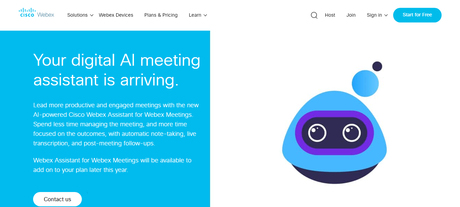 Easy to join meetings with just a tap on the finger.
A long list of useful features such as recording, live chat, screen sharing, etc.
Very good cross-compatibility among devices. You can join from your laptop, colleagues can join from their phone if they wish to and you'd face no issues at all.
Highly reliable. Very minimal downtime and almost no buffering or technical issues.
The transcripts feature works very well and is surprisingly accurate.
Great integration with email and calendar platforms.
Requires to restart the app if some technical glitches do occur.
It can be hard to see other attendees on the mobile interface as the screen space is limited.
Instances of crosstalk have been reported.
UI is not very intuitive for new users.
Easy to use from the admin point of view as well as the end-user or participant view.
Amazing AI-powered features make it easy to join meetings with just proximity or take notes or take follow-ups.
You get all the metrics necessary to see why something worked and did not work to make better decisions.
WebEx's popularity is huge, and that makes it a big pro as it speaks for the company's reliability and trust among the users.
Powerful Admin panel to control almost all aspects of the meeting.
Easy to join meetings from anywhere and from any device.
The ability to record meetings in .mp4 format on the local machine or clouds allows you to save the complete meeting recording for future reference.
Set-up can be a pain as it's an exhaustive process.
Slightly pricey as cheaper alternatives are readily available.
Call Me feature can be unreliable sometimes and a need for manual entering of meeting ID and password arises.
Users have pointed out that the VoIP audio quality can be unsatisfactory sometimes and needs improvement.
Pricing is an important parameter that should be looked at meticulously before making any business decision. I will try to make this process very simple and straightforward for you. Below I've shared all the necessary information.
GoToMeeting Pricing
Professional Plan - Billed $14 monthly/organizer ( $12, if you bill annually. SAVES 14% ). This is the solution for most small to medium companies that are going to have about 150 participants or less on a web conference or meeting. This is the most basic plan and it comes with a lot of features that we've talked about above. It skips on the unlimited cloud recording, transcription, and drawing tools to name a few. If those features don't matter a lot to you, this can be a good plan for you.
Business Plan - Billed $19 monthly/organizer ( $16, if you bill annually. SAVES 16% ). This plan comes with support for up to 250 participants on a single meeting. You get almost everything on this plan such as the co-organizer features, unlimited cloud recording, note-taking, drawing tools, keyboard, and mouse sharing. This is definitely the plan to go for if your participant list in going remain under 250 as you get all the features GoToMeeting has to offer.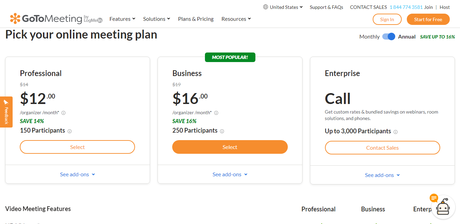 GoToMeeting comes in 2 plans, Professional and Business. A 14-day FREE TRIAL is available on request for your particular company size. You can avail of the free trial by signing up for it on the GoToMeeting official website. Let's talk about the plans and see the finer details.
If both these plans fall short for you or you're a huge enterprise and need support for about 3000 participants, then you should give them a call, they'll set-up an Enterprise plan just for you which has all the features and some more. They'll help you set up GoToMeeting with your existing conference room setup.
Moreover, they'll also assign a 'Customer Success Manager' to ensure you face no difficulties during any of the setup procedures. You'll also receive training and quarterly business reviews customized as per your specifications. And last but not least, they'll also add in some discounts based on the volume of business done which is always appreciated.
All plans come with 24/7 customer care, admin center, relevant diagnostic reports, etc to address all queries and issues. Also, something to note is the availability of GoToWebinar Lite at an extra cost of £15/month to host webinars of up to 100 participants for that announcement you wanted to make or for training newcomers.
WebEx Pricing
FREE - Not free forever, just 30-days, so don't celebrate already. Supports up to 200 participants with unlimited HD video meetings. WebEx was always generous enough to add in screen sharing capabilities to get you a feel for things before you eventually sign up. You also will be able to test out the Personal Meeting Room feature. Overall, it's a pretty power-packed trial, and definitely worth trying out.
Starter - The first amongst the plans which require you to pay up is the Starter plan which is priced at $13.50/month/host. It will allow you to host meetings for up to 50 participants at a time and give you 5 GB of cloud storage for storing your recordings, which is honestly quite less if you have a lot of meetings or long meetings. There's a 9 host limit with this plan. You'll also be given customer support only during business hours if you go with this plan.
Plus - If you're looking for support for up to 100 participants, this is the plan for you which comes with the ability to add up to 50 host licenses. Priced at $17.95/month/host it doesn't add any extra cloud storage and sticks with meager 5 GB cloud storage. The notable improvements include the support for twice the participants, 5 times the host licenses, and 24/7 customer support. This actually could be the starter plan, but given WebEx's customer base, it makes sense for them to include such a plan.
Business - If you're looking at about 200 participants in your meetings, Business plan is for you. It will cost you $26.95/month/host. It will fetch you 10GB of cloud storage for meeting recordings and transcripts. You'll be able to add up to 100 host licenses and get 24/7 support. This is the plan to go for large teams looking at big meetings and needing good cloud storage.
WebEx comes in 4 plans and another on-demand Enterprise plan, of course. Let's see what you'll get with each plan.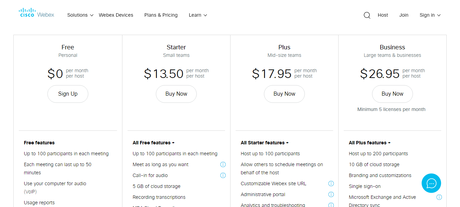 If you need WebEx's services for meetings, events which would see about 1000 participants, you'll need to contact them directly to set up an Enterprise plan, specially designed for you. You can request for unlimited cloud storage or as many host licenses you require, they'll quote you a plan with relevant features and discounts.
NOTE: All prices presented here are Pre-COVID-19 prices. Cisco WebEx currently has taken down pricing information. Their official website's pricing section now redirects to a 'Contact Us' form which essentially means that everyone must consult them before availing their services.
If I was a big enterprise, I'd lean towards Cisco WebEx Meetings simply because they are a hugely experienced brand and have led the industry for a while now. Their feature-set is exhaustive and I doubt anyone would be able to make use of the complete feature list in all their meetings, not at least every time. They have the basics right, as well as the advanced options. They are highly reliable and support a wide variety of platforms such as PC, Mac, Linux, Solaris, and even Unix.
You can share screens, call over VoIP and have conferences, transfer files, and even assign privileges to your participants. The audio and video quality is very good and you'll have little room to complain with WebEx. WebEx also boasts of providing industry-leading security for all of its customers.
However, make no mistake that GoToMeeting is amazing in its own right. Their pricing and simplicity are greatly appreciated amongst its users. The Business and Enterprise plan users will reiterate that the fact that their feature set is great and just gets the job done with the new assistant, easy messaging, and lots of other features. The video and audio quality are high and GoToMeeting has been proven to be very reliable.
GoToMeeting has implemented some strict security protocols with its SSL-encryption and end-to-end 128-bit AES encryption keeps all your communication very secure.
Quick Links
With GoToMeeting, you get seamless integration across email apps and calendar apps. You can also start meetings right from your browser which a lot of customer reviews have spoken highly off. You can download the software client on your computer but it is not necessary to have it to get connected.
Customer Reviews
GoToMeeting Reviews & Testimonials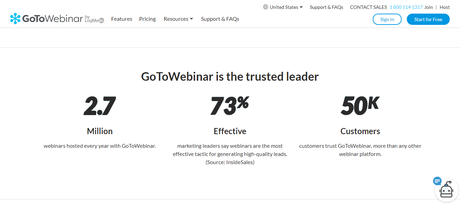 WebEx Reviews & Testimonials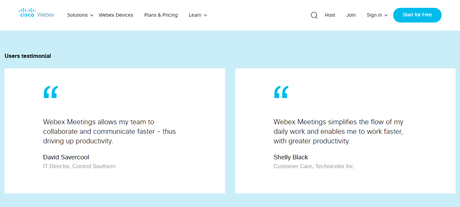 FAQs
We are talking of two highly popular and reliable tools for web conferencing here and I just have to say that you cannot make the wrong choice here no matter what you choose. The answer to GoToMeeting Vs Webex comes down to what you prefer in the end. Cisco WebEx is the more advanced of the two choices here and also the pricier option. If you care about an intuitive, easy-to-use software, definitely give GoToMeeting a try.
As a word of caution, please make sure you have a reliable, high-speed connection with enough bandwidth for your needs. No meeting client or software will be able to perform at it's best if you have a slow, unreliable internet connection. Contact your ISP for the same before you go ahead and purchase your subscription.
Hopefully, this detailed comparison between two virtual video conferencing Softwares helps you in choosing the best software for you.