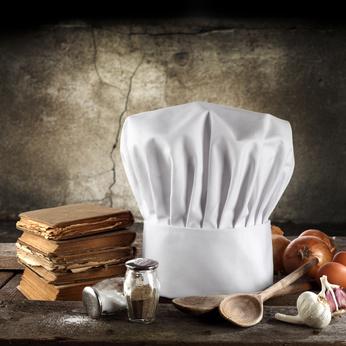 John M. Edwards, alias "Tom James, Zagat Reviewer," wonders if a bon vivant who can't cook but can criticize, could possibly win a James Beard prize for "gourmandism."
"I'm sorry but we are fully committed!"
The dumbed-down dame maitr'd, a dead ringer for "Jewel," flashed an ultra ambiguous vampyr smile.
Inside, it did indeed slightly resemble a lunatic asylum.
Horsey-faced tourists yammered loudly, throwing back their heads with laughter, faces contorted as if in great pain. "Ahahahahah!" But the scene did not match the décor, as solid and functional as a Space Age art gallery, which indeed it really was also. You've probably been there once or twice: The Gotham Bar and Grill in New York City.
"Jewel," perhaps sensing some despondency upon my fluid face (the mien of a famished time traveler in search of grub), suddenly changed her mind, "Oh, a space just opened at the bar!" She paused for effect. "Is that good enough?"
"Yes, I admit it is, even preferable." I felt like I had just somehow sneaked through the gauntlet of a secret Masonic club, without knowing the passport or stylized handshake.
Umph, I plopped down on a stool, wondering wow this place was the dope. There was some funny ass shit going on here. Way out! Like out of this galaxy, man!
On this auspicious day in one of the best restaurants in the world period, master chef Alfred Portale was there at the bar talking to some fans, so I bought one of his cookbooks which he signed with an epigram about there being really "twelve seasons." Portale really did resemble John Saxon from all those futuristic Diana Muldour flicks.
I could tell by random stares (interest minus hostility) that they could not tell exactly from which time period I had commenced. They seemed to assume that I was some sort of obscure stage actor.
Sitting at the bar, I craned my neck around and looked once again at the strange crowd scene photo of an old woman with red hair and an illumined eye. On this masterwork photo, in the background, I had noticed in the past myself burned on film in a black Gap bomber jacket.
Seriously!
Look closely, and there you will see me in the background walking towards the camera for real. I was sort of spooked by my inclusion in the photo, but I have had many tangles with the supernatural in the past. And this was one of them. . . .
(I even wondered whether I should ask if the photo was for sale?)
Suddenly I heard an elderly Witchipoo cackle, a crone straight out of "H. R. Puffenstuff," saying repeatedly, "He is a little Salt 'n Peppah, Salt 'n Peppah!" Apparently, she was referring to President Obama!
While I reluctantly laughed along (no: choked), the Mexican busboy pointed a huge wooden rifle at me. I sat up bolt upright on my stool as he said, "Fresh Beppah! Fresh Beppah!"
"Uh-huh, yes!"
He spent a small eternity grinding fresh pepper on my Vichysoise-like soup (cold potato soup), then backed away into the shadows when I finally was able to say, "Stop, that's good, enough, okay. . . ."
Now I must reiterate that The Gotham Bar and Grill is one of the best restaurants not just in The Big Apple but in Die Welt. A friend of mine from Scotch Plains, New Jersey's "The Stage House" had even been hired as a pastry chef in the past, but occasionally the bar staff seemed a little stiff and asked inappropriate questions, as if judging whether or not we might be capable of the "chew-and-screw," without realizing its at least dual resonances of meaning. Oftentimes, this might signal an imminent departure or lengthy wait. In other words, each visit seemed stage managed for any eventuality—even a gun-toting drug fiend in search of a little pretty polly.
Anyway, I ordered on this visit to Foodie heaven the completely original "Prix Fixe" (Price Fix) and several glasses of Montepulciano, while gawking at the other passengers forming a toppled Scarlet Letter L around the bar–(alack, do only "Losers" dine alone? Anyway, the busty barmaid broke the embarassing silence: "What do you do?"
I coughed on a piece of squid–alas, a leg—which was like coming upon a Stuxnet Worm in cyberspace.
"I'm a travel writer," I prouded, realizing how stupid that might sound, especially when most restaurants get a little touchy about reviews.
"Really, what magazine do you right for?"
People without any interest in commercial knowledge acquisitions often assume travel writers work for only one magazine, such as does your average contributing editor for, say Travel + Leisure or Condé Nast Traveler.
"Much more than one, uh, well . . ." (How do you explain the fact that you have written for more than 200 different magazines, glossy, paperback, and online?)
"Oh, freelance?" she helped out.
"Yeah, like The North American Review, Salon.com, Islands?"
Obviously not having ever heard of any of the magazines I had mentioned, she said, apropos of something, "So, they pay for your vacations."
"No, not really. Some do. Usually you have to send it in 'on spec.' "
Then she made a motion circling her finger around her head, darting over to the end of the bar to serve an old man another counterfeit "Singapore Sling."
I suddenly felt like a magnet for trouble and raised my finger in the air for "l'addition, please!"
But then I heard someone mention the name "William Gibson," and I looked over until I saw a man resembling a Baptist preacher in mufti, entertaining some young fans. Here surely was the science -fiction writer who had penned the cult classic "Neuromancer"!
I paid by Platinum Card and then invited myself to try to break the ice. "I'm a science-fiction writer, too!" I whinnied drunkenly.
"Really?" Mr. Gibson said affably.
I saw a strange mime of a man standing outside our deflated circle, hovering like a wasp poisoned by a RAID-sprayed weed-killer-stained flower petal or an overdose of injected poppies.
When out of nowhere this manager asked me from behind if he could talk to me in private, as I was leaving and almost out the door. "You didn't pay your bill?!" he said peevishly. "Don't ever come back here!"
"Yes I did."
"What?"
"I paid by American Express!"
"You did?"
"Yes, an also I am friends with Alfred Portale," I exaggerated, even though he signed for me in one of his cookbooks about there being actually "12 Seasons!"
The mealy-mouthed manager wavered, then said uncertainly, "Okay, I guess that's it for me. . . ."