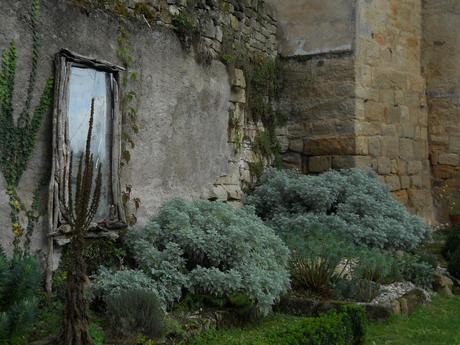 Sometimes it takes an outsider to come into your garden and tell you that something has worked, doesn't it? On this occasion it was a friend, who cares little or nothing about gardening. But my Artemesia 'Powis Castle' in the Mirror Garden seemed to take his breath away. It was a surprise, because at the time I was only having a little rant about the concrete slabs the artemesia are disguising. His reaction made me look more carefully and, yes, they are beautiful. I was back in the morning with a camera and a plastic bag for some cuttings. A bit late, in October, but given that my plants are likely to perish if the temperature drops below -10 degrees centigrade, his admiration was a timely kick ...
   Not grabbing my admiration in quite the same way, now that I know more about its annoying little 'habits', is the statuesque seed head of Verbascum thapsus just in front of the mirror. I don't know if you read my post about the lack of rain for the months of April, May, June? Our lawn virtually vanished up here in the Mirror Garden. But the verbascum is living up to its aggressive reputation ... see below if you want proof! The photo to the left is the 'lawn' in June. Nice and green again by August, isn't it?
All that lovely green is in fact the prolific progeny (say that when ... ) of my big woolly friend. Somebody (me), made a terrible mistake in not getting the sprinkler out back in June. Now I know why sometimes it's a good idea to water your lawn. And probably time for me to try Scott's 'weed & feed' Lawn Builder for the first time. (Not an advert folks, just a tip!)My mother speaks very highly of it, and it will be the first time I've resorted to chemical treatments on my own lawn. But it's that or getting down on my muddy hands and knees in November.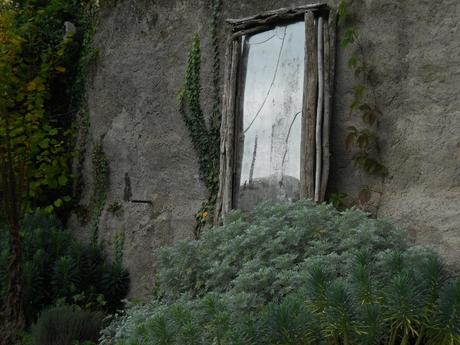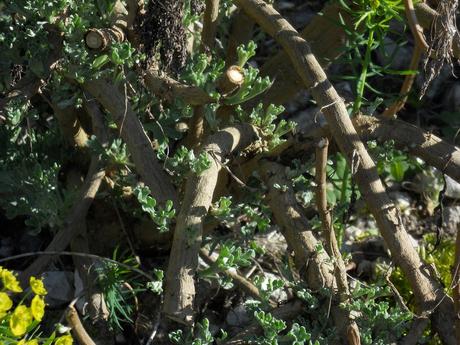 In fact this post is a belated attempt to 'join in' with the Foliage Follow-up hosted on the 16th of each month by Pam Pennick at Digging. I've never been much good at 'joining in' - a blessing or a curse, depending on your point of view? But do have a look at Pam's blog - it's totally fascinating. And, unlike me, she does actually seem to get out sometimes.
   Back to the home turf. Above is a picture of the artemesia back in April when it was tender, teeny shoots from brown sticks that made no effort to disguise the ugly concrete. Below, in all its October glory. It seems to be sheltering the little plaster eggs like a mother hen, doesn't it?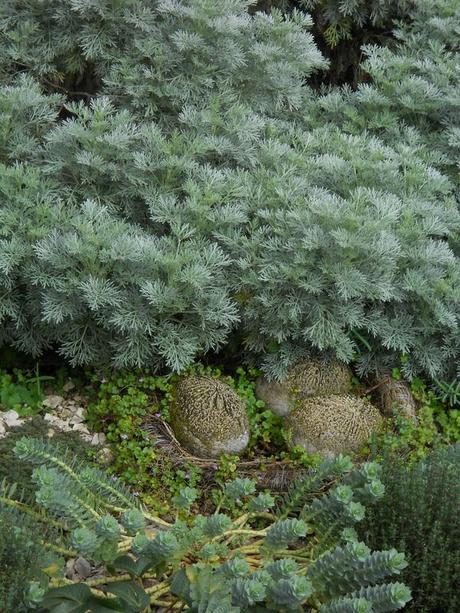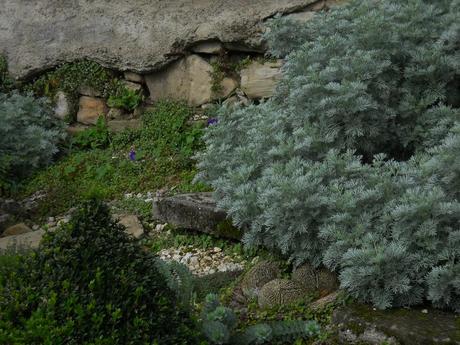 Below madly healthy Thymus vulgaris, Helleborus x sternii (ex 'Boughton Beauty) and Euphorbia myrsinites (again!).
Why I love them: they look just as good in December as they do in April, August or October. But the garden would be boring if it was filled with things that never change.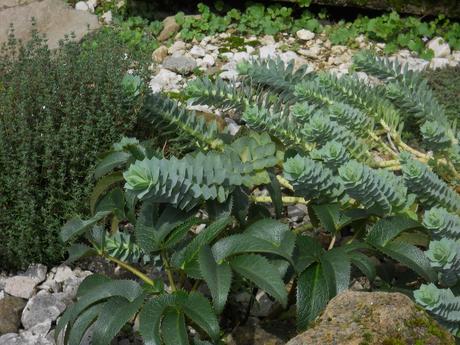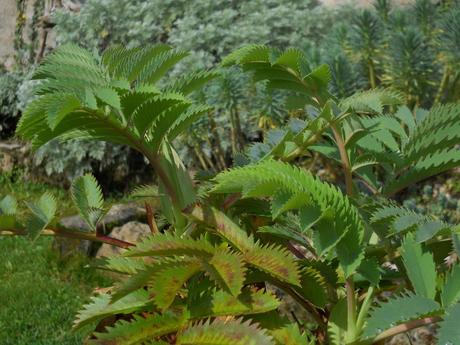 Melianthus major hasn't done splendidly in the blue pots - but the plants were new to the garden this year. I dug them up this week to overwinter inside and I discovered a lot of European chafer grubs in the pots, nibbling on their roots - this would explain why the plants were so hesitant this season. In spite of the fact that they didn't really supply the grand foliage effect I was hoping for (



à



la Hidcote), I'm going to keep on trying to make them happy in my pots.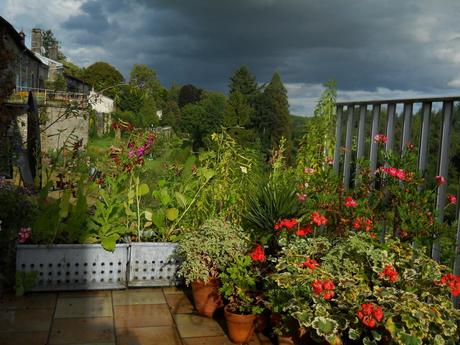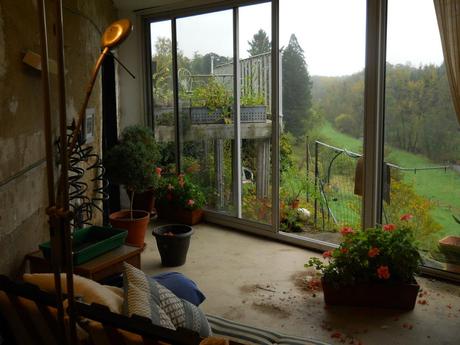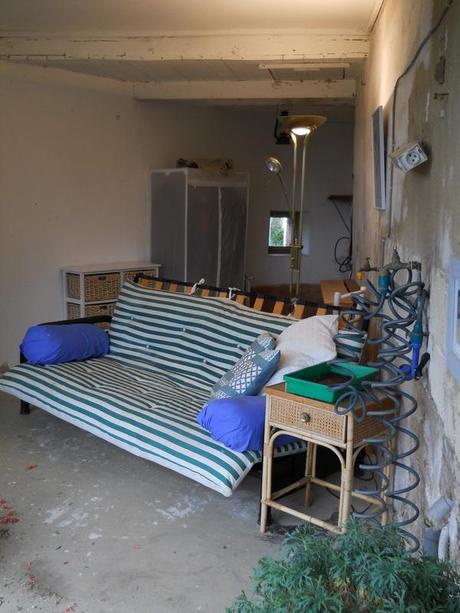 The weather's been miserable this week (except for the weekend, when I was committed elsewhere). I've been busily bringing in my tender plants to our sunroom. Since I haven't got a greenhouse, the sunroom has to work for the plants during the winter, as well as doubling as a rather basic guest room in summer.
   Isn't it funny how you can 'know' something for years before really taking it on board as a reality? This year I noticed that although the weather has been warm in October (well above 10 degrees centigrade most nights) it has been much too wet for the poor pelargoniums in the window boxes on the street and on the balcony. The task of rescuing them all for next year has begun - and the sunroom is starting to fill up.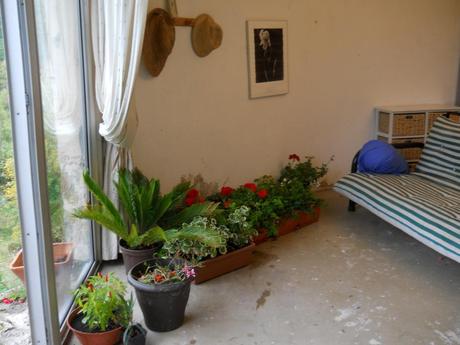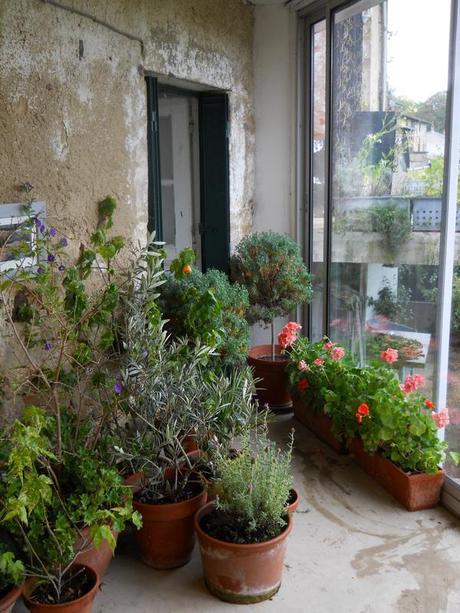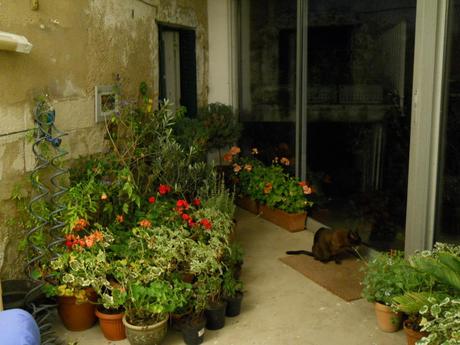 Much, much later (he's looking rather pleased with himself, although he didn't lift a paw!) The hardy things that are in pots will fill up the rest of the available sunroom space later on - just to stop them freezing and being killed if we have a hard winter.
   Now - what I think I need is a blogger's version of syrup of fig, just to keep me regular. Actually comments work just as well! So - how do you manage over winter if you haven't got a greenhouse?