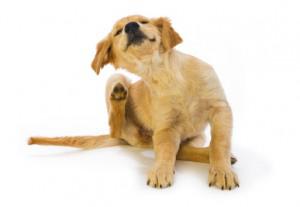 Does your dog have allergies?  There is nothing worse for a pet parent, owner, guardian, to see their pet suffer, itch, scratch and be downright miserable. When they are miserable, so are we. And too often, it takes a lot of time, energy and money to figure out what is going on, what is wrong and what we can do about it.  I spent time at two different vets, changed Cici's food and diet numerous times, and still, she itched and licked her paws. It was driving me just plain nutty until I found out about the GOOey Peanut Butter solution (see below)…
Signs your dog has allergies:
Biting hind quarters
Scratching or pawing at her ears
Shaking her head from side to side
Yeasty smell from ears
Uncontrollable itching and licking
Brown, rough spots on her knees
Hot Spots
Watery eyes
Runny nose or dry, crusty nose
Hair loss (shearing of hair on any part of the body)
Scabby or scaly patches on skin
Behavioral changes
Vomiting
Diarrhea
Excessive shedding
Causes of dog allergies:
Inhalant / seasonal… pollen during any season of the year (similar to hay fever in humans)
Food sensitivites… beef, chicken, dairy, corn/grain etc
Environmental… dust mites, mold, grass, wool, feathers, ticks, mosquitoes, the list is endless and Zoe has most of them
Autoimmune diseases
Yeast or bacterial infections
For canine allergy sufferers, 
about 85 percent 
of the time the culprit is mold, dust mites, pollen and other environmental factors – not food as so many people suspect.
http://www.examiner.com/article/tackling-dog-allergies-with-doggy-goo
Solution:  Doggy Goo

Dr. Kristin Holm DVM Veterinary Dermatologist has created Doggy GOO, an amazing product that dogs and their owners LOVE. Dogs LOVE to lick it off the spoon (it's peanut butter, YUM). Cici thinks it's a tasty treat. We heartily recommend this product because of the ease of delivery to the dog and fun watching said dog LICK IT lickity split… LOL…
Meanwhile, Doggy GOO builds Immune System Tolerance to Environmental Allergens, as well as supports balances the functionality and immune response health in Cici.
Whether you wish to Pre-emptively build Immune Tolerance to Enviro Allergens in your Puppy or young Dog, Or if you have a Dog that is Allergy Stressed, Doggy GOO offers You and your Pet a Sublingual GOO-Licious, 100% Natural, Allergy CARE Option that has been Clinically shown to bring immune system balance and health back to your Dog.
A recent Veterinary Dermatologist Clinical Study / Abstract indicates that Sublingual Delivery i.e. Doggy GOO is Equal to Allergy "Ouch" Shots for immunotherapy neutralization of Dust Mite Allergy.
Doggy GOO sublingually builds Immune System Tolerance to 3 Grass, 3 Tree, 4 Weed Pollens, 2 Mites and 3 Molds.
The "GOO" in Doggy GOO™ is the best Organic Peanut Butter on today's "Human" market.
A word about Peanut Butter…
When you Think American, you think Mom, Apple Pie, Hot Dogs, Baseball, Football, NASCAR and of course PB & J ! Found in 75% of American homes, Peanut Butter is as American as it gets. What child or adult, in the gut wrenching ravages of hunger has not grabbed a jar of their favorite peanut butter, their sweet tooth craving jelly, jam or preserve, maybe a little butter and a loaf of bread and hunkered down to make the most favorite tasty snack on the planet… PB & J ! To call Peanut Butter a Food is a vast injustice to this humble appetite quenching, protein filled powerhouse. For many, Peanut Butter transcends the definition of a Food. It moves beyond a Snack, almost approaching a cult or state of nirvana. Satisfying a craving that can only be filled by the combination of peanut butter with preserves, onions, mustard, mayonnaise, hard boiled eggs, banana, chocolate, oatmeal, ricotta, on an hamburger, in a smoothie.. you name it ! From its humble roots since first being developed in 1890, when a St. Louis physician suggested processing and packaging ground peanut paste into a nutritious protein substitute.  To now, when Top Chefs all over the world have embraced this GOOey substance for it's taste, versatility and creative possibilities in some of today's most innovative dishes!
And
DOGs LOVE Peanut Butter!
Dr. Kristin says, "We chose 100% Natural Peanut Butter for a number of critical reasons. To begin, DOGs just Luv Peanut Butter, which ensures high "Patient / Dog Compliance" for Doggy GOO's allergy focus. And because Doggy GOO is regarded as a Tasty Treat by your Dog, Pet Parent compliance is also virtually guaranteed to keep both the Pet and Pet Parent's GOO Allergy Fight going!"
Dr. Kristin further explains, "But there is more to GOO than meets the Dog's Taste Buds. You see, Peanut Butter was not only chosen for its Tasty Treat appeal, but for its Lick / Lick / Lick GOOey-ness. You see, Doggy GOO employs what is called a Sublingual Delivery methodology in its fight against Canine Allergies. Whereby the Pet Parent is told to spread a small amount of Doggy GOO onto a clean bowl or plate and the Dog has to repeatedly Lick / Lick / Lick up their GOO. While this is a GOO-Licious Tasty Treat for the Dog, with every GOO Lick, small amounts of Enviro Allergy ingredients are brought into the Dogs mouth, where the mouth is slathered with GOO Juice. It is via this GOO Juice presence to the thin mucosal skin of the Dog's mouth that the Allergy ingredients are Sublingually absorbed into the bloodstream. Which following absorption, the Allergy Ingredient Bio-Availability to the BloodStream begins to leverage the adaptive power of the immune system to build tolerance to these offending allergy sources and begins to work its Allergy Magic.
in other words, Doggy GOO is Dog GOO-ilicious…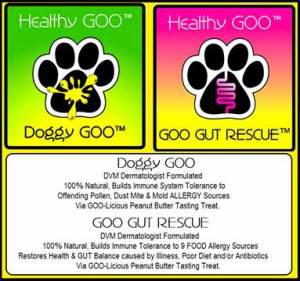 Soon, the good folks at Doggy Goo will be introducing another product to address GI immune issues, GUT issues, pre and pro-biotic…
Got questions?