A Niggle Shared is a Niggle Halved! 

As women we all have to put up with numerous lifestyle 'niggles'... you know those frustrating things we have to put up with as women that no man could ever understand.  Like how there is always a huge queue for the womens loos! What's that about? You're perplexed how other women can't get in and out as quick as you, and of course there is no queue in the mens...  Typical.  Another great one is cramming your flats in your handbag for a not so crafty change from your 'I can't walk in these' heels.  I'm always having to do that or my toes would be non exsistant!
Anyways so we all have little niggles but the other day I had what I'd call the most annoying niggle.  I was doing a big clothes wash and had to wear a bra I don't normally, I couldn't understand why I hadn't but trust me as the day went on I realised why I'd abadoned it to the bottom of my drawer! The underwire kept d

igging right into my rib as I sat at my work desk, making a very uncomfortable and frankly a fidget for the entire day. Goody.




After my day of bra niggle I actually got an email the other day about a new style of bra from Triumph... they've created a supportive bra with no underwire. It actually sounded too good to be true, how the devil would it support a fuller chest? Well it's all down to a very clever piece of silicone in their new Magic Wire bra which supports without the wires that dig in. To top it off there is also a built in mesh stabilizer which helps to give additional support whilst you're on the move.  So the bra shuffle can now be striked off the women niggles list!


With Triumph solving one of the big niggles that us women face, they're encourage UK women to use the hashtag #nigglefix on social media platforms too share their niggles! So anything from saggy tights (I can't stand them) or saggy jeans to frizzy hair (think Monica from Friends style). Triumph will then take some of the

niggles

posted on both Twitter and Facebook, illustrate the most common problems and then call on the community to suggest their best possible solutions. The solutions will then be illustrated back to the community with the outcomes!  Hey, you may even get some tips on how to deal with your biggest niggle.... mine is gonna have to be the saggy tights now that my bra issue has been solved!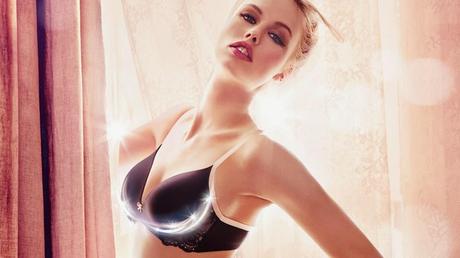 You can find out more about this campaign from Triumph by visiting

http://nigglefix.triumph.com

.  You will find the

niggle

fix hero video, Magic Wire product video (see how it works), product information, press and blogger reviews and the upcoming SUFF Magic Wire roadshows. 
Fed up with lifes little niggles too? Go on

w

hat's you niggle? Share it with us @

TriumphUK

#nigglefix
Annie 
xoxo
*This post was written in association with Triumph*
All thoughts/opinions are my own