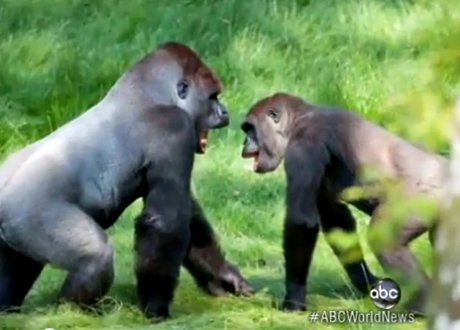 Kesho and Alf reunited. Photo: ABC News
The background
Kesho and his brother Alf had a lovely reunion when they were brought together after three years apart. So what? Well, they're gorillas. They were at separate zoos; when brought back together at their new home in Longleat Safari Park, they heartily embraced each other, squeezing each other's shoulders, shaking hands, and tumbling about, reported The Daily Mail. Gorillas identify each other by the shape of their noses.
Said Mark Tye, head gorilla keeper at Longleat, on The Mail: "We weren't entirely sure that the brothers would even know each other, but the moment they met you could just see the recognition in their eyes. They were touching each other through the cage that temporarily separated them and there were no acts of aggression."
But what do gorillas feel?
Tom Chivers on The Telegraph said that "instances of human-like emotion" were common in great apes: a female gorilla, Gana, was pictured carrying her dead son around for three days; another female, Ruzuzi, was shown apparently grieving for her baby. But are they really experiencing emotions? We're quick to find "human-like attributes in non-human objects." The question isn't really about reasoning, but about whether they can suffer. But it's hard not to conclude that Kesho and Alf "were genuinely happy." We won't be able to get inside animals' minds; but then we can't get inside humans, either. We can never be certain that other people aren't zombies; but we accept "that our fellow humans are thinking beings." So why not gorillas?
Christian the Lion
Animals have been known to recognize people after being separated. Christian the lion was brought up by John Rendall and Ace Burg, then sent to live in the wild, Christian joyfully greeted his former "owners", putting his paws on their shoulders, before heading back out into the bush. Watch their reunion below!