Inspired by their love, this couple decided to create a gorgeous wedding in Santorini, where the nature looks prettier and the sunset brighter. The ceremony of the wedding took place in Santa Irini, in a beautiful balcony overlooking the breathtaking view of Caldera. The style of their wedding was elegant chic with beautiful details in pastel color tones and fresh flowers in pink hues. Both bride and groom followed the aristocratic style of their wedding… Get up close and personal with all the pretty details captured by Giorgos Galanopoulos!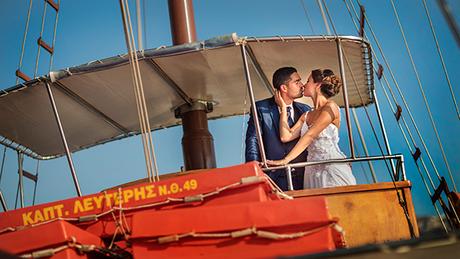 Photography : Galanopoulos Photography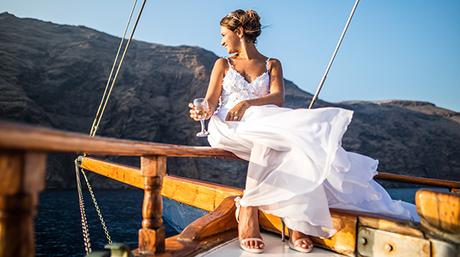 Photography : Galanopoulos Photography
"Jonathan and I met in Gibraltar on a night out in 2009, he was 23 at the time and I was 20. In 2014 Jonathan and I booked an island-hopping holiday to Greece, Santorini was one of our middle stops. From the moment we stepped foot on the island we fell in love with it. Jonathan motioned he had booked a private tour on a boat that would sail us around the Caldera, he also added we had a nice evening dinner booked after the tour, so he suggested it would be a good idea to do the tour already dressed and ready for our dinner", the bride shared with us.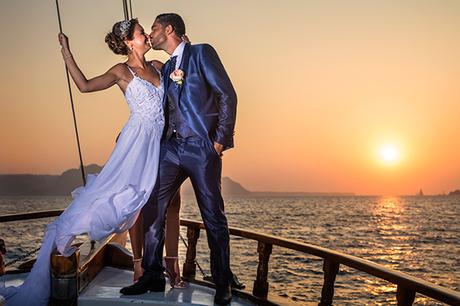 Photography : Galanopoulos Photography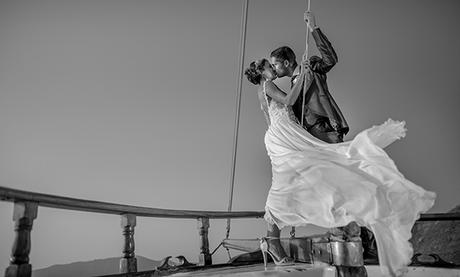 Photography : Galanopoulos Photography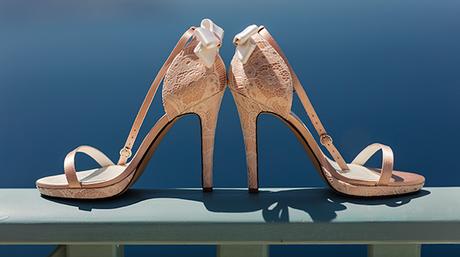 Photography : Galanopoulos Photography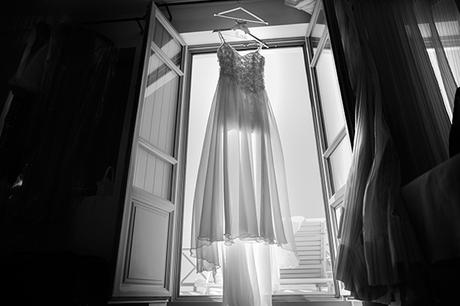 Photography : Galanopoulos Photography
"When we arrived at the harbor called Amoudi Bay we saw a beautiful wooden boat and two men on it, the captain of the ship and the "tour guide". Shortly we got on board and began our sail towards the Caldera. As we sailed around I noticed the "tour guide" taking snap shots of us, something that I found very odd but decided to ignore it. Well into our tour about 1 hour later we sailed towards the sunset, the captain stopped the boat and Jonathan and I were at the tip of the vessel. Suddenly Jonathan got down on one knee and took out a paper from his pocket. Slowly he unfolded it and began to read out a poem. At that same moment the "tour guide" brought out his camera and started taking photos, obviously at that point I realized he wasn't the "tour guide" he was a professional photographer. Instantly I knew what was happening but could not believe Jonathan was going to propose. Once he finished his poem he took out a box and opened it, a beautiful ring stared at me and I heard the words "Gaylee will you marry me?"… and of course I said yes! Immediately I began to cry of happiness."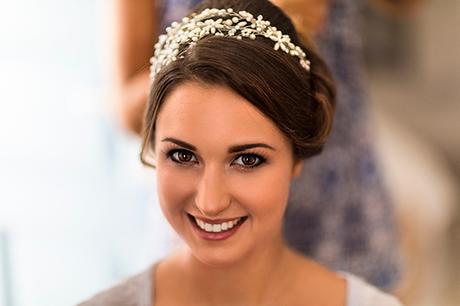 Photography : Galanopoulos Photography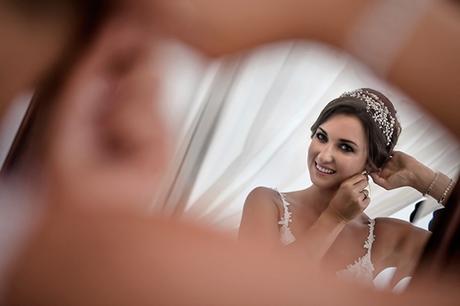 Photography : Galanopoulos Photography
"The ceremony took place in Santorini (2 years later) in a place called Santa Irini, beautiful balcony overlooking the Caldera. I chose Santorini as my destination wedding because when Jonathan proposed it was one of the best days of my life, it was the happiest moment of my life at the time too and I wanted to relive that feeling. So, we thought as we got engaged in Santorini, we have to go back and get married there."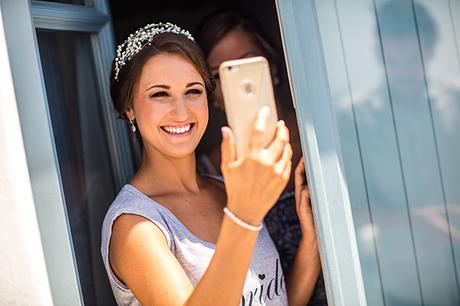 Photography : Galanopoulos Photography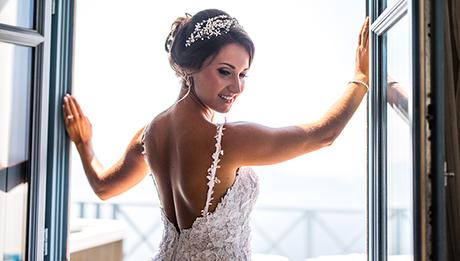 Photography : Galanopoulos Photography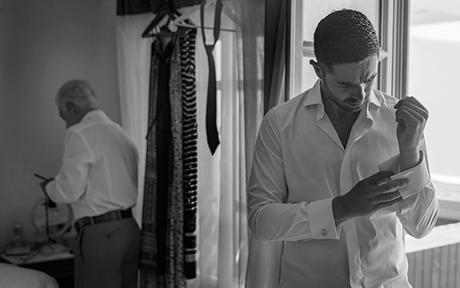 Photography : Galanopoulos Photography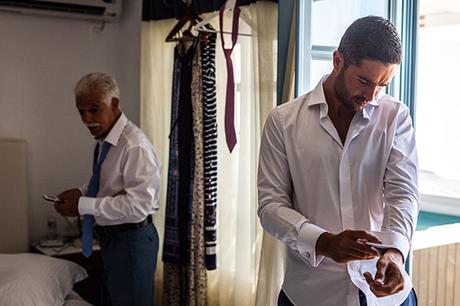 Photography : Galanopoulos Photography
Photography : Galanopoulos Photography
"The best moment of my wedding was when I walked down the aisle with my dad."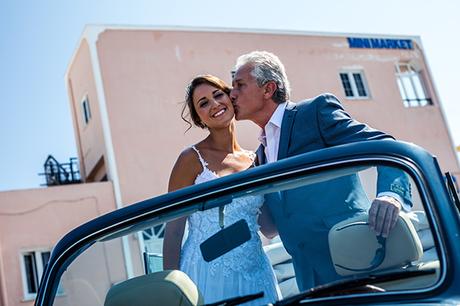 Photography : Galanopoulos Photography
"The style of my wedding was very chic and pastel pinks. Wedding decoration was mostly ordered online from Not on the high streets. I had a few decorations supplied by my wedding planner Kristina Koslova from Divine Weddings Santorini, who was great at making sure everything was perfect and the wedding ran smoothly. I found inspiration and ideas from Pinterest. I fell in love with a beautiful bouquet that I saw on Pinterest and Kristina did a fantastic job making a replica of it."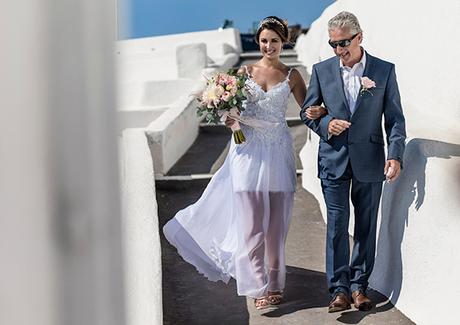 Photography : Galanopoulos Photography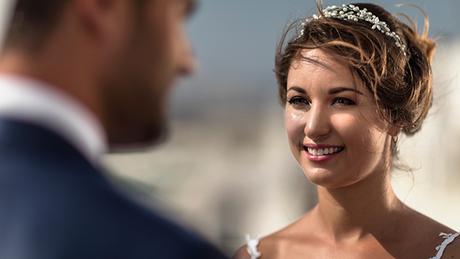 Photography : Galanopoulos Photography
"I tailor made my own wedding dress by a very talented Gibraltarian designer Dorcas Hammond. I was inspired by a dress on Pinterest. As my wedding was a destination wedding I wanted my dress to be different. My wedding dress was short underneath but has a long white see through layer on top. It was covered in lace and small pearls."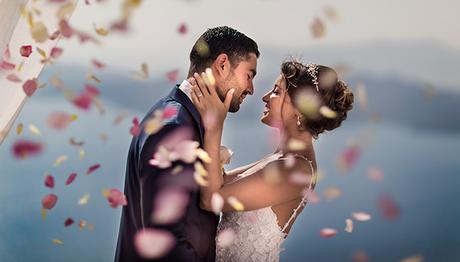 Photography : Galanopoulos Photography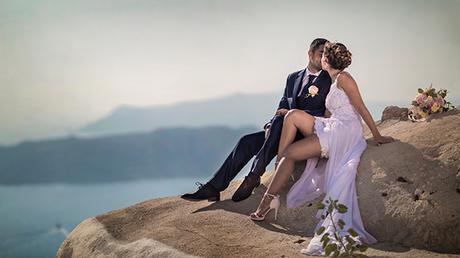 Photography : Galanopoulos Photography
Advice to a bride: "Don't rush into things. Choose every aspect of your wedding the way you want it. It must satisfy you, if it doesn't that means you have to carry on looking. Also enjoy every moment, because the big day flies by too quickly."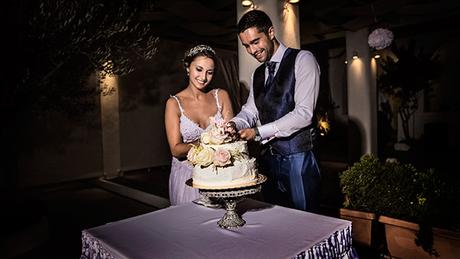 Photography : Galanopoulos Photography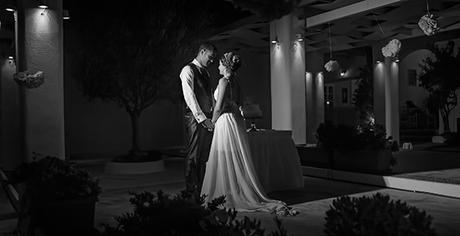 Photography : Galanopoulos Photography