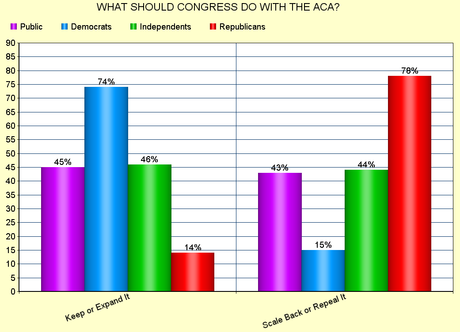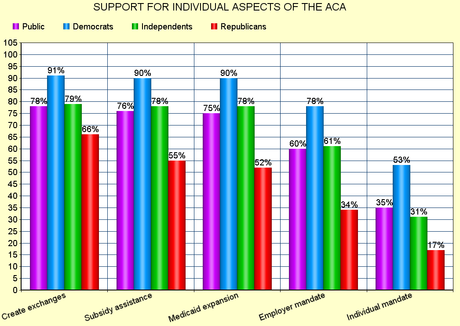 The Kaiser Family Foundation has released its latest survey on health care and the Affordable Care Act (Obamacare). The survey was done between December 2nd and 9th of a random national sample of 1,505 adults, and has a margin of error of 3 points. This included 467 Democrats (5 point MOE), 378 Republicans (6 point MOE), and 464 Independents (5 point MOE).
Many of the congressional Republicans want to think that their success in the last election (taking control of both houses of Congress) means the public is now behind their efforts to repeal Obamacare. That is not true. While the Democrats strongly support Obamacare, and the Republicans strongly oppose it, the general public (and Independents) are split on the issue -- with both groups showing a slight favorability for keeping Obamacare intact. And in fact, most people like nearly all of the aspects of the new law.
As in the past, the only aspect of Obamacare that is really disliked by most is the individual mandate -- the requirement to have insurance or pay a penalty. It seems that many people still have not realized that everyone must be on board with the national health insurance program to keep private insurance companies from raising their rates exorbitantly.
I believe most people don't understand that the individual mandate will not affect most Americans at all. Too many have accepted the Republican lies that say this mandate will affect a large number of Americans. That is just not true. If you get your insurance through an employer (as a significant majority of Americans do), or if you are on Medicare or Medicaid, or you already have insurance -- then the individual mandate will  not affect you at all. It is estimated that those affected will be in the low single-digits.
As the charts below show about 64% of Americans are against the individual mandate, only 3% could correctly answer as to exactly what the individual mandate's penalty for 2015. About 72% admitted they had no idea what it was, and another 25% gave an incorrect answer. In other words, most people opposing the individual mandate don't know what the penalty is, and haven't yet realized that it doesn't even apply to them (or to most Americans). The government (and the media) needs to do a much better job of explaining the individual mandate, and to whom it will apply.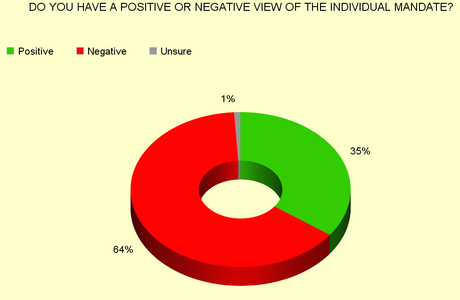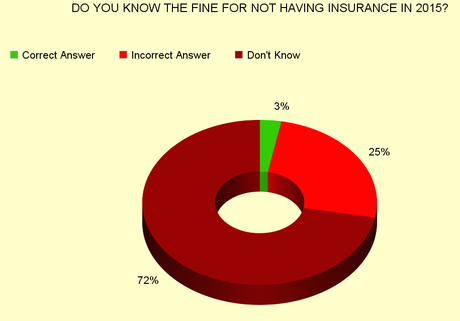 In addition to the lies the Republicans have told about the individual mandate, they have also told lies about two other things. They have told Americans that undocumented immigrants can get a government subsidy to buy insurance -- and they have told them that Obamacare created end-of-life death panels to decide who among the elderly should live or die.
Neither of those two things is even remotely true. But as the charts below show, far too many Americans still believe them. About 43% think undocumented immigrants can get a government subsidy, and about 41% think Obamacare created death panels. It is outrageous that congressional Republicans (and other teabaggers) are still telling these lies. And sad that four out of ten Americans are ignorant enough to believe them.