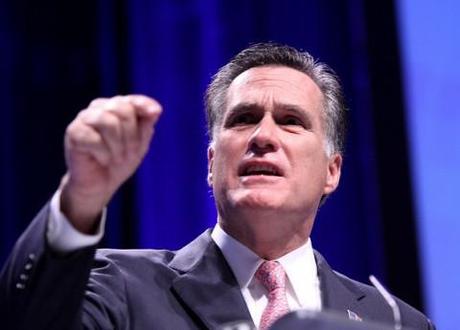 Mitt Romney. Photo credit: Gage Skidmore, http://flic.kr/p/9itUtP
Super Tuesday has been and gone, and still the GOP presidential nomination race rumbles on, despite establishment favorite Mitt Romney winning six of the ten contests. Romney is ahead of rivals Rick Santorum, Newt Gingrich and Ron Paul on delegate numbers, but most of the political headlines have zeroed on the fact that the former Massachusetts governor has yet to lock down the nomination.
When is a win not a win? Romney's six-state haul wasn't enough to impress most political commentators, with the general consensus that the former Massachusetts governor is in for a long battle to the GOP nomination. "Romney did well, winning six states against three for Rick Santorum and one for Newt Gingrich. But it was not well enough. Romney's rivals ran him far too close for comfort," wrote Martin Kettle on a Guardian blog. According to Kettle, Super Tuesday has changed nothing in the Republican field, with questions still remaining over Romney's ability to seal the deal: "Will Romney's halting march to the nomination increase the likelihood of a third party candidate?" But David Weigel pointed out at Slate that in terms of delegate numbers, Romney actually did pretty well out of Super Tuesday, taking home 11 delegates from three states alone."The question for the rest of March is whether Romney can keep this up, scoring delegates in the states he loses, and finish up with wins in Puerto Rico and Illinois," wrote Weigel.
Will any candidate drop out? "For me, the big loser on Super Tuesday was the former frontrunner and ex-house speaker, Newt Gingrich," wrote Gary Smithson on a Telegraph blog. Smithson pointed out that despite a big win in Georgia, Gingrich failed to appear in the top two in any other state. Should Gingrich drop out, this would be a boost to Santorum, as the two candidates are currently splitting the conservative vote:"If Newt does call it a day then Romney's apparently inevitable nomination will be less certain," said Smithson. But Gingrich shows no inclination to go, telling supporters he is the only candidate capable of beating Obama in a debate and announcing his return to the campaign trail. Ron Paul failed to take a single state, but appears similarly disinclined to drop out at this stage.
Which Super Tuesday state was the most important? Much media attention focused on the Ohio primary – which Romney won by a whisker – as the state could prove key in the presidential election. But ahead of Super Tuesday, Patrik Jonsson argued at The Christian Science Monitor that Tennessee – won by Santorum – was actually the real battleground. "The symbolism of a Romney win in Tennessee would be dramatic, analysts say. For the first time, Romney could start talking about being a national candidate, having won a contest in all regions of the country," wrote Jonsson.
Could any of the GOP candidates beat Barack Obama? "A new Pew Research poll shows that 3 in 10 voters say their opinion of the Republicans has worsened during the primaries," said a New York Times editorial. According to the NYT, the GOP candidates are too busy fighting each other to develop any persuasive policies: "This country has serious economic problems and profound national security challenges. But the Republican candidates are so deep in the trenches of cultural and religious warfare that they aren't offering any solutions."