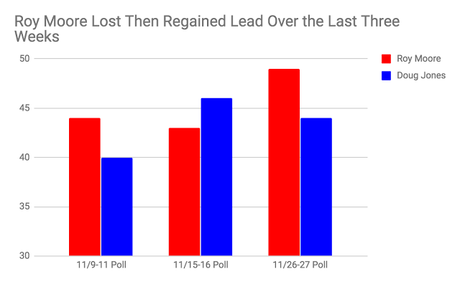 The question on everyone's mind for the last few weeks is what will happen in Alabama. Will that bright red state vote for a pedophile in the Senate race to avoid voting for a Democrat? If this new poll is correct, that seems to be exactly what they will do. Republican Roy Moore has regained the lead in that race.
The difference in the latest poll, according to the pollster, is that many Republicans who said they would not vote after learning of the charges against Moore are now changing their minds and coming back to supporting Moore.
The crazy thing is that most of those Republican voters in Alabama are evangelical christians who claim to be "Family values" voters. And yet, they are ready to vote for a pedophile. When did pedophilia become a christian family value?
The chart is from the Change Research Poll done on November 26th and 27th of a random sample of 1,868 Alabama registered voters, with a 2.3 point margin of error.