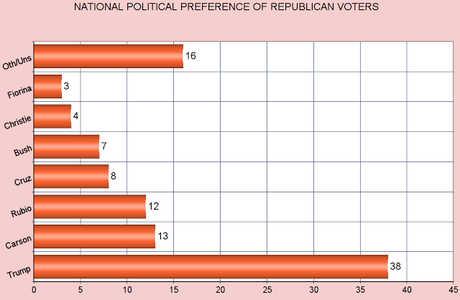 There is no doubt that Donald Trump is a racist and a bigot, but he seems to be a smart one. He has judged the bigotry of the Republican base better than his peers. When he came out with his outrageous, bigoted, and unconstitutional proposal to ban all muslims from entering the country, most pundits and other candidates thought he had finally made a huge mistake -- and that he would start tumbling in the polls.
That didn't happen. If anything, he is stronger than ever. The chart above shows the results of a new Zogby Poll -- taken completely after Trump made his proposal. Zogby questioned 271 likely national Republican voters, and their poll has a margin of error of 6 points. It shows Trump with 38% support -- the largest percentage Zogby has recorded for Trump.
It's a small sample and a fairly large margin of error, but it's believable (considering the Bloomberg Poll that showed 64% of Republicans agree that muslims should be banned from entering this country). It seems that the pundits and other candidates were under the illusion that their base still had a shred of decency. They were wrong. Trump was right. He understood just how depraved the GOP base is these days.