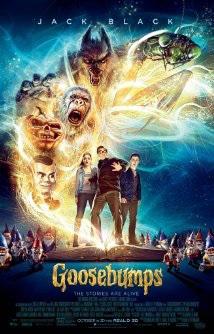 Director: Rob Letterman
Writer: Darren Lemke (Screenplay) Scott Alexander, Larry Karaszewski (Story) R.L. Stine (Books)
Starring: Jack Black, Dylan Minnette, Odeya Rush, Ryan Lee, Amy Ryan, Jillian Bell, Ken Marino, Halston Sage
Plot: A teenager teams up with the daughter of young adult horror author R. L. Stine after the writer's imaginary demons are set free on the town of Madison, Delaware.
There may be spoilers the rest of the review
Verdict: Pure Nostalgia Fun
Story: Goosebumps starts when Gale (Ryan) her son Zach (Minnette) move to a new house from the busy city lifestyle. Zach doesn't take long to meet the neighbor Hannah (Rush) and her father Stine (Black) who instantly bans him from seeing his daughter. Zach has to start a new school where he meets Champ (Lee) while his mom is the new vice-principal.
When Zach believes Hannah to be in danger he breaks in with Champ and they discover all of the R.L. Stine books locked on the shelf but once they open one the creature from the book comes to life, but it is Slappy from another book that unleashes all of the creatures from Stine's books upon the town leaving it up to Stine, Zach, Hannah and Champ to save the town from all of the horrors.
Goosebumps is part of my childhood when I watched all of the stories and seeing this clever way of changing this bringing it into a modern era. We could have just had a movie based on just one of the creation but making an original story looking at the idea that the author really creating monsters will keep the fans happy because every creature makes an appearance. This is one of the most fun films I have seen this year and if you are a fan of the original material this will be one you enjoy.
Actor Review
Jack Black: R.L. Stine is now a recluse author that keeps his daughter Hannah away from the outside world. When his work is unleashed upon the town he must go fight against Slappy his smartest creation who releases all of his nightmare creations. Jack fits this character perfectly getting to use his comedian ability without just being a silly character which this could have fallen into.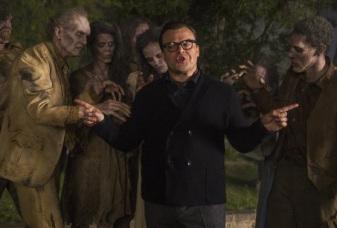 Dylan Minnette: Zach is the new kid in town, he has recently lost his father so this move is his family's chance at a new start, he takes a shine to his new neighbor Hannah and while trying to find out about her, he accidently releases her father's creations from the books he has written. Zach is a very typical new boy in town character where he ends up looking like a loser to the high schoolers early on but has to make himself a hero by the end. Dylan is good in this role even if he does look slightly too old for high school.
Odeya Rush: Hannah is the daughter of Stine who is home schooled but just wants to make friends, she sees Zach as a chance to make a friend and escape her prison like home. Odeya is good in this role fitting the typical high school crush for our lead.
Ryan Lee: Champ is the geeky school friend of Zach, he becomes the typical sidekick character stating the obvious throughout the film even though he does have his own entertaining side story with the gorgeous girl Taylor. Ryan is good in tis comical sidekick role through the film.
Support Cast: Goosebumps has a good supporting cast that all helps add comedy to the overall story without being over the top, letting our leading character take the most part of the story.
Director Review: Rob Letterman – Rob gives us a film that understands the source material and builds on everything we all know and love about the books.
Adventure: Goosebumps gives us a great adventure for our leading characters that will keep you guessing from start to finish.
Comedy: Goosebumps has good comedy moments through the film that all work without taking away from the overall story.
Fantasy: Goosebumps brings us into a fantasy world filled with creations from one of the most iconic horror authors.
Horror: Goosebumps brings us a string horror creations through the film.
Settings: Goosebumps uses a small town as the setting keeping us knowing that the creatures need to be stopped before they spread.
Special Effects: Goosebumps has great effects to create the creatures keeping them in a style that we would like to see in the style of the film.
Suggestion: Goosebumps is one for fans of the original work to love and everyday audience to enjoy. (Watch)
Best Part: Having a story that bounces with any story you would have seen with Stine's work.
Worst Part: While we do get a couple popular characters and see most, certain ones could have been popular and not given the same time as others.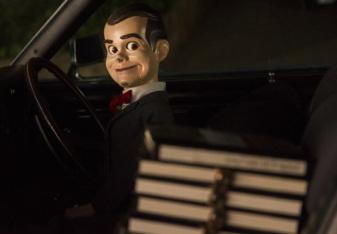 Believability: No
Chances of Tears: No
Chances of Sequel: Left open for one.
Post Credits Scene: No
Oscar Chances: No
Budget: $58 Million
Runtime: 1 Hour 43 Minutes
Tagline: The stories are alive
Overall: Brilliant fantasy childhood walk down memory lane for all fans
Rating