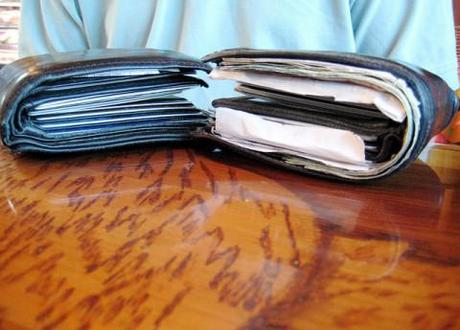 Is the bulging wallet soon to be a thing of the past? Photo credit: Shareski

Google wants to turn your mobile phone into a wallet. Well, that's the plan with the limited release of Google Wallet, the internet search giant's potentially ground-breaking mobile payment system.
Google Wallet lets you use your phone to pay for purchases at physical point-of-sale machines. Instead of swiping a card or handing over cash, Wallet users are able to open the Wallet app, enter a PIN, and wave their phone next to the reader. At the moment, the service works only with Nexus S 4G phones on Sprint. It also only works with Visa, Citi MasterCards and Google Prepaid Cards, which can be filled using any other credit card.
"This is just a beginning for us, it's version 1.0, but we expect the product to move quickly and add new features over the coming months, as well as us increasing the number of banks and handset providers that we partner with", Osama Bedier, Google vice-president of payments, told The Financial Times.
Where it works. Juliet Garside at The Guardian spelled out what Google is trying to achieve: "Google Wallet is vying to replace credit cards with phones containing a special chip that can be tapped against readers at cash tills in shops to make payments." Although Google Wallet will be marketed in the US only, the pre-paid card will work internationally at launch. It can be used at any of the 300,000 shops and other outlets in the US and internationally that accept MasterCard PayPass, informed Garside.
"Don't trade in your wallet in for a Google Wallet just yet," warned Todd Wasserman at Mashable Business. "What we're seeing with Google, Isis and PayPal is an early land grab for a technology that won't be adopted for possibly five years." Wasserman noted that retailers aren't on board yet, there aren't enough smartphones with Near Field Communication, and that consumers aren't ready yet to change their payment habits. Wasserman suggested that the reason that Google are making such a big deal of Google Wallet is because "it all goes back to Google's main business: advertising. Tracking what consumers actually buy is a huge piece of the puzzle for advertisers."
 "Google Wallet Is Tomorrow's Billfold," enthused Mike Isaac at Wired. "It's becoming clear that in Google's vision of the future, every human tool since the wheel is destined to be folded into the smartphone, that digital Swiss Army Knife around which our lives are increasingly centered." Isaac road-tested Google Wallet and found it to be satisfyingly "simple, stripped-down and straightforward, providing a low barrier of entry for those who may be intimidated at the thought of ditching their physical credit cards … Wallet entranced me. After stopping by the Whole Foods up the street for a quick bite, it only took thumbing in my PIN and gently tapping the back of my phone to the store's electronic reader to pay for lunch. My phone notified me that my payment was sent, and the cashier gave me the thumbs up to say he received it. No loose change, no sweaty wads of cash to be handled — simple, painless and super fast."
Appeal to retailers. "For retailers, the attraction is not just to ease the payment process for customers, but also to increase engagement with them – tapping on the readers can also add loyalty points or allow digital coupons to be spent", noted Chris Nuttall of The Financial Times, who reminded that Google is not the only firm developing mobile payment systems: "Apart from the Isis joint venture, PayPal has its own mobile app and Apple is rumoured to be including an NFC chip in the iPhone 5 expected next month."