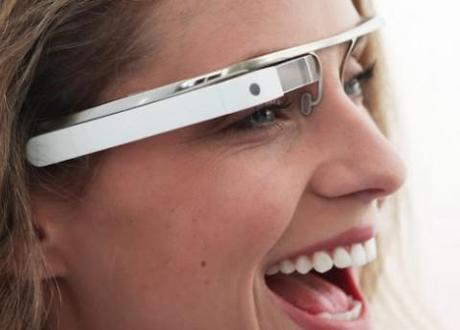 What's this cool chick looking at with her new Google glasses? Photo: Google
Are we all going to be cyborgs soon? Possibly. Google has announced a pair of glasses which project information onto the user's view. It's a slim device that fits onto your forehead (er, like a pair of glasses), and transmits information to the wearer. It's voice activated, too, is connected to the interweb, and you can make phone calls on it. The "augmented-reality" spectacles are what has come out of a two year project called "Project Glass", which has been developed in Google's secret lair, sorry, laboratory, Google X. You probably won't be able to get a pair any time soon, though.
"We think technology should work for you—to be there when you need it and get out of your way when you don't," says Google.
The frankly rather terrifying video the company have released shows a young man, obviously some kind of hipster walking around the city doing his normal stuff, from his point of view– only every time he wants to check something, he barks a command to his glasses. So he's in a bookshop and asks his glasses where the music section is – which, Periscope wonders, seems a little redundant, as there are things called PEOPLE whom you ask, who probably know better than a pair of glasses. Anyway, it also shows some useful things – like when he arrives at the underground, it tells him that the thing is shut down; although Periscope can't help but thinking that that information might have been a little more useful before he left the house. The young chap also manages to learn the chirpy song playing on his soundtrack so he can play it to his girlfriend as he stands on top of a skyscraper. Cool? Maybe. Watch it for yourself here. And then watch what the Google glasses are more likely to bring about, in Tom Scott's parody below.
What's the techie reaction? Many of the features – voice commands, embedded camera, Google Maps integration – have been previously rumored, but it's compelling to actually see them in action. Whether they will work quite as well in reality is, so far, uncertain,' says ZDNet.
Fashionable? Brian Balker on The Guardian's US News blog said that "The physical glasses frame itself, while not as clunky as it could be, is sort of a dorky optical Bluetooth. Something that seems like it would feel at home on Levar Burton." He added that "without having tried a prototype on ourselves, they seem as though they would be vaguely intrusive if not downright creepy."
Tom Scott's parody