For the past week or so I've been tracking fluctuations in search rankings across the board. Fortunately, many of the RedStar Digital Marketing service clients have been moving up rankings, as the lower quality sites around them have begun to fall from grace (and ranking). This looks like a spam website hitter rather than a direct Panda or Penguin update, personally I also suspect it will be looking at transient websites and reaffirming the sandbox for many query and industry types.
Measuring Search Flux
On of the first indicators I look for when rankings go into flux is the MozCast. This is a website ran by Moz (formerly SEOMoz) which measures the turbulence in the Google algorithm over the previous day, there is a previous 5 day report and a 30 day report. Its a very handy website as it also charts other interesting metrics, which i admit are of little use unless you are deeply interested in internet marketing.

One of the interesting charts looks at the influence of Exact Match Domains (EMD's) on search rankings – this is shown below. The 90 day display below shows (as expected) a drop in the effect that EMD's have on rankings, it's the same for partial-match domains (PMD's).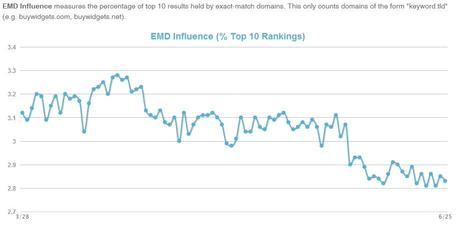 Confirming A Google Update
Confirming a Google Algo Update isn't easy, updates happen by the minute sometimes and so it can be hard to pin point any one given update. Something that sometimes happens, but not always, is that Google or Matt Cutts will confirm an industry suspicion of an update. Indeed, Matt has been known to tell us about updates before they happen, basically a warning to clean up your act or face the consequences.
With this latest update @MattCutts tweeted
Multi-week rollout going on now, from next week all all the way to the week after July 4th.
If that isn't confirmation – I'm not sure what is.
Have You Been Effected?
Of course, I'd love your confessions of being smacked by a penalty and low rankings, but I'd like to hear more about how your competitors have suffered because your website is awesome. Go on, tell us why your competitors have been hit.
Original Content by SEO Andy @ Google Search Ranking Update – Summer 2013