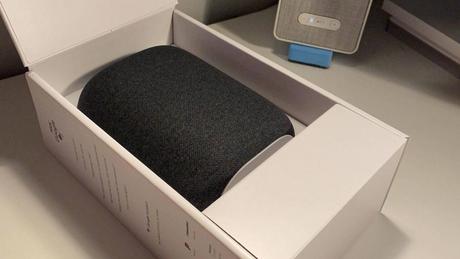 Google is having a hard time keeping its new smart home products under wraps. After the head-to-toe unveiling of the upcoming Google Chromecast this week, the upcoming Google Nest Audio has now received a similar shakedown.
Reddit user appropriately named throw GNestAudio (via 9to5Google) uploaded a carousel of live-action footage detailing the packaging and exterior of the charcoal gray speaker. The device was reportedly bought by Walmart for $ 100, which is the same as the price listed in previous listings.
The box itself doesn't display Nest Audio's specs, but the user puts its size in context. It's about the size of half an Apple keyboard, but about the width of one. The Nest audio also apparently sticks to the barrel power connector that the original Google homepage also uses, which can be annoying for those hoping for a USB-C port.
Nest Audio's
In terms of audio quality, Nest Audio's new owner believes "the original Google Home will be blown out of the water". Both a tweeter and a subwoofer are installed in the device, which can be responsible for the "very heavy" structure mentioned by the user. A retail ad discovered yesterday indicated it weighed around 1kg, which is significantly heavier than Google's Nest Mini products.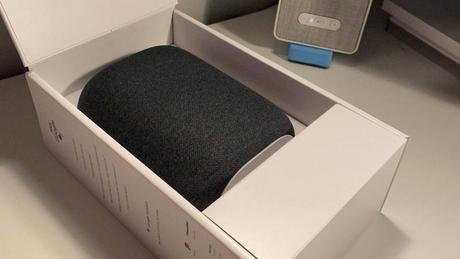 Google's Next Audio smart audio speaker was already described in an early unboxing.
The speaker was purchased from Walmart for $ 100.
It's pretty heavy, apparently, but it has better sound quality than Google Home.
As for the start-up sound, Nest Audio now offers a "guitar, maybe a bass, and then the signature piano key".
It's unclear why Walmart is bringing Google's new smart home devices to market so early, but it's not the first global retailer to ruin Google's surprises. British retailer John Lewis released official footage of the Pixel 4a 5G this week. This appears to be a buggy update to a Pixel 4a list.
Google is expected to host an unveiling event for its upcoming devices on September 30th. However, don't be too surprised if you discover more user unboxings and revelations supported by retailers in the days leading up to it.