Taking a perfect selfie at the right moment is not easy and if it does it will be the most memorable one. And another reason is that to capture the finest selfies you need to have capturing skills.
We have seen that taking selfies with the selfie stick, shutter button and using the voice commands. And the technology has well advanced that your selfies will be captured automatically with a perfect shot using the AI (Artificial Intelligence)
After building the automatic photography with Google clips, Google pixel 3 came with a AI technology that captures the selfies using with shutter-free mode in pixel 3 camera app.
How the Photobooth works?
After opening the photobooth mode click the shutter button, now it detects the steady and clear subjects and expressions with their eyes open.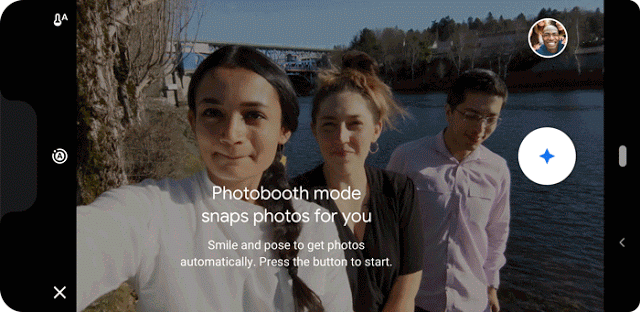 Automatically captures shots, while everyone in the photo looks best
And the kiss detection features are developed using the Image Content Model (ICM) which specially focuses on kissing
Check: How to merge multiple PDF files into one PDF file
The photobooth detects with the length of the bar which can be seen on the top of the camera screen. Using the following features
1. No faces seen
2. Faces seen but not paying attention
3. Paying attention but not making key expressions
4. Faces paying attention with key expressions
If the bar length is full, it captures the shot and is saved. You can try this on the pixel 3 and check on how it works
Check the Interesting Topic: Are you looking for the best entertainment and the best video streaming? Here in the previous post, we have shared a topic on Best video streaming apps and you can check it from here.
Google AI blog released this information on their AI blog as their latest news