In this article I want to share two Google Penalty Checking Tools – I don't often write recommendations to tools or services, but these two tools combined are great for anyone who things they may have been effected by a Google Algo Update. Both tools are very useful in their own right, but together you can get a full picture. Both tools take just moments to set up and see results on, no waiting for an import or anything like – it's just there!
Panguin – Statistics Shows a Penalty?
The first tool is Panguin by Barracuda Digital. This free tool allows you to login using Google oAuth to view your website analytics data inline with Google Algorithm update information, as seen below. From this you can usually hazard a guess as to which update effected you, though it's worth noting that the updates rarely fall exactly on the moment they are claimed to have. The cause of this is that an update an roll out across days and weeks, alongside normal updates, and so this tool is a useful visualisation tool to show your clients what has happened in the history of their website.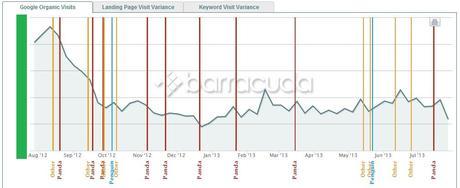 Give the tool a try @ barracuda-digital.co.uk/panguin-tool
Fruition – Probability of You Being Hit
The next tool has been part of my kit for a few months since I was introduced to it, it's called Fruition. Now fruition works in a similar vein to that of Panguin, however it (i think) is a tad more useful. The difference is that Fruition actually takes your Analytics data and the algorithm update information and works out based on many factors (more than you or i could probably conceive) whether your website was effected by an update. It then has a lovely graph (seen below) but also has a table with that information and a probability score that you were effected and whether it was good or bad for the site – from that you go through to an information page about that given update so you can tweak your site to negate negative impacts and make the most of positive updates. This tool is free for 2 websites, but they have some reasonably priced packages available too – and if you are an agency contact them for your own quote, they are really nice people.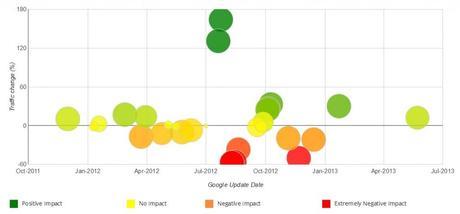 Check out this nifty tool @ fruition.net/google-penalty-checker-tool
More SEO Tools
Each month I am going to write about my favorite SEO tools! if you've got any suggestions you know what to do!
Original Content by SEO Andy @ Google Penalty Checker Tools