Google has just obtained a patent that could give the rest of us what Deckard did 30 years ago.
"Enhance" the pix.
The software could gauge a mobile device's position and orientation to offer a closer photo that was taken before, from a server as a substitute. That photo may be a Street View shot or an image a globetrotter took before just for fun.
"Aspects of the invention pertain to enhanced zooming capability of user devices. A user device such as a mobile phone with a camera may capture images of different objects of interest. The capture and zooming limitations of the user device are overcome by replacing, supplementing or otherwise enhancing the image taken with one or more geo-coded images stored in a database. For instance, if the user attempts to zoom in on a feature of an object of interest and exceeds the zooming capability of the user device, a request is sent to a remote server to provide an image showing the feature of the object of interest at a desired resolution. The server determines which, if any, stored images correlate to the captured image of the object of interest. The resulting imagery is provided to the user device and is presented on a display." -Abstract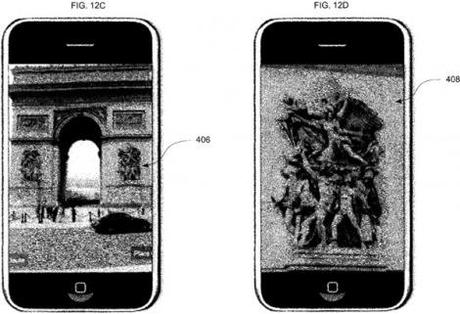 The geocoded system could even cue photos based on the time of day and year to provide that extra dash of authenticity. We already get a trace of the concept through photo overlays within Street View itself, although we don't know yet if Google will link our camera apps directly to a cloud of substitute photos or not.
N.
Via: USPTO