It looks like Google's stuck its boot in or rather its maps in regarding Catalan street names. Google Maps seems to be generating names for Catalan streets in Spanish for their maps but are not entirely correct even as a Spanish version. I was looking at Liz Castro's blog and it was an amusing read but an example of how the big "G" has really messed up. Take a look at what I mean here: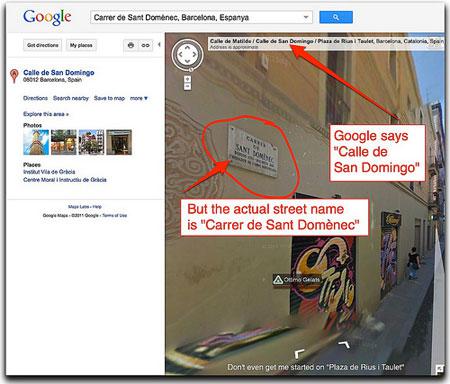 This morning on Twitter, I saw that Google had decided to replace Catalan placenames with crazy, sometimes random, translations into Spanish. The hashtag #googlecat has quickly become a TT (trending topic) on Twitter as people around Catalonia are outraged that Google has decided to call Catalan places however they like.

Pretty incredible. You, dear non-Catalan reader, might think it's much ado about nothing, really, how much difference is there between "Plaça Catalunya" and "Plaza de Cataluña"? Who cares? But there are very large issues here, which I hope to address one by one.

First, the names of streets, squares, and roads are all in Catalan in Catalonia. If you're looking for a street, the only street sign you will find will be in Catalan. Google Maps won't do a fat lot of good to you if it's giving you a translation into Spanish. For example, one of the streets near my apartment is "Carrer de Sant Domènec" (or Saint Dominic street) but Google has it labeled as "Calle de San Domingo".

(Then, there's the added weirdness that you can't actually say "San Domingo", it would be "Santo Domingo".) There are many, many other bizarre translations. Things like "Verga María" [Cock Mary] (and I don't mean roosters) for "Verge Maria" [Virgin Mary]. Or changing the name of the town, "Sant Boi de Llobregat" into "San Baudillo de Llobregat".

Think it won't matter, that Catalan and Spanish are "close enough"? Try "Calle del Oxidado" instead of "Carrer Rovellat". Or "Rambla de la Colina" instead of "Rambla del Turó". Let's just say I wouldn't rely on Google Maps to get around Catalonia any more.Read the rest along with pictures on Liz Castro's blog here.
So there you go, Google's made a complete "hash" of it and probably offended half the region of Catalonia in the process!