The Google Home smart speaker is one of those devices that the more you use it, the more you discover what it can do.
For example, did you know that you can call an Uber using Google Home? Or how about playing YouTube videos on your TV without touching a single remote control or device? All this – and more – is possible.
1. View the history of your commands
Google saves a copy of all voice commands given to Google Home in the Google account linked to the device. You can see all your previous commands and delete anything you don't want to store in your account with just a few taps.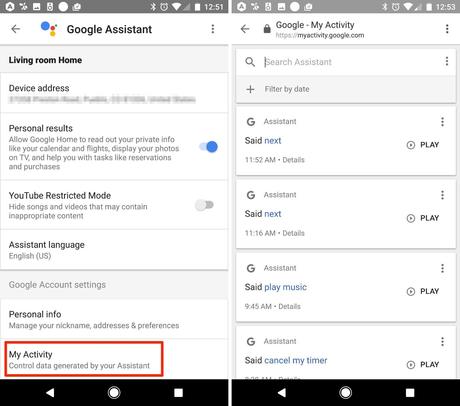 Once again, go to More Settings and scroll to the bottom of the page, then tap on My Activity. A web page will open with the time, date, and request.
Touch the play button to listen to what Google Home recorded and if you want to remove that from your history, touch the menu button and then press Delete.
Read more: 3 New Apple Audio Gadgets and New AirPods, that will be Released by 2019
2. Restrict inappropriate content
Now that Google Home can easily play YouTube videos and music, your children are more likely to start making their own queries.
To prevent playback of content not suitable for children, open settings in More settings and then go to the bottom of the page where it says YouTube Restricted mode and activate it.
3. Order an Uber
At this time, only Uber appears as a third-party service available in the Home application. Over time, there will be more developers working on adding support, and that list will surely grow.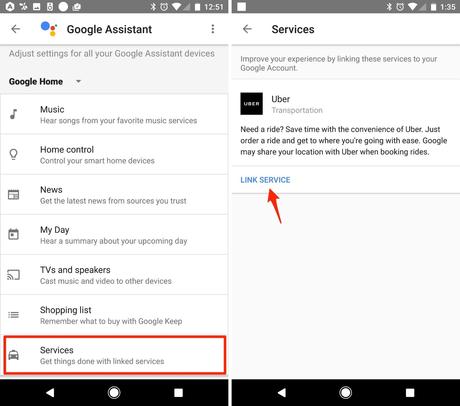 Find a list of compatible services by opening More settings> Services. Touch the service you want to connect to your Google boot device, and then follow the prompts.
Read more: 5 easy and quick gifts to get for technology lovers
4. Change the music source
Google Home is compatible with Google Play Music, YouTube Red, Pandora, and Spotify. To configure your favorite music source, open the music section in More settings, and choose the service of your choice there. If you have not yet linked it to Google Home, they will instruct you to do so.
Bonus: When you set up your device for the first time, they will give you a six-month courtesy subscription for YouTube Red (and therefore also Google Play Music).
5. Set wizard preferences
All your interaction with Google Home is done through Google Assistant, the updated personal assistant of the company that is integrated into the Allo chat application, Pixel phones, and, now, Google Home.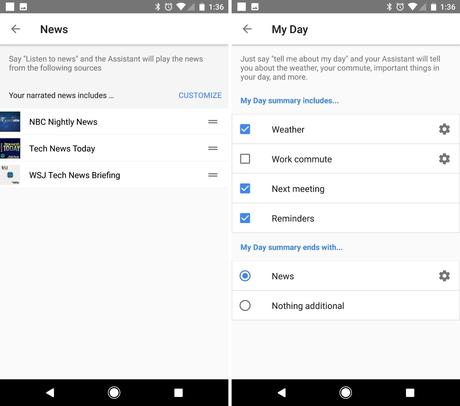 You should mold the information that Google Assistant knows about you and help you better with your requests. Open the Home application, slide the menu drawer from the left side of the screen, and then tap More settings.
I suggest starting with the News and My Day sections. In News, you can select several audio news updates to listen to. Use My Day to establish what details are included when you ask Home to inform you about your day. Options include weather, travel time, the next meeting, pending reminders, and then play the news.
6. When all else fails … restart
Google Home is not immune from problems, so the quick solution to any type of hiccups you can detect is simply by restarting the device. There is a button to do just that.
Open the Home > Devices > Menu > Reboot app.
7. Guest mode
The Google Home serves as a Chromecast audio device, which gives access to friends or family to use without having to access your Wi-Fi network.
Activate the Guest mode in the Home > Devices > Menu > Guest Mode app. Activate Guest Mode and wait for a PIN code, which you will need to give your guests to connect to your device.
8. Use Chromecast from Google Home
Follow the same steps to rename your Chromecast to make it easier to play content on your TV. In my tests, I changed the name of my Chromecast to "TV." By doing that, it's easier to tell Google Home to play a YouTube video on my TV. (For example: "OK, Google, touch Stampylongnose on my TV").
Change the name of your Chromecast to something that is easy to say and remember, and you'll see that interacting with it through Google Home will be super easy.
9. Give Google Home a name
In the Google Home app on your iOS or Android device, navigate to your Google Home settings. You do this if you go to Devices > Menu > Settings. Under Device Info, tap Name.
Change the name of your device to whatever you want, but keep in mind that as you add more devices to your home, you will have to use names that are easy to remember based on your location. This way, when you ask Home to start playing music on several speakers, you'll know the name of the exact speaker you want to use and don't keep trying to guess.
10. Turn off the microphone
On the back of Google Home, there is a button that prevents the microphone from constantly hearing the phrase "OK, Google." When pressed, you will hear "Microphone off" of the speaker, and its indicator lights will turn orange.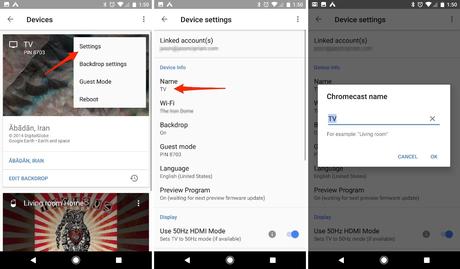 Press the button again to activate the microphone and use Google Home as you normally would. Some users like to have the microphone option disabled when not in use, or when they have a sensitive conversation near a device they are always listening to.
Note: Keep in mind that, at least for now, Google Home only speaks English.