The art and the habit of writing is slowly dying !  Can you recall the last time when you wrote a [handwritten] communication to your friend or family member !  ~ in this beautiful World, there are still some who write with pen and some more who carry pen in their pocket all the time.  Some get so irritated when people casually ask for their pen  in a bank or at a public place !!  - at a time, when there are so many cheap throw-away pens,  there are the fountain pens – with nib, reservoir of ink and some costly ones too !! [mere status symbols !!]
Ladislao José Biro may not be well known but his invention —is [or should it be was]  one of the most widely used instruments found anywhere in the World.  Google's regular doodle series is celebrating the inventor's 117th  birthday on Thursday 29 September, by using a doodle with the words Google scribbled alongside an animated version of how it  works. That man clearly was ahead of his times !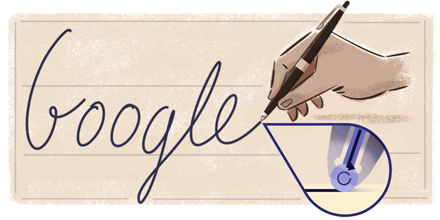 Putting one's thought on paper ~Writing is most important though the practice of writing is slowly dying.  It is believed that Indians pioneered writing with writing materials as many of our epics have been recorded in various forms.  In earlier days, bird feathers, sharp instruments, bamboo sticks were used to write, especially on palm and other leaves.  Legend has it that Sage Vyasa dicated 'Mahabaratha' which was written by Lord Ganesha with his teeth (ivory tusk)
Much later pen was discovered – pen (Latin – penna) is a device used to apply ink to a surface generally paper.  There are many types of pens – remember we used fountain pens in our study days, there were also ball point pens.  Now a days most students use gel pen in which ink is a water based gel.  The ink is thick and opaque and shows up more clearly.  Fountain pens had the nibs and had reservoir of ink in the bottom portion. Filling was manual though there were some using vacuum.   Camlin was one of the most popular brands in use those days.  Parker, Pilot were in the hands of the rich.  Though any good writing pen would do, there has been craze for costly brands such as Schaeffer, Cross, Ferrari, Mont Blanc, Bentley, Mercedes,  Giorgio Armani, Parker, Koh-i-noor, and  more.  There are also Celebrity pieces made for the occasions and limited versions studded with gems and diamonds on gold and other metal of high value

In our school days in late 1970s and later, we craved for brand 'Red-leaf' – prized possession was one from Singapore which my uncle brought on a visit.  Later market was flooded with many other brands with Reynolds perhaps ruling now !
You may not realise this but the humble ballpoint pen, used by millions of people around the world every day, is less than eight decades old.  Invented as the Second World War was about to begin in 1938, the biro takes its name from its creator Ladislao José Biro.
Biro, who was born in 1899, was a sometime journalist, painter and inventor who was frustrated with fountain pens blotting and smudging. He got the idea on a visit to a newspaper printing press, which used quick-drying ink and a roller. His thought process enabled simplifying the process and he set about creating the biro, which would begin production in 1944 under the name "Eterpen" and retail for the equivalent of £33.
Today would have been Biro's 177th birthday and Google is honouring the occasion with a Doodle. Biro's first idea for the ballpoint pen was to use the quick-drying newspaper ink in a fountain pen. This however didn't work as the ink was too thick and slow-moving to reach the tip of the nib. So he created a ballpoint nib which was coated with a thin film of ink from the cartridge as it made contact with paper and spun in its socket. Biro initially tested the invention with fountain pen and printing ink, both of which had the wrong consistency.  Biro enlisted the help of his brother György Bíró who was a chemist to create ink that was just the right viscosity. The pair gave their name to the invention when they patented it the "Biro" on July 15 1938.
The pen is still called a biro in countries including the UK, Ireland, Australia and Italy, but in the US it is known as a ballpoint pen. The nib in a ballpoint pen is normally made of a metal such as brass, steel or tungsten carbide. When it comes into contact with a piece of paper, or other writing material, the ball rotates and picks up a thin film of ink from the cartridge, which is a pressurised tube.  Biro was not the first person to come up with the idea of a rollerball system for delivering ink to the nib of a pen. John Loud is widely believed to have patented the first ballpoint pen back in 1888, but he failed to turn it into a commercial product and so his patent lapsed.
Ladislao José Biro, the eponymous inventor, was born into a Jewish family in Budapest, Hungary, and started life as László József Bíró. In fact he maintained that name until after he invented the handy ballpoint pen when, in 1940, he was forced to flee the Nazi occupationof his home country.  After escaping the hostile occupation of Hungary, Biro made his way to Argentina, where he eventually secured backing to turn the biro into a commercial product. The pen's first backer was the British accountant Henry George Martin, according to the Biographical Dictionary of the History of Technology.  The first major buyer of the newly created pen was the Royal Air Force. During the Second World War the organisation ordered 30,000 of the tools, which would work at high altitudes unlike traditional fountain pens. After the war it entered commercial production.
Today, the Bic Cristal biro is the world's most popular pen. Astonishingly, the price of the pen in the US has remained the same at around $0.19 [around Rs.12.50], since when it was first put on sale in 1959 despite flying decades and increasing inflation.
With regards – S. Sampathkumar
29th Sept. 2016.