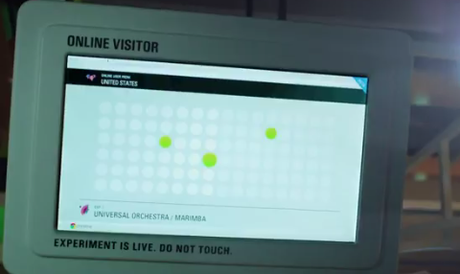 The Google Chrome Web Lab is open 24 hours a day at the Science Museum in London.
As far as we know, the Internet exists largely as a cerebral space, a place of intangible connections, where information has no corporeal presence.
Not anymore. This week, Google Chrome launched the Web Lab at the London Science Museum, a year-long installation of five interactive experiments designed to tie the Internet's otherworldly conceptual presence to something physical. Users can access the experiments while physically at the Science Museum or, and this is key to the installation's concept, from wherever they are in the world via the Internet. The experiments include a "Universal Orchestra", which allows people from across the globe to collaborate and make music in real time, using the eight-piece robot band as their proxies, and Sketchbots, robotics that trace an uploaded image into sand, while viewers watch from in the museum and online.
Explained Jayme Goldstein, Product Marketing Manager for Chrome on the browser's blog, "We hope to inspire people around the world by showcasing the magic that the Internet makes possible."
So far, the installation hasn't attracted a tonne of buzz – the website, which is best viewed, of course, in Chrome, only has around 4,600 Facebook "likes" and there's little comment beyond the fact that it exists. We're curious: Does this look cool? Or gimmick-y?
The Web Lab at the London Science Museum

More in Google

Google unveils 'augmented reality' glasses
Google in new 'snooping' row over Street View
Google's privacy policy annoys the EU