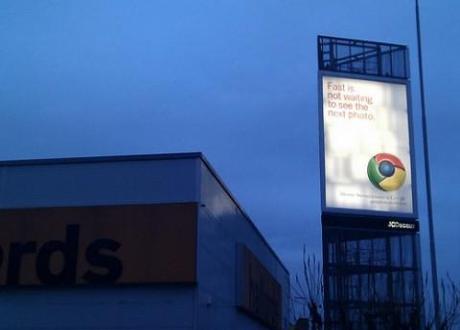 Google Chrome advert. Photo credit: osde8info, http://flic.kr/p/97vZZq
Google Chrome has become Britain's second most popular browser. Three years after its launch, Chrome has overtaken Mozilla's Firefox and Apple's Safari, although Microsoft's Internet Explorer managed to cling on to the top spot.
Why Chrome? Most techies point to Chrome's speed as the reason for its popularity. But Lars Bak, the Google engineer responsible for the browser and therefore probably totally impartial, told The Guardian that there are other advantages: "It's also about the minimal design and the way it handles security."
Why not Chrome? It seems Google Chrome critics are few and far between. A Facebook group entitled "Google Chrome sucks" has only 58 members; maybe the haters are all on Google Plus.  However, Twitter account @Chromefail, set up to document issues with the browser, appears to have found a few Chrome phobics.
The power of advertising. The Next Web pointed to Google's television advertising campaign as a possible reason for its success in the UK. The most famous – or most likely to induce violent vomiting, depending on your point of view – was the series of ads about a father documenting his baby daughter's development through the magic of Google Chrome.
Unstoppable? Google is continuing its relentless quest for dominance with the new "Chromebook" laptop, built by Samsung and Acer, which will rely on a remote server to store data. Charlie White described the Chromebook as "hassle-free and easy to use" on Mashable. However, Jason Hiner at TechRepublic was less impressed, suggesting that Google needed to drop the price and address the issue that Chromebooks only work online. Meanwhile, Google have also launched Google Plus, a social networking tool that is seen as a potential rival to Facebook. Just don't mention Google Buzz.
IE IQ. In news that will doubtless thrill Apple, PC World has reported that a "psychometric consulting firm" has discovered that Internet Explorer users tend to have a lower IQ. According to Jared Newman, "If you ever want to argue that Internet Explorer 6 users are too stupid to upgrade, at least now you've got some empirical evidence."