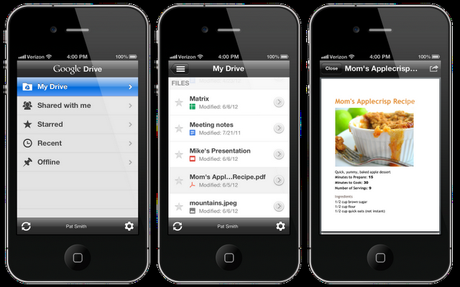 Google drive is a storage service provided by Google to its users to stock up all files into Google drive, which also allow sharing of files, storing, editing of documents and cloud storage. Google drive apps has 120 million users which support applications to run with IOS, it also supports voice apps on Android. IOS is an operating system manufactured by Apple Inc which runs on mobile devices. The web search can enable search of all files on Google drive. Google drive apps have seen many changes post its launch in 2012. During its commencement it had replaced Google Doc apps. The gadgets which support Google drive software are – tablets, android smart phones, I-Phones and I-Pads with IOS operating system, Windows XP, Windows 7, Windows 8, Windows Vista, or Mac OS X.etc. Google drive is a freeware and not licensed or paid which can be downloaded by any user.
Google has added a few diverse updates to its IOS and Android drive apps. The updates for Android allows the user to look for files inside the Google search application also by using the "Ok Google" voice/speech control. Without even opening the drive app, these files can be searched. For IOS users any content can be uploaded to drive from any other IOS apps. One can now share maps which are created in Google My Maps through any operating system. The updates with Google IOS are already live and users can access it by downloading the update. The Android update will be apparently rolled out sooner.
Google Inc offers for all app users a free storage of 30GB on the drive. An unlimited storage is offered for users using Google drive for education and Google drive for work. On exclusive android smart phones an additional storage space is offered. Additional space is not offered for Google app with the source of employee referral. It also coordinates between Google drive storage files and other user's computer, the only requirement is that Google drive should be operation on other user's computer. Google drive has a feature of controlling the public visibility to its drive. Also the right of ownership can be transferred to anyone having a Gmail account. Even if Gmail account is not available for a person, the files can be transferred though a link. The Google drive viewer allows an individual to view files in following formats, they are –
Image files like JPEG, TIFF, and BMP etc.
Audio formats like MP3, WAV files
Text files with ending .TXT
Video files like WMV, FLV and 3L format
Apple pages, Adobe Photoshop, XML paper files, Raw image formats, and Microsoft Office
Adobe Photoshop in PSD format
Adobe AutoCAD (DXF) file
Adobe Illustrator
There are third party apps working with Google drive which can handle by other third party apps.The Google Drive app functionality has been moved to standalone applications like Google sheets, docs and slides just to support editing of documents from IOS and Android. Also Google drive has a feature of Optical character recognition where any users can take their pictures, or a document of some other text. This feature allows converting the text which needs to be edited.