Most of us in north London will know of Bluston's ladies' coats and gowns, the with its wonderful old-style shop front on Kentish Town's main high street.
In latter decades it's lovely old walk-in and walk-around windows offered ladies of a certain age nice cardigans and day wear. However, the sign above suggests its heyday of party dresses, evening gowns and cocktail frocks conjuring up an altogether different kind of clothes shop (scroll down to the bottom for an old pic).
The pictures below tell a story from 2008 to last month: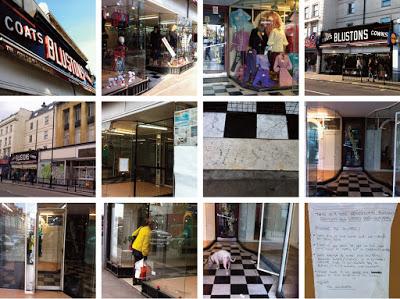 The top row shows how the shop looked up until until the end of last year displaying clothing around the £10-20 price mark. It was always a wonder how it survived so long. We've all known that closure was imminent but we all wanted it to stay there as is because we were fond of it. But market forces dictated differently.
In May last year I'd read a report in the Camden new Journal that after the owners left the shop would reopen as a clothes shop retaining the same name.  
In December 2016 I noticed the premises next door had closed (Lidl) with the windows covered in newspaper (first pic second row). This had been a branch of Lidl which I believe has since moved across the road. However Blustons windows were still full.
Walking past it last month I found it locked up with the windows empty. I peered in through the glass to get a better look. Another lady (here in a yellow coat) was also intrigued and we both stopped to discuss it. Then we noticed a dog wandering about in there. It was whilst we were reading the hand-written sign on the window (written out in italics below) that a man came out to chat to us about it. It turns out he and others are squatting the premises because they are homeless. He says they respect the property and its historical features and just want somewhere to live.
Other people stopped to join in the conversation and we all chatted for a while about the amount of empty shops premises everywhere and empty rooms above them all going to waste which in time become damp and dilapidated due to not being maintained and subsequently unfit for purpose.
So, let's watch this space and keep our fingers crossed.
I wish him, his friends and the dog well. I wish the shop well. I hope there is a happy outcome to all of this for everyone involved.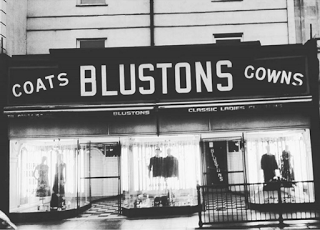 Michael Albert was the owner of Blustons – click here for some of his tips
I'd love to find more archive/historic images of the store both inside and out but I am coming up short. The only evocative image I have found of exterior to give a hint of times past is this, when Ted Baker recently used it as a display space. 
If you can't read the words on the squatters' sign it says:This is a non-residential building – Section 144 Laspo does not apply.

Please be aware

– That this is our home and we intend to stay here.

– That if you want to get us out, you will have to apply for a possession order.

– Any attempt to enter this building through threat/violence is a criminal offense and is punishable by a £5000 fine/ 6 moths imprisonment.

_That there is at least one person in this building at all times.

Signed the Occupiers