It's a little habit of mine that started so long ago that I can't remember when, but each day when I open the back door that leads straight out to the garden, I always say "good morning everything". And I mean everything. Even the earthworms, the aphids, the flowers and weeds, birds and the bees. Everything. No use in discriminating, is there? We're all equals.
And on this only moderately chilly July morning, the middle of our winter, with the temperature at 10°C and likely to soar up to just 17°C by early afternoon, we had a touch of overnight rain and the garden was just lovely to behold and be in. No jobs to be done at all, just a wander around our pretty little patch here on Earth.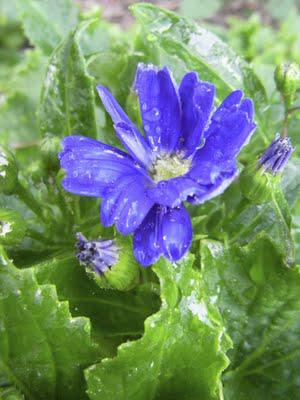 The first of the cinerarias decided this was the day to come out. These things will now flower for a few months, in colours so bright that lurid is the most honest way to describe them. These are here to do a job, not so much to be looked at directly, but

to be looked at in a mirror

, attached to the shed wall, by someone standing at the back of the house. That's the plan.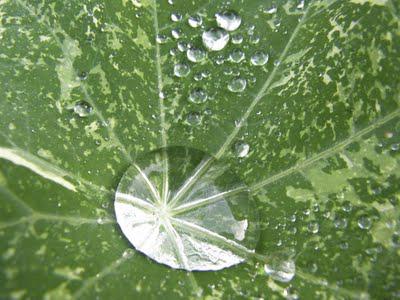 Now, the nasturtiums are Pam's plants, but this is the reason why I so readily gave in and planted something which I consider to be an invasive weed. Ahhhhhh, raindrops on nasturtium leaves in the morning...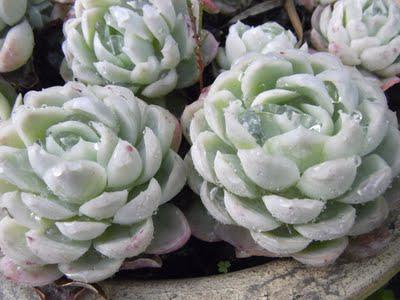 Speaking of raindrops, for some reason they always look like a watery gel, rather than mere water, when they accumulate on these succulents.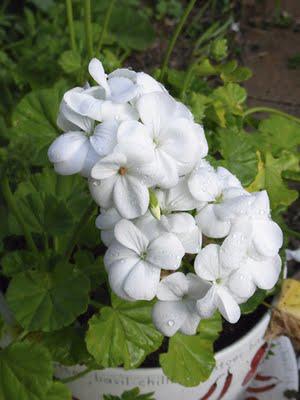 If plants were a doggie which could wag its tail with happiness, this pelargonium would also like to press its cold wet nose up against my face while it wagged its furry tail.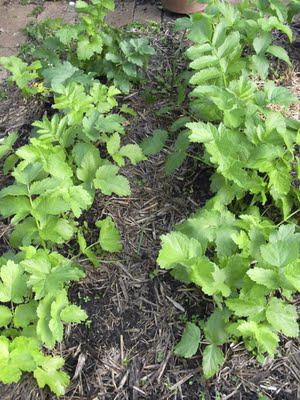 Of all the vegies I grow, I like the look of parsnip foliage the best. I know there are some glam contenders out ehre (thinking cauliflowers, kales, cabbages and curly parsley for starters) but the light and cheerful green of the parsnips just seals the deal for me.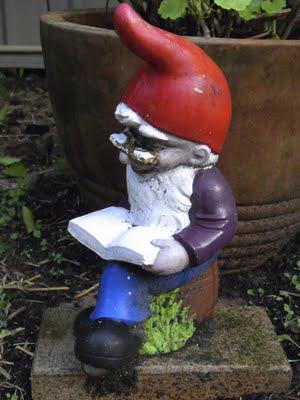 On a Sunday morning, where there isn't much gardening to be done because Huey the Rain God has sent down a shower overnight, there's only one thing to do, says Mitchell, our Librarian Gnome, and that's read a good book.
Good idea, Mitchell.
(Looking for something new and totally different to read? I'm loving the book I am reading right now, 'Leo the African', by one of my favourite authors, Amin Maalouf, a wonderful Lebanese writer. I cannot recommend Maalouf highly enough. Beautifully poetic and dazzlingly exotic in the way he brings another, completely different culture and time to life, a good one to look for and start with is

'Samarkand'

but

'Leo the African'

is winning me over as being every bit as good as my favourite so far, Samarkand.)