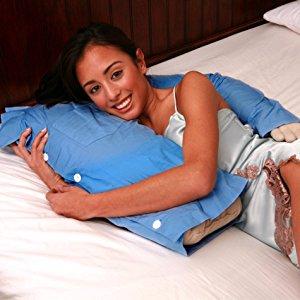 The Original Boyfriend Pillow
--
DRIFT TO SLEEP IN HIS ARMS
– Or
Arm
in this case! This is the ultimate cuddle pillow, the Boyfriend Body Pillow is akin to a virtual hug pillow; a thick, ultra-soft fluffy friend culled from pure cotton that even comes complete with an extended arm and a virtual real man. Lose yourself in a warm, wonderful embrace of a pillow; one never too weary to cuddle and comfort you!
HUGS ARE HEALTHY
– This pillow is far more than just cute and comfy, but can actually be beneficial to your health too! Everyone needs a hug! And this cotton fiber, down-free pillow won't trigger or aggravate allergies
THE PERFECT COMPANION
– Don't you or someone you know want to feel loved? The Secret to Beating the Loneliness: Spray a mist of your missing loved ones favorite scent and relax, close your eyes and let the memories carry you to a peaceful sleep
Check it out!
Vote below
Good idea - or - Waste of Money?
Tell us what you think!
---
NOTE -
If any of the above links are not working or the freebies or coupons no longer available, please post a blog comment below and I'll edit it!
---