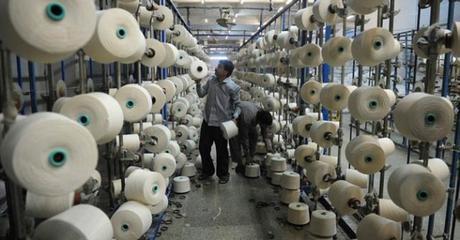 Despite new export opportunities, Pakistan's textile factories are shutting down due to energy shortages. (Photo: Dawn)
Huma Sattar was a CIPE-Atlas Corps Think Tank LINKS Fellow at the Heritage Foundation
Successive governments in Pakistan have shown profound interest in increasing trade with the rest of the world by pursuing various trade and investment agreements. From a significant Free Trade Agreement (FTA) with China signed in 2006 which will soon enter its second phase, to a trade and transit agreement with Afghanistan, as well as several free or preferential trade agreements with Malaysia, Indonesia, and Sri Lanka, Pakistan is also negotiating possibilities of trade agreements and cooperation with Turkey, Thailand, and the ASEAN region. The country is also part of the regional trade agreement South Asian Free Trade Area (SAFTA) together with India, Bangladesh, Afghanistan, Nepal, and other South Asian countries. Though the agreement is not yet fully operational, it is a source of much discourse and tremendous unrealized potential for all countries involved.
Pakistan's trade has increased overall, going from $24 billion in 2003 to $72 billion in 2014, and opening Pakistan's markets may be a positive indicator of some improvements in Pakistan's economy.  From importing primarily oil and fuel products, Pakistan is now also importing machinery, electrical and electronic equipment, and industrial inputs. The industrial sector, particularly large scale manufacturing, witnessed a growth of about five percent in fiscal year 2014.
At the outset however, there is more good news: in January of 2014, the EU granted Pakistan with the GSP plus status which allowed zero duty access and preferential rates along the majority of Pakistan's exports. Experts estimated a US $1 billion dollar increment in Pakistan's exports annually with the textile sector gaining a significant foothold in the European markets, competing closely with Bangladeshi and Indian textiles. Even though total exports to the world fell in 2014, Pakistan's exports to EU went from $5.2 billion in 2012 to $6.2 billion in 2013, and subsequently $7.2 billion in 2014. Is the textile sector really growing that fast to sustain this increase in exports? It's doubtful.
In fact, in recent years the textile sector that was once a burgeoning industry in the country, contributing to a bulk of Pakistan's exports, has crumbled under the pressure of poor governance and high costs of production. According to the Pakistan Economic Survey, electrical power outages and the increasing cost of gas have "obstructed the viability of the textile industry as exporters were unable to meet commitments."  This lack of readily available electricity and gas has impaired production such that about one quarter of the total installed capacity across the textile chain has already shut down. Already the textile supply chain utilizes only 60 percent of its installed capacity due to power shortages.
Other energy-intensive industries are suffering as well. As a consequence, those that have the capital are left to adopt alternative sources of energy to reduce their dependence on the national grid. But these options are costlier and less sustainable in nature. Though the government has continued to contend that recent energy projects, including the $46 billion China Pakistan Economic Corridor, would add substantial power to the grid – about 16,400 megawatts (MW) – the problems within the energy sector go a little beyond mere generation of electricity.
The energy crisis in Pakistan is cyclical in nature and a shortage of energy generating capacity alone is not the problem. The state-owned generation and distribution companies are largely misgoverned, with endemic corruption causing the system to work less than efficiently. According to a State Bank of Pakistan report, inefficiencies within the distribution network that arise because of poor infrastructure and governance are more detrimental to the energy supply chain than energy shortage, so much so that even if Pakistan could generate surplus electricity, the distribution system may not be able to supply it to end users. Transmissions and distribution losses are at an all-time high, varying from 9.5 percent to 35 percent. The Pakistani industrial and manufacturing sector cannot resurface without the government wholeheartedly tackling the power debacle.
Pakistan's exports mix is also problematic, and directly linked to Pakistan's limited production capabilities. Industries have never expanded sufficiently owing to low investment in sectors other than textiles. Emerging economies such as India, Singapore, Vietnam, and Malaysia are moving toward more diversification, dabbling in a variety of products, gaining access to markets for more industrial and finished products. India's exports base for instance has shifted from primarily exporting textile and textile products to a large share of vehicles and aircraft exports. Pakistan's economy, on the other hand, is still largely textile-reliant, though its share in the global textile market is decreasing each year, taken over by China and other textile-producing countries.
The ambitious regional agreement with SAFTA countries too remains unexplored – with intra-regional trade at about 4 percent – due to the erratic relations between India and Pakistan. Many of SAFTA's tariff concessions are not applicable because Pakistan continues to withhold the Most Favored Nation (MFN) status, now known as NDMA (Non-Discriminatory Market Access), from India. Pakistan's exports to India too have grown only marginally, which Pakistani exporters argue is due to the strategic and many times bureaucratic non-tariff barriers that India has in place. Meanwhile, experts report that indirect trade flows between Pakistan and India via third countries such as Dubai have only increased. Poor diplomatic relations continue to hinder economic cooperation and prove to be a deterrent to greater regional cooperation with other SAFTA nations.
Recently Pakistan's economy has experienced a rare period of economic growth – with IMF reckoning the economy will grow by 4.7 percent in 2016 – but this is largely owed to low oil prices globally rather than any robust policy initiatives by the government. The energy crisis must be contained: not just from the power generation side but also by overhauling the energy supply chain and focusing on improving the efficiency of the distribution network to decrease line losses.
This means cutting red tape, holding end users accountable for payment defaults, cracking down on electricity theft, and most importantly, redesigning the tariff structure to ensure that the government does not have to pay the debt that accumulates owing to the burgeoning gap between the cost of electricity production and revenue generated against it (also known as Circular Debt). Unless Pakistani government tackles the power crisis, industries will continue to shut down in the face of rising costs of production. In this environment the benefits of free trade agreements and preferential schemes such as the GSP plus can only be incremental in nature and may not lead to a greater capacity of production, increasing economies of scale, gaining comparative advantage or market competitiveness, which are what such agreements are expected to do in the long term.
CIPE-Atlas Corps Think Tank LINKS Fellowship brings talented young professionals with strong research backgrounds to shadow researchers and experts at leading U.S. think tanks for six months. Huma Sattar was serving at the Heritage Foundation.