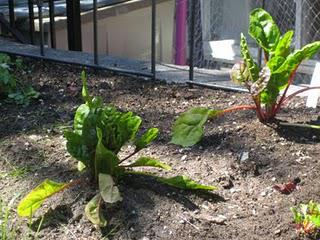 Swiss Chard
Our little backyard garden is coming along.  After a cool, damp (
really
cool -
really
damp) spring, summer days have arrived and the plants are showing it.  We managed to plant just a few things this year.  I don't know if it was the cold weather, how busy we were with family visiting, or the hectic pace with three kiddos, but we seemed late getting to our planting, and not as much of it.
Still, we did get our zuke seeds in the ground, as well as some starter chard (getting going, to the right) and kale plants, and a few herbs (parsley, oregano, thyme).  I'm disappointed we didn't get to basil.  I looked for the starter plants, but they were scarce this year (at least once we got to it)!  I'll have to settle on stocking up on my cherished basil at the farmer's market.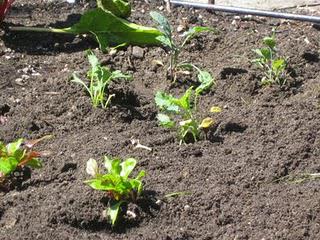 wee wee kale and more chard
This year, I added some kale starter plants (above), and they are coming along.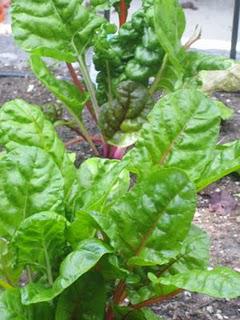 go, chard, go!
Here's the chard a couple of weeks ago, getting bigger and stronger!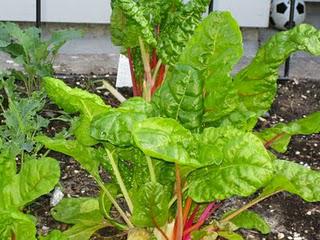 And, here we are today.  Our chard is really fully and lush, and our kale (on the left) is catching up!  Plus, our zuke plants are showing their stuff (below).  Sorry for the blurry pic, it was early when I snapped this photo. ;)  Zuke plants will grow HUGH folks, make sure they have some room!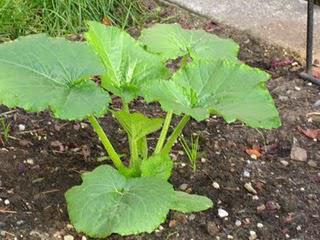 I am loving having more greens this year.  When the kale gets hearty, I'll be using it in my morning green smoothies.  And the chard leaves I'm using in lunches daily.  Just this week I used them as 'wraps' for a "rawroona" roll.  
What's that, you say
?  Well, it's sort of my take on a raw tuna salad, but not entirely raw as it uses cooked chickpeas rather than nuts.  Sorry, could never abandon my chickpeas.  They rule.  Anyhow, as I was making the rolls, all I could think of was Scooby Doo.  Might have something to do with the girls loving the lovable pup... or the fact that once Scooby says "
rawroona??!
" in your head, there's no going back.  (Or, maybe I need more time out!)  Whatever, you'll be sure to hear more about my Swiss Chard and "rawroona" rolls in my next post.  :D