No two golf courses are alike, which is the subject of this guest post from Stewart Probert. Different ways of achieving par, complex settings offering architectural and geographical choices and the types of challenges faced along the way leave a myriad of options for golf beginners through to players who want a considerable competitive edge. Enjoy this article and feel free to leave your comments below.
---------------
About the Author:
Stewart Probert from
Sweetwoods Golf Club in East Sussex
, is a keen golfer, traveller and writer. When not taking chunks out of his local course and/or throwing clubs into the trees, he can usually be found reading and writing about sports, anywhere that anyone will let him!
One of the things that makes golf unique amongst most sports is the fact that no two courses are ever the same, making every round of golf a potentially new experience. But with thousands of golf courses around the world, it takes something that little bit special to stand out from the crowd and entice players from all around the world. These are a few of those courses who have gone above (way above - literally in some cases!) and beyond to provide anyone gracing their greens with a truly unforgettable experience.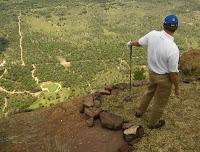 Legend Golf and Safari Resort
Legend Golf & Safari Resort, South Africa
The Legend Golf & Safari Resort it most famously known for the "Extreme 19th' - a par 3 hole that begins 400m above the Africa-shaped green on Hanglip Mountain, and requires a helicopter just to reach it! Numerous notable figures have come to play the Extreme 19th, including celebrities and well known professional golfers, although it's notorious difficulty means that making par is something of a feat. The Legend Resort even keeps a "Leaderboard" of lowest scores for the hole on their website, peppered with a few names you'll recognize.
There is much more to the resort than its 19th hole however: the 18 holes that make up the 'Signature Course' have been designed by 18 of the world's top golfers including Colin Montgomerie and Sergio Garcia. Meanwhile there is also the tribute course - a 10 hole stroll through golfing history that features the best par 3 holes from courses around the world including Pine Valley, Augusta and the Old Course at St Andrews. It's like a whistle-stop golf world tour!

La Paz Golf Club, Bolivia
Elevation is a vital ingredient when it comes to a good golf course, but when that course is already 3,318 metres above sea level, perhaps it isn't that important. The La Paz Golf Club is the world's highest golf course, and as a result you'll notice that those balls travel that little bit farther - or maybe you just perform better when thousands of metres above the sea?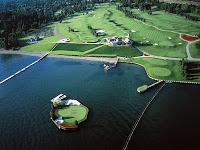 Coeur d'Elene Resort
The Coeur d'Elene Resort, Idaho

Many golf courses are known for their treacherous water hazards, but the 14th hole at the Coeur d'Elene Resort is unlike anything you'll have had to negotiate, as this hole has a floating green in the middle of Lake Coeur d'Elene.
The moveable floating island green is currently the only one of its kind in the world.
While getting on to the green may be difficult, at least you won't be faced with a dilemma about whether you should take the easy or difficult route. Although landing your ball on the green might be tricky, you can get there yourself quite simply at least with a short boat ride. 

Le Touessrok, Mauritius
Imagine playing golf in the lush surroundings of a tropical island and you'll begin to imagine what Le Touessrok is like. Just a couple of hundred metres out from Mauritius, the course is surrounded by crystal clear blue waters and an abundance of plant life. If there's any course on earth where you're going to be coaxed into enough of a tranquil, content state of happiness by your surrounding scenery that you'll forgive yourself for missing a 2 foot-putt that ordinarily would send you into a club-throwing tantrum,  this would definitely have to be it.
Tornio Golf Club, Finland/Sweden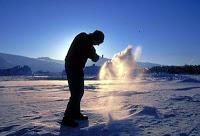 Tornio Golf Club Finland

Have you ever hit a ball so hard and so far that it raced into another time zone? Play a round at the Tornio Golf Club (which is officially in Finland) and you'll be able to say you have. The course straddles the border of Finland and neighbouring Sweden allowing players to blast their ball back and forwards across time zones and national borders until they feel like Marty McFly himself. Now if you're late getting back from the clubhouse, saying that you didn't know what time it was will be a perfectly valid excuse.
Uummannaq, Greenland

The World Ice Golf Championships have been held annually in Greenland since 1997, but only as long as conditions have 
been acceptable. After all, playing golf on this extreme landscape of Uummannaq is dangerous enough as it is. If you thought trying to contend with bunkers was difficult, perhaps you should consider how you'd cope with wind chill, or just how you're supposed to land your ball on a green that is actually white.
Golfers that have been lucky enough to play a round on this unique course have claimed that the stunning scenery is more than enough to distract you from the freezing temperatures. 

Hans Merensky, South Africa

We end our world tour where we began in South Africa, at a course that borders Kruger National Park. While fantastic scenery is guaranteed you never know what wildlife you might see, so keep your eyes peeled for giraffes, hippos and rooibokkies. 

Where to next?
So there it is, the world tour with a difference. While golf has long been thought of as a traditional and conservative game, as it becomes more mainstream and more golfers look for unique experiences, it's likely that the number of courses offering something novel will increase. One course attempting to push the boundaries to a new, debatably insane level is the incredibly bizarre new course under construction at Mission Hills in China.
Most simply described as a giant crazy golf experience, the course aims to bring the novel charm of crazy golf with its colourful, zany obstacles to life in the form of a full 18 hole course. With proposed hole themes including a floating green in a giant bowl of soup (complete with huge noodles and chopsticks!), one hole utilising the Great Wall of China as a hazard and one with a fairway straight through some Mayan Ruins, the Mission Hills course certainly sounds like one to keep an eye on!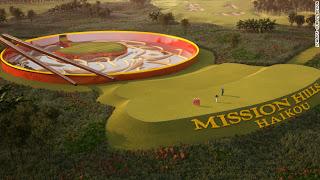 Mission Hills Golf "Noodles" Hole
Voice your opinion below, on Twitter @Golf4Beginners and friend on Facebook.