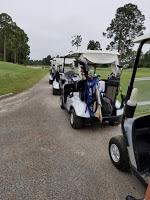 Scenario: You have been invited by your regular group to enter into a best ball golf competition. How do you ensure that you will be prepared and help your foursome to score low?
First, a basic description of a best-ball competition: a group (two or foursome) hit their own golf ball off of their respective tees (usually, men are at the whites, seniors and juniors are one tee forward and ladies hit from the reds).
The foursome then decides which ball represents their best chance of getting on the green, or into scoring position for their next shot (on a par-5 for example). The group then hits their next shot on the spot (or as close to) the area on which that tee shot landed (no cheating...if the ball is not on the fairway but close, you cannot improve your chances by placing the ball on the fairway). The team is basically looking to score birdies and eagles...at the finish of the round, the winning team has the lowest score under par.
So, now that you understand the basics, how can you score?
Best-ball golf is a thinking man's (and women's) game...a mental game.
Consider the abilities of four golfers in your group and determine who should play the safe tee shot, in order to help get you into proper position for your next shot.
A woman who can hit long and straight is an asset to the team as she will usually get to play from the forward tees and, in some cases, can stick the ball close to the green (yes, I am talking from experience).
Want to really make this competition really fun? Go as a TEAM! Dress in similar colors and get into team spirit! All shirts in orange, all hats in black....feeling like a team can really improve your foursome's resolve and enthusiasm.
Let the player who is draining the putts take the last shot (if needed) so that he or she can watch how the ball rolls.
Manage your expectations! Just because your team made three birdies in a row doesn't necessarily mean that you will be the low scoring team. Definitely high-five each other for the great score and then move on to the next hole.
Do you really want to win? Plan ahead. Look at the scorecard before you go, check the stimp meter and practice on both the driving range and putting green. Execute shots from 100 yards and in (chips, pitches and lob shots).
Share your golf tips on how to win a best-ball competition in the comments section of this golf blog and on Twitter @Golf4Beginners.