When @NikeGolf asked Tiger Woods about his approach to the #FedExCup final he said: "Same as always. I feel prepared to win."  Woods' opinion, coupled with @PGATour's acknowledgment of Tiger's "pole position" start  in Round One of the Tour Championship, bring a heavy-hitting start to the final leg of a race for trophy created by Tiffany and Co. and a $10 million dollar reward.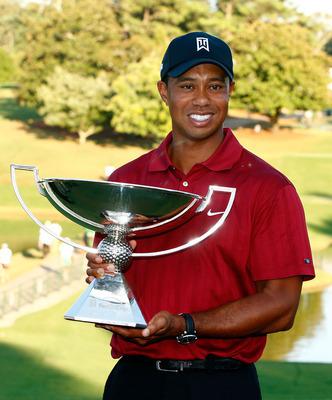 Tiger Woods-2009 FedEx Cup
Not only are Nike and the PGA Tour gearing up for a possible Tiger Woods end of season victory; stories on Twitter reveal cautiously optimistic viewpoints about Woods while interjecting the legitimate and very real Rory McIlroy threat into the equation as did @washingtonpost, "Tiger Woods tops "The Intimidator" - Rory McIlroy - for one day http://wapo.st/Q1CDlU"
Is Woods somewhat intimidated by McIlroy as Greg Norman recently conjectured and, if so, could this slight anxiety cause a blip in Tiger's game?
The bottom line is that McIlroy is a strong possibility to win the FedEx Cup in spite of the fact that Woods is considered a bettors favorite but, no matter who wins the Tour Championship or the trophy this weekend, the fans want to see mutual respect between the players and a solid four rounds of golf.
That being said, below are listed a few of the more interesting tweets on Twitter adding fuel for thought about the FedEx Cup and Tour Championship finales. Enjoy!
@SkySports Tiger Woods admits he has really enjoyed the opportunity to play alongside Rory McIlroy on a regular basis http://bit.ly/Sbckdt
@GolfChannel @DamonHackGC: Tiger Woods shows he's not intimidated by Rory McIlroy in Round 1 of TOUR Championship: http://bit.ly/TaxHyd
@GolfDigestMag Familiarity breeds mutual respect for Tiger and Rory. | http://golfdig.st/Ul6gkL
@SportsCenter Tiger Woods holds a share of lead for 27th time at the TOUR Championship. He's gone on to win 50% of the time. >> http://es.pn/QoRIhd
And, for a non-biased approach... @Golf4Beginners Tour Championship remains wide open: http://feedzil.la/UlisC3 
Let the fans remember that the field is wide open with many variables remaining during the next few days of golf which can affect the outcome (go Mickelson!) so let the games begin!
Voice your opinion on Twitter @Golf4Beginners and friend on Facebook.