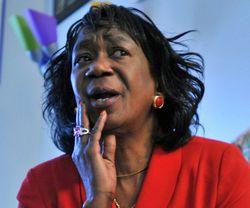 After Zeituni Onyango, the woman President Obama once called Auntie, died in a South Boston nursing home this month, her closest relatives gathered her belongings at her nearby apartment. There, framed photographs of her with the president covered the wall.

Weeping before a polished wood coffin at her wake this past Saturday, they described Ms. Onyango, the half sister of the president's father, as "the spirit of the Obama family" and talked about raising money to send her body back to Kenya. Mr. Obama helped pay funeral expenses and sent a condolence note, Ms. Onyango's family members said, but the president did not attend, as he was golfing.
I'm sure there'll be defenders who'll rationalize the decision but for me, it pretty much seals what I think of the man.
He cannot leave office soon enough.