With so many golf blogs coming out with lists of Father's Day golf gifts, Golf for Beginners has also compiled several items which dad will love to use.
1. Quick Spikes: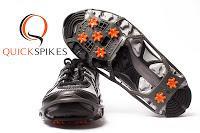 I love ingenious ideas that serve a purpose and improve the game of golf in some way. I first saw Quick Spikes at the Westchester County Golf Show this year and was enamored with the thought of not having to change into my golf shoes every time I visited the driving range, or if I was at the putting/chipping area and needed some extra grip. Although I would not use Quick Spikes for 18 holes as I found I had to occasionally adjust them, they were great as a casual solution.
2. SlingerGolf InsideMove: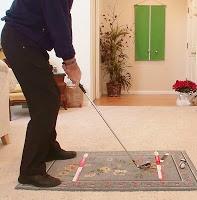 Perfecting two basic swing functions - correct swing plane and release of the golf club - can be a daunting task without an instructor to help guide the student. Although I just received the InsideMove golf training aid, I can see how, through simplicity of design, this easy-to-use tool can improve your swing path so that it becomes ingrained when you play a round.
I also received the Velcro Target so that Barry and I can practice our swing on the road (next stop, Mount Airy Casino.)
3. Mobitee GPS Golf Assistant - The Golf App that Settles the Score:
I use Mobitee when I am walking on the golf course and, aside from the (obvious) accuracy of the GPS, I find that it helps me to avoid bunkers and to find the front, middle and back of the green. The Father's Day promotion from Mobitee is in the form of a cute 13-year-old girl who "settles the score" with her dad during a round of golf.
The Mobitee video is original with a clear-cut message: even a technologically narrow-minded guy like Dad can learn something from his kids, in this case, his 13-year old daughter Emily. The commercial spot helps to humanize the Mobitee brand, communicates well with women and kids while proving that a golf app can be a cross-generational tool that is to be enjoyed by all.

**Mobitee Father's Day Twitter Giveaway: Tweet the hashtag #MobiteeDad to @Golf4Beginners with a funny golf story you shared with dad for YOUR dad to win a Mobitee GPS Golf App for his smart phone!** one app to give away...promotion good through Father's Day...winner will be notified via Twitter.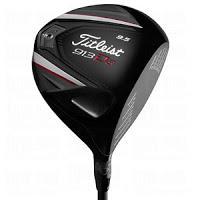 4. Have you walked through a sporting goods store only to see Dad drooling over the latest golf clubs? Here's your chance to show that you have listened to his by getting him one of the latest golf drivers (or wedge perhaps?) on the market. I'm not making any suggestions here...it's YOUR job to listen to your dad!
5. This is probably the most important gift you can give your dad ...SUNSCREEN! Your dad spends four to five hours out in the sun so, chances are, he will get a pretty dark tan (except of course, on his golf glove hand) and, chances are, he will never go out and buy it for himself. That being said, show dad how much you care, read these facts about skin cancer and include a bottle of SPF 50 on your list!
For more golf gift ideas, take a look through this list of putters and accessories to remember the dad in your life!
Voice your opinions on Twitter @Golf4Beginners and on Facebook.