Facebook friend John Bingham and I were texting about golf in his home town of Ayshire, Scotland. The idea of visiting this destination is fascinating and I hope to travel there one day but, for the present, what better way to learn about a place you want to go than through the eyes of a local? I therefore asked John to share his local knowledge right here on Golf for Beginners.
John's blog is below. Enjoy!
***************
Hi folks, I hope you enjoy my blog about golf in Ayrshire...my name is John Bingham, I have caddied on some of the finest links courses in Scotland and I consider myself very fortunate to have done so.
I caddied for Gary Player, Ricky Barnes when he was US Amateur Champion, at the British Seniors, Royal Troon, Turnberry Ailsa, Loch Lomond, Western Gailes, Glasgow Gailes, Old Prestwick and Dundonald Links, loved every minute of it.
My friend Stacy Solomon, after a few conversations, asked me to write a blog, so... Here we go!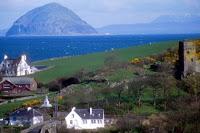 Ayrshire is a small county (state) on the west coast of Scotland; it's approximately seventy miles long by thirty miles wide.
There are forty-four golf courses in my wee county, some very famous links courses, some not so famous but...still great tests of golf, plenty of parkland courses and some that are a bit of both.
Eighteen holes, twelve holes and nine holes ...we have them all.
Where to start??
I suppose it would have to be with the two most famous golf courses, Royal Troon and Turnberry Ailsa, As I have said, I've caddied on both, and can positively say they are fantastic courses!
Old Prestwick is another great name, founded in 1851 - it hosted the first open in 1860. Other notable courses in Ayrshire are Irvine golf club and Kilmarnock Barassie, along with Glasgow and Western Gailes ...all have been open qualifying courses at one time.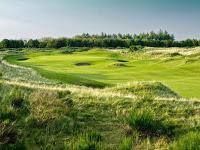 Dundonald Links is the youngest of our links courses. After a bit of redesign by Kyle Phillips, Dundonald opened in 2003 and has hosted a few top class competitions, more notably this years Scottish Ladies Open, where a lot of the worlds leading professional players attended.
This well-known links course is hosting next year's British Ladies Amateur tournament and is being heavily touted to host the 2017 men's Scottish Open. Links courses are, by tradition, known for tight fairways, small greens heavy rough and pot bunkers. Dundonald has wide fairways, big greens deep bunkers and areas of rough in which you wouldn't look for your children, never mind a Titleist Pro V!
Our golf courses will give all levels of player a test of ability... and that's without the weather. We have a wind that picks up and drops in a split second, you may even get all four seasons in an hour over here!!
I think that, with the history of a visit to Scotland, and particularly Ayshire, it all adds up to a great golfing experience.
Decent roads make journeys to all the golf courses fairly quick so travel is easy. Trains run from Ayr-Glasgow every half hour. Edinburgh and the East Coast are only just over an hour by car. Accommodation is plentiful and reasonably priced.
Ayrshire is not all about golf though - we have some beautiful scenery here. The island of Arran sits just off of our coastline and is a mini highlands with virtually the same landscape as up in the north of Scotland - it has seven golf courses, a whisky distillery (Arran Single Malt) and a brewery (Arran blonde or dark beer). Arran has a lot to offer!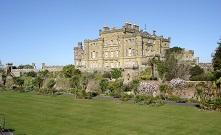 People of New York and the USA, come on over to Ayrshire - come and play golf, taste our food, drink some of our world famous scotch whisky and beers.
Look at our history...Culzean Castle has an apartment dedicated to general Eisenhower, who lived there for a while and there are over forty castles here, most of which you can visit.
And, if you come to Dundonald, just ask for 'Bingy'; it would be my pleasure to spend some time with you.
Hope you enjoyed this. All the best, John Bingham.
Have you ever played golf in Scotland or visited Ayrshire? Share your thoughts in the comment section of our blog or on Twitter @Golf4Beginners.
Photo: Ayrshire Scotland B&B Association, www.ayrshirescotland.com/