One segment of the girls' golf getaway package at Breezes Runaway Bay Resort is, naturally, to take a lesson and play a round (or more) at the SuperClubs Golf Club but once that is done, what are five adventurous ladies supposed to do? Why not interact with dolphins!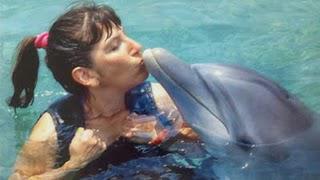 Receiving a kiss from Skye the dolphin
The morning began with a lovely breakfast buffet including the freshest of fruit and some of the finest Jamaican coffee (with warmed milk) at the Beach Buffet. The girls gathered in the lobby and were escorted to Dolphin Cove at Treasure Reef, purported to be Jamaica's number one attraction, to get up-close and very personal with dolphins, sting-rays and even stand over shark-infested waters!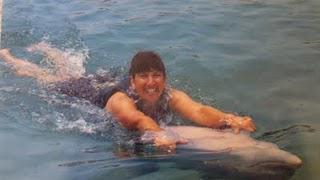 Swimming with dolphins
We opted for the "Encounter Swim" program and had enough time before meeting the dolphin named "Skye" to first watch an entertaining shark show where the sharks were "tame" enough to allow their trainers to rub their undersides.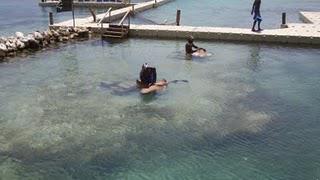 Shark Show at Dolphin Cove
The girls even had the opportunity to hold a very heavy, slithery stingray then snorkel alongside of these mammals and other assorted fish. Stingrays are carnivorous yet non-aggressive shellfish although they do have poisonous barbs, only used in self-defense. We snorkeled alongside these and other fish. My first snorkel experience was very exciting and memorable.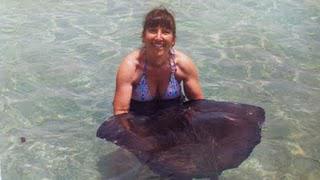 Holding a stingray, barb clipped
A tour of Ocho Rios was next on the agenda. I found myself slowly slipping into a state of happy "ya mon" and everything was beginning to look IRIE.
My first experience in Jamaica was in Ocho Rios: I fell down a manhole, legs dangling, while my husband looked around to see where I had disappeared! Many of the local shop ladies came to help, clean me up and "mother" me and from that time forward, I have always felt that there were no kinder, more helpful people than Jamaicans.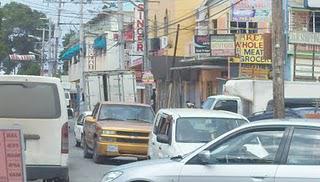 Ocho Rios
Ocho Rios proudly displayed a bustling thoroughfare. Jamaica's main cruise ship destination of was named by the Spanish Las Chorreras, or The Bay of Waterfalls while the Arawak called Ocho Rios, Maguana.
The drive up Shaw Park Road led us to the newly opened Oceans on the Ridge Restaurant and Jerk Bar where views of the cruise ship port and mainland go on for miles while towering behind the bar stands Mick Jagger's vacation hideout.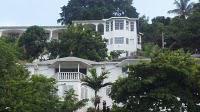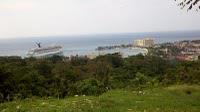 Mick Jagger's supposed hideaway in Ocho Rios and a view from just below his estate of Ocho Rios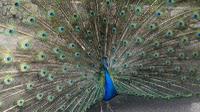 Continue along Shaw Park Estate and you will come upon Mahoe Falls Coyaba Gardens. Coyaba is the Arawak word for heaven and, with an assortment or rare and tropical plantings, a waterfall climb and George the Peacock outstretching his plumes for guests, this beautiful retreat will take your breath away.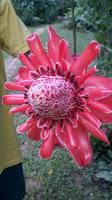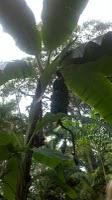 Beautiful floral specimens and banana trees found at Coyaba Gardens
The day was filled with action, fun and and much relaxation, so much so that I knew that I had finally shifted into "vacation-mode".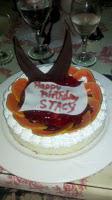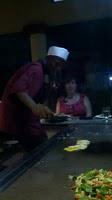 <==We'll be enjoying Asian Fusian cuisine in front of a hibachi tonight at Munasan, one of Breezes Runaway Bay's two reservation-required restaurants.
==>Last night, we celebrated my birthday at the Resort's Italian Restaurant Martino's (complete with antipasti bar, delicious cheesecake and a heartwarming rendition of the Happy Birthday song.)
Tomorrow I head for home back aboard Air Jamaica but I won't be thinking of that tonight for we are celebrating reggae-style!
See me riding the dolphin Skye on Facebook feel free to post your opinion on Twitter @Golf4Beginners and on the @Breezes_Resorts Twitter page!
Posted via email from stacysolomon's posterous