A ten-hour road trip from New York to New Brunswick, Canada to play golf and experience differences in culture had the makings of a fun adventure but is this foreign country
really
foreign?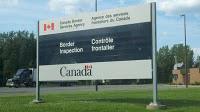 Driving through Maine past border crossing into
Atlantic Canada
 was exciting as I have never experienced leaving the U.S.A. by automobile. The scenery is beautiful yet monotonous on both sides of the border and there aren't many exits along the way. Even my GPS periodically lost its signal until it closed in on the City of Fredericton.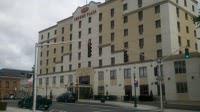 Crowne Plaza Lord Beaverbrook Hotel
I felt relieved to finally arrive at our destination, the
Crowne Plaza Lord Beaverbrook
, a business hotel with comfortable amenities located near legislative buildings, museums and lots of outdoor dining; free concerts are also provided during the season. The Changing of the Guard, a twice-daily Canadian event, occurs right down the street and I was disappointed that my schedule did not permit me time to experience it.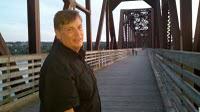 The Crowne Plaza also abuts the Saint John River and offers access to about sixteen miles of biking
(mountain bikes available for rental)
and hiking trails. Walking across the Old Train bridge, for example, is a great photo opportunity and gave us the chance to meet and greet other friendly strollers.
Be aware that Fredericton is
not
a late-night city. Although you can still get a coffee at Tim Hortons (the equivalent of Dunkin Donuts) or a Moosehead Light at the local Snooty Fox Pub, the streets are pretty much deserted.
Our first day of golf in Canada began with a hearty breakfast on the patio of the Terrace Room of the Crowne Plaza and then we drove about ten minutes to one of Fredericton, New Brunswick's signature golf courses.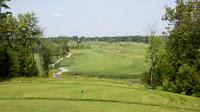 Kingswood Golf Course
, designed by Graham Cooke has a slew of accolades to its credit including a Top-20 in 2004 by Travel and Leisure Magazine, Golf Digest's best new course in 2003, top-100 pick in 2005 and was selected to host the 2010 University and College Championship.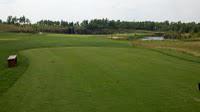 Kingswood offers golfers a 9-hole executive course and an 18-hole Signature Course (which we played). It is scenic, well-manicured and offers golfers a challenging round. The interior of the clubhouse was created with wood from trees taken from the course giving it a log cabin feel and a Sam Snead's restaurant is currently under construction complete with memorabilia.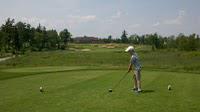 Our foursome included Jeffrey Hutt from Golf New Brunswick, Barry, myself and the eleven-year-old New Brunswick Junior golf champion, Graham Gourley, who also happens to be the son of Kingswood Golf Course Teaching Pro Bari Gourley.
Being beaten at golf by an eleven-year-old who weighs about eighty pounds soaking wet can be humbling but it also taught me a few things about how I can improve my own game,
for example
:
1. You
can
shoot an 84 without driving the golf ball more than 150 yards.
2. Keep shots in the short grass and, if necessary, get the golf ball back into the short grass whenever possible.
3. Lay-up to your "go-to" short game shot. Graham laid up all fairway shots to about 100 yards. Pick your favorite distance, the one you are confident with, and strike with confidence.
4. Try to two-putt every green: get the ball within the "circle of trust" then get it in the hole.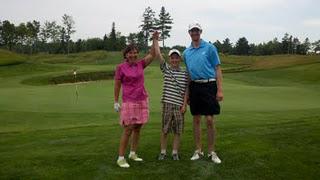 Stacy Solomon, NB Junior Champion Graham Gourley with Jeffrey Hutt of GolfNB.com

Dinner at the cozy yet hip
Brewbakers
restaurant located along King Street after the round provided me with my first taste of fresh Canadian seafood, a satisfying fettucine dish with shrimp and scallops.
A good night's sleep
(yes, the Sleep Advantage Program at Crowne Plaza really IS comfortable)
and we're off to Fox Creek Golf Course in Dieppe, another challenging layout by Graham Cooke.
To visit
New Brunswick
and experience the natural wonders for yourself just hit a good, long drive! Watch for part two of my
Golf Canada
Adventure in the Maritimes on
Golf for Beginners
. You can also view a few additional pictures on our
Facebook
page.
Thanks for the hospitality:
Crowne Plaza Lord Beaverbrook Hotel, Fredericton, Canada
Kevin Johnston, Manager Kingswood Golf Course
Jeffrey Hutt, Golf New Brunswick
Bari Gourley, Teaching Professional, Kingwood Golf Course
And to all of the people of Canada that we encountered during our stay who were very friendly and welcoming!
Follow Golf 4 Beginners on Twitter!