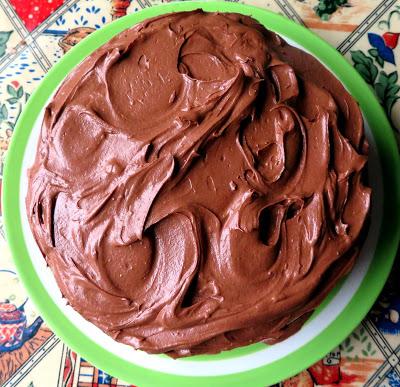 This recipe I am sharing with you today is for a wonderfully moist and delicious golden layer cake filled and frosted with a lush and rich chocolate frosting.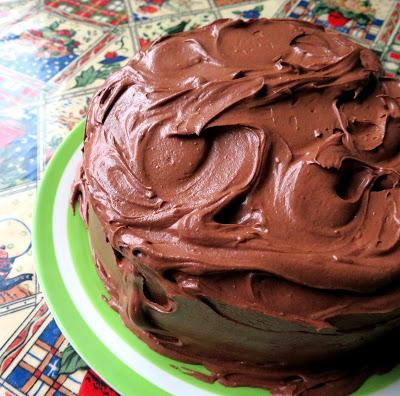 When I worked at the Manor this was the Birthday cake that I had to make for the Mister every year on his Birthday.  It was his favorite cake, the only difference being that I had to use an American golden yellow cake mix to bake it for them, rather than from scratch as that was what they were used to.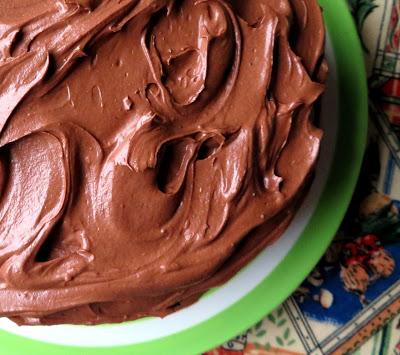 I will tell you right now, that cake isn't a touch on how good this one is.  This is many, MANY times better.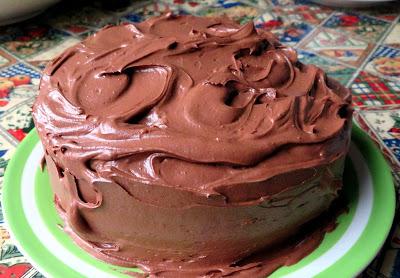 It is a recipe I adapted from a cookery book by America's Test Kitchen, entitled "The Complete Cooking for Two Cookbook."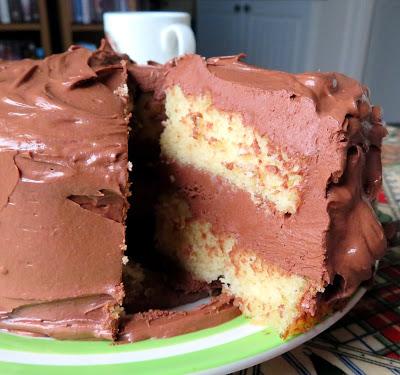 Yes, you read that right. This recipe is intended for only two people . . .  I think they would have to be two really greedy people however because I think you could easily get 6 delicious slices from it.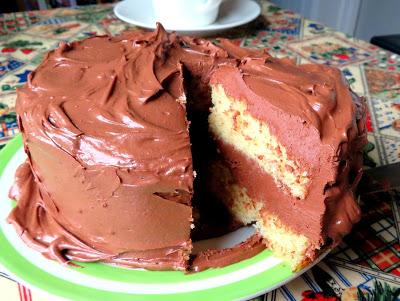 The cake is moist and so delicious.  Not too sweet and a perfect golden color.  It uses cake flour, which is not something we can get over here.  I made my own cake flour.  To do that I weighed out the flour, removed a tablespoon and then replaced the tablespoon I removed with 1 tablespoon of cornflour (corn starch). It worked very well.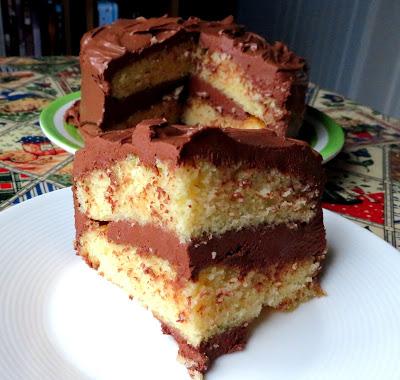 Its a bit of work in that you have to beat one of the egg whites separately with some of the sugar until stiff and glossy.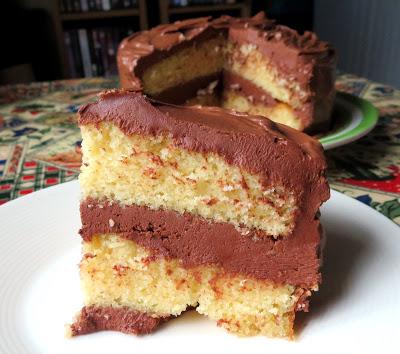 All of the dry ingredients and the remaining sugar get whisked together in a bowl.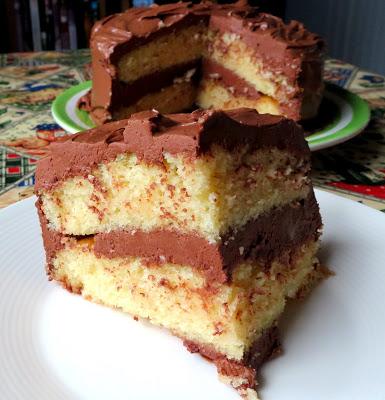 Melted butter, oil, egg yolks, buttermilk, and vanilla are whisked together and then are beaten into the dry ingredients and then the egg white is folded into that mixture.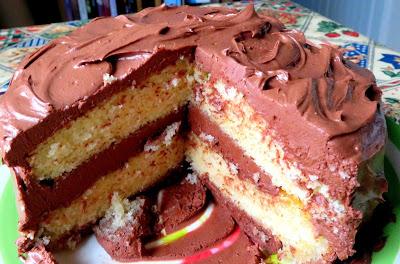 You will need two six inch round layer cake tins.  When I had divided the batter between the tins and baked the cake (which doesn't take very long) I was a bit surprised as I thought the layers would be quite a bit thicker.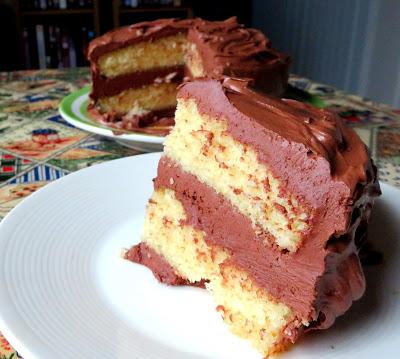 But trust me when I say that when you layer them together with that rich frosting they are just thick enough.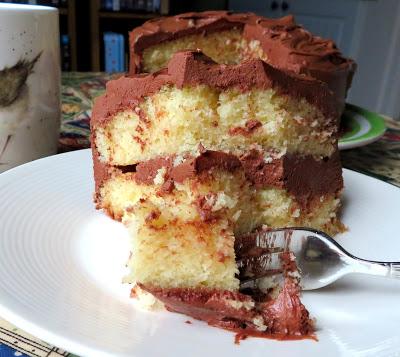 That frosting  . . .  oh my, my  . . . it is lush and very rich, and beautifully chocolaty and creamy!  Almost like a mousse!
It is very rich, which is why  I think that you would get six slices of cake from this instead of four. If you could eat a quarter of this cake in on sitting, I would be amazed!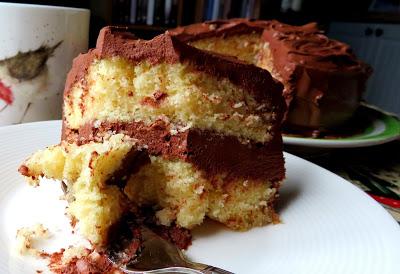 This was just perfect.  Not too big. Not too small.  Just right.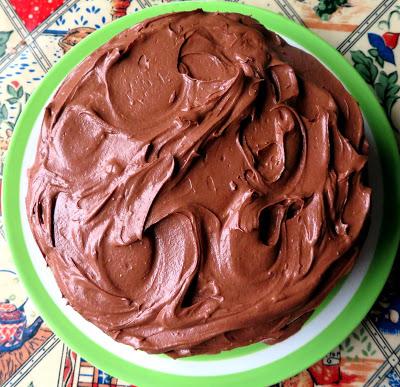 Golden Layer Cake with Chocolate Frosting
Yield:
2
Author:
Marie Rayner
A beautifully moist yellow layer cake with a lush chocolate frosting, perfectly sized for two people. You will need two round six-inch layer cake tins.  Alternately you could bake in a small loaf tin, but timings will need to be revised slightly
ingredients:
For the cake:
2 large free range egg yolks, plus one large white, room temperature
100g caster sugar (1/2 cup)
105g cake flour (3/4 cup)
1/2 tsp baking powder
1/8 tsp baking powder
1/4 tsp salt
80ml buttermilk (1/3 cup)
3 TBS unsalted butter, melted and cooled
1 TBS vegetable oil
3/4 tsp vanilla
For the frosting:
170g milk or semi-sweet chocolate chips (6 ounces)
200g unsalted butter softened (14 TBS)
86g icing sugar (2/3 cup)
56g cocoa powder (not drink mix) (1/2 cup), sifted
175g golden syrup (1/2 cup, corn syrup)
1 tsp vanilla
instructions:
How to cook Golden Layer Cake with Chocolate Frosting
Preheat the oven to 180*C/350*F/ gas mark 4.  Butter two six inch round cake tins and line the bottoms with baking paper. Set aside.
Beat the egg white with an electric mixer until it gets foamy.  Continue to beat until it softly mounds, then slowly beat in 2 TBS of the sugar until glossy stiff peaks form. Set aside.
Whisk  the egg yolks together with the buttermilk, melted butter, oil and vanilla until smooth.
Sift the flour, baking powder, soda and salt together in a bowl. Stir in the remaining sugar.  Stir in the egg yolk mixture and mix until almost combined.  Stir in 1/3 of the egg white, then carefully fold in the remaining egg white until there are no longer any white streaks.  Divide between each baking tin.  Tap each tin gently on the counter once to release any air bubbles.
Bake in the preheated oven for 16 to 18 minutes.  A toothpick inserted in the center should come out  clean with only a few moist crumbs.
Let sit in the tins for 10 minutes before tipping out onto a wire rack to cool completely.  Carefully peel off the paper and discard.  Cool completely before frosting.
To make the frosting, melt the chocolate chips in a bowl in the microwave at 30 second intervals on high, stirring each time, until melted and smooth.  Set aside to cool somewhat.
Whip the butter, sugar, sifted cocoa powder, and salt together until smooth. Beat in the corn syrup and vanilla, then beat in the melted chocolate chips until smooth and creamy.  
Put a small dollop of icing in the middle of a small plate.  Top with one layer of the cake.  Spread with about 1/3 of the frosting. Top with the other cake layer and Spread 1/3 of the frosting on top.  Spread the remaining frosting evenly around the edges.
Cut into wedges to serve.
Did you make this recipe?
Tag @marierayner5530 on instagram and hashtag it #EnglishKitchenCreated using
The Recipes Generator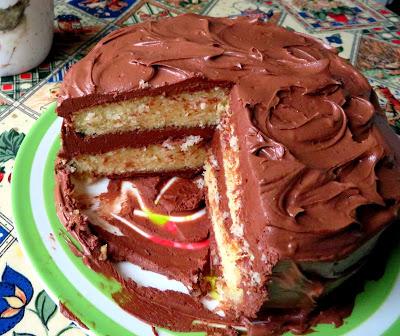 Now that I have made one cake, small sized I think I can play with the recipe a bit and adapt it to other flavours, etc.  Watch this space!