Have you read its first part, how we accidentally start our trek to KUTLA, if not then here it is, Kutla Part 1. Without wasting much time, let's get started.............
29 Dec 2018, Sunday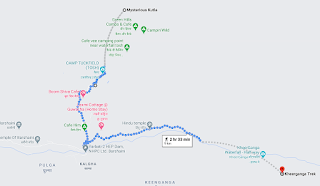 So, we started our journey towards a place which we never heard of and never thought about it when we started. So for kutla we have to cross this beautiful village TOSH, the colorful houses, amazing built structures, a beautiful temple, one big dam when you move downwards, lot of Cafes where people are enjoying their food, tea, etc. We didn't spend our time here, we were just walking towards our destination while clicking some beautiful pictures. At this time, clouds come in the sky because of which the sky+mountains giving us different views and hope to have snowfall. So keep on moving then finally we come across this river which is coming from mountains and going deep down, here were some cafe serving Maggi, tea and food so to enjoy the view and food we made our stop here and ate something.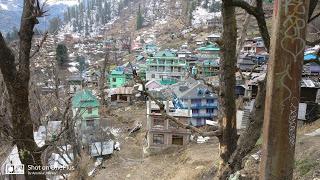 Going towards kutla was a good trekking experience for us, it's an easy trek of not more than 5 Km, you come across mountains, rocks, sloppy regions, slippery regions, icy regions, everything in small packages I would say. So we started our trek again after filling our stomach (pet pooja). After every 20 minutes walking we had to ask someone 'How far is Kutla' and the standard reply of all-mountain local people is 'Just 10 more minutes. And only we people know what is the meaning of that. Then finally we saw one wooden house,  the first house on that mountain then we got somewhat relief that this might be our destination. and we went towards it as we went nearby we started seeing lots of tents and wooden houses at the back of this house. But we were so tired we went to the owner of the house and asked him about the room. Yes, he had one room empty but he denied giving it to us as we were four and the room was one. But we didn't have any problem as we had to save money and the bed was already that much big that we can easily adjust. So our next step we had to request uncle to give us that room. Then finally uncle agreed and we gave him around Rs 500 for this room only. Now next task we sat for an hour and decided to go for a walk in upwards direction before sunset because the next day we had to come down.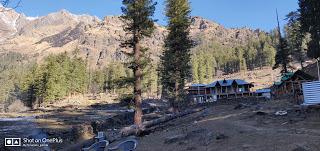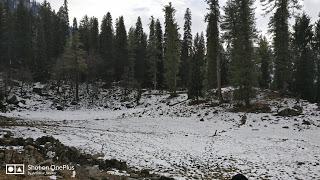 So eating little snacks and we started our trek in upwards direction, and you will find lots of tents and doms, little houses to stay with different facilities. Then there was the big ground where last night snow was there and people were playing with that. You can see that in this picture. And then without wasting much time we move forward and found some amazing structures maybe there were some cafes which are closed now. But we sat there and enjoy our biscuits, chips etc. Then we click some pictures over there, and we also tried to go on it but the structure was not at all strong enough.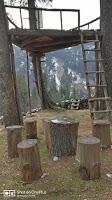 And believe me, there was no one with us when we were trekking towards the 
Buddhaban Glacier.
 When we asked some local we got the same answer Just 10 minutes away, keep walking. I'm running out of words attempting to portray the scenes that we experienced. From open valleys where ponies touched to snow-covered mountains lolling in the delicate fall sun, everything was in a state of harmony with one another. The shades of harvest time were mixing consummately with the crazy measure of photographs we were clicking. We were accompanied by one dog who was the only one was walking alongside us (toh ek pic to uski bhi banti hai boss). Lot of pictures to share but here cannot upload them all due to some limitations. Then we come across a location some sort of temple was there, it looks a little scary to us and even the entire path was looking scary to us as sunset was nearby and we came very far from our tent house. So we decide to walk for a few more metres and then we would get back to our place.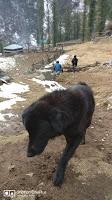 Finally, after walking around 4-5km we reached one place where there was big ground with snow everywhere and river sound was coming and a beautiful view of the mountain with sunset in front of us. That was mesmerizing, we were a little disappointed earlier as we didn't know how to reach or see the Buddhaban Glacier but after looking at that beautiful mountain, I guess we reached the right place. Now we turned back and start moving towards our place as the sun already set and there were no lights in the path, our phones are the only source. Again walking for hours and we reached our place and it was already night 8 'o'clock. Now, first of all, there was no facility to charge our phones and secondly, there were no signals. So now we cannot post anything, we were left only with one thing friends. We asked our house owner to do the bonfire so he did and then we sat around it with two or three strangers with our speakers, ate our dinner around this bonfire. No lights, no phones, only songs and bonfire under the clear sky and starry night. Damn the stars were looking so amazing. After spending some hours, we all went to sleep as time was increasing, the night was getting chilly and chilly and we started shivering. Then we did some backchodi n all and slept. 
30 Dec 2018, Monday
When we woke up next day, we got to know that there was a big snowfall at night and guess what we missed it. No worries as our paths will become more slippery damn so we freshened up and did our breakfast and started preparing to come down and we had to board our bus from Bhuntar bus stand so we need to come to Tosh first by walking and then we need taxi to come to manikaran then we need bus from manikaran to bhuntar which was going to take the full day.
The return leg of the trek was much more testing as the track was steep and it required some investment to explore our way back from Kutla to Tosh. Tosh to Barshaini was a simple walk and we soared downhill in 1 hr while stopping and clicking photographs. Then we needed taxi from Barshaini to Manikaran, which was a difficult task because barshaini was packed up because people were coming to celebrate New year. It was our luck we found one taxi and he was going in that direction, so we board it and settled him down at Rs 400. Damn, he was a crazy driver,  I sat in the front seat and he scared the hell out of me, he was only playing electronic music sounds like ghost music. So I asked him why didn't he play something else. He answered my question after a while, after removing his speks and looking at me, I got the look of his dark red eyes and then he told us how can someone ride without getting high in these hilly areas. And damn i was totally scared now. But thanks to him we reached our destination safely. The next task we needed to get the govt bus from Manakaran to bhuntar. So hopefully the bus was ready and about to leave and we need to eat something. So three of us requested the driver to stop for some time and one guy was getting the burgers to eat. Finally, our bus started and again the driver's driving gave us an adrenaline rush, we sat at the last seat so at every break we were like jumping on the seat. Damn finally we reached safely and it was hell exciting. Now we have still 2hrs left when our bus would get started at 9 PM so we roam around the market bhuntar this time its the different market and found one restaurant and ate our dinner, charged our phones then board the bus to our destination.
31 Dec 2018, Tuesday
So we were in midway, midnight, thoughts were coming into our minds.
New BeginningsNew HopesNew IdeasNew ResolutionsAnd the OLD USIN A HAPPY NEW YEAR !!!!!!!