You can't predict your journey even if it is so planned that's what happened with us when we start our trip to kheerganga. In this blog, I will tell you about our entire budget, accommodation, transport everything. Before starting just remember that we are just another bunch of friends who needs budget-friendly trips and then this is how we planned. This is not just another luxurious trip of yours but yes it is very much enjoyable, got so much experience from it and a journey to remember.
So, after all the hustle and bustle that whose going with us, four of us finally confirmed that we were going to this trip. Then we just booked a private bus to Bhuntar cost around Rs 1400 per person just three days before the trip starts i.e., on 25th Dec 2018. What should I write about our preparation because you should be completely agreed with me that there will be no preparation for the boys. We just packed our bags and ready to leave.
28 Dec 2018, FridayWe reached the Delhi bus stand at 9 PM Friday after finished our daily office work then we ate chole bhature with the nearby shops outside the bus stands, yeah, I know it's not healthy but sometimes you just want to eat because you like it. And we are all set to go. We grab our seats then the bus left the bus stand at 10 PM sharp.
29 Dec 2018, SaturdayThe expected time to reach the Bhuntar bus stand is around 9 AM in the morning, and we were all excited. Then things turn around from the morning and we got to know at 9 AM that we are still far from our destination by 4hrs, then we all people of the bus requested the bus driver to stop at least for half an hour as we all were damn tired and we needed to get freshen up. There we had light breakfast, it costs us around 200 for four people. Then we are all set to dive into the situation again. And yes finally we reached Bhuntar at 2 PM. As soon as we left the bus, taxi drivers came to take us to kheerganga directly. But we prefered to go to Bus stand in bhuntar as planned, its just 200m away where our bus left us, You can ask the local guys about the bus stand. Only two-three buses stand at the same time, bus stand was small. So the first thing we did we confirm our local bus to go to the kheerganga. Okay BANG, we got to know bus will leave at 4 and it will drop us at Manikaran then we have to see ourselves. Okay, no worries we agreed to that, now we have 2hrs. So we visited this small beautiful market connected with a bus stand for 15 minutes and turned into one local food shop. There we had thukpa (kind of soup with noodles), I don't know about others but I kinda like it. Then we have momos and noodles, and it cost us around 200 for four-person. Now we still have some time, so we went to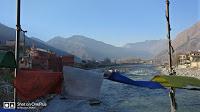 opposite side market and at the end of the market we got one Rishikesh type jhula, and it exactly giving us the same view as Rishikesh, the only difference is that there was no noise. We clicked some pictures and we returned to market again, there we have some Jalebis and took some Boondi (Tuesday Hanuman ji wali if you remember) because the halwai was making it at that time and cost us around Rs100. Then finally we board our local bus to manikaran from bhuntar and cost us around Rs 60 per person. And if you ever travel in local buses, then you already know that local buses are always fun, you get to see different types of people around you, travelers, students, local people with pahadi music in the house bro, the driver was in full mood and everybody was enjoying and chilling even after there was no place to stand (haha, you thought we took the local bus and we easily got the seat, you have to be clever for that, hahaha). We were still confused that how to reach kheerganga because our bus still stuck at kasol bus stand, because of the Near Year nearby there was so much public and buses from Delhi, looks like all Delhi people come here to celebrate. So finally we reached manikaran at 7 PM as it was the last stop and it's the winter's night so there was all dark. Welcome to Manikaran.


So now our next task will be to find a place to stay because this was not a part of trip to stay at manikaran and that add some extra cost to our trip. So what we did, we explore one-two random hotels and tried to find a single room so that we all can stay together. Then we went to the market side which means you have to go to the backside of Manikaran Gurudwara, you will find a market over there and if you check this image on the right side, this is the track path where you will find everything in manikaran. So when the market ends, there was one guest house and one strict aunty is the owner. So I went to the aunty and it was around 8PM and told her everything that how we stuck here then she gave us one room with a very big double bed so we all 4 can easily fit into it. And now let me tell you the real thing, the room cost us Rs 500 Only for one night. Dammnnn So nice. Then we settle down for some time then visit the market area which was almost closed so we bought some chips n all and did our dinner at dhaba which was just under our guest house and which cost us around Rs 300 for four people. We spent the entire night there, played cards, interesting bakchodi....etc etc. 
29 Dec 2018, Sunday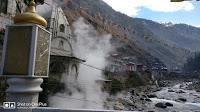 Next morning we went to the HOT WATER BATH, which was just two houses away from our guest house, okay let me give you one clearance here. There is two hot water bath in manikaran, one is in Gurudwara and the second one is near to Shree ram temple which is opened for daily bath and for locals, so we went here and believe me it was just an amazing feeling. It's just awesome similarly like kheerganga, so we already did here. About Manikaran, it's a very amazing place, quite spiritual, beautiful Gurudwara and then shiv temple beside it both have hot water tanks and amazing view. Then beautiful ram temple, and it just under the big mountain so that's the picturesque view. So next we did our breakfast at the same dhaba (paranthas wo bhi aloo ke bhai). Then bought some extra socks just in case we need it. Talk to some locals about how to go to kheerganga. Finally, we reached the Taxi stand where we have to take the Taxi cost us around Rs 400 to take us halfway as snowfall happened at night so roads were blocked.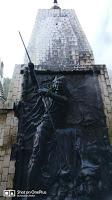 So Taxi left us halfway so we started our trek from that point we got the shortcut so that so we would not come across the snow, so now we are walking and clicking some pictures. Then we got one more group of 7 people and we are 10 walking towards our destination which was very far, then suddenly we found one more big tax we hired it for Rs 1000 for all 10 people. He left us at the starting point where we can start our trek towards kheerganga. And this starting point is called Barshaini. So now we are at the point. and it was around 1PM, I guess, so now we settled down at one local shop and ordered some tea and biscuits, His Tea just turned away our tiredness. The best tea I had in that time with some discussion that what should we do next.
By the way that was the view when we reach Barshaini, could not stop ourselves to take so many pictures of these beautiful and stunning snow-capped mountains.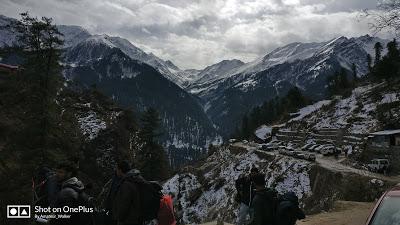 Snowfall at that time was so heavy on the mountains where we have to go and locals said there were so many people already trapped, and we didn't even get the tents to stay there, and even you had to clear the snow on the way then only you can trek properly. So after having a discussion with locals we decided not to go to kheerganga. And then some traveler who was passing by, tell us about the KUTLA and its way. 
To be Continued.............