There is a rush to Alaska. In 1898 the stampede was for gold. Today visitors are heading to the 49th state seeking the ultimate wilderness experiences in a land filled with superlatives. Alaska is the largest and western-most state. It has the longest days, the biggest fish, the longest coastline, and the most extensive wilderness (53 percent). The challenge is how to balance over two million visitors a year with conservation ethics, ecotourism, and sustainability practices to protect this special wilderness home. Adventure Green Alaska's (AGA) ecotourism opportunities are doing just that.
I checked out some of the AGA-certified businesses dedicated to promoting specific standards of economic, environmental, social, and cultural sustainability.
Denali Education Center (DEC)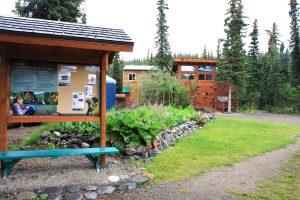 Charles Sheldon Community Center hosts programs throughout the year.
Campus
DEC campus, open mid-May to mid-September, offers a variety of day and multi-day programs for all ages. Pre-school programs  and the Road Scholar program (formerly Elderhostel) are very popular. This secluded ten-acre campus on the Nenana River has 12 guest cabins, a dining hall, the Charles Sheldon Community Center, and a solar water-heating system. Future plans include a welcome center, amphitheater, and a youth program area. DEC and Denali National Park and Preserve are also engaging the local community with the Zero Landfill Initiative.
Jodi and I walked past resident cabins with welcoming flower baskets and followed the trail to the river. She pointed out an owl's nest and a bumper crop of blueberries along the way. A moose with two calves frequented the area in the spring. I was disappointed to have missed them.
On the trail I met a Road Scholar participant who asked where the trail went. I pointed her toward the river and asked why she'd come to DEC. "This is my 18th Road Scholar adventure. I've wanted to come to Alaska for a long time and had friends who have done the program here and loved it. I want to do the active stuff while I still can. I'm only 68. I'll take a cruise when I get old." No matter what your age, DEC offers eco-friendly experiences that build lasting memories and connections to the beauty of Denali.
Kenai Fjords Wilderness Lodge (Fox Island) and Kenai Fjords Tours
I met with Dee Buchanan, Director of Marketing for CIRI Alaska Tourism, to learn about their properties, Kenai Fjords Tours and the Kenai Fjords Wilderness Lodge, currently certified by AGA. She said, "Sustainability and ecotourism are vitally important in the tourism industry today. Our businesses pay attention to the smallest details and when the environment wins we all win."
I asked her for an example. "At the Kenai Fjords Wilderness Lodge on Fox Island, we deal with a remote location where shipping items, even food, is a challenge. We looked at our menu and switched out corn on the cob for another vegetable, so cobs don't have to be transported off the island. Less waste is good. Our operations as energy efficient as possible. We installed new solar panels and maintain the quiet of the island environment by running solar-powered generators one hour in the morning and one hour in the evening. We are mindful of what is good for the land and animals and try always to be good stewards."
I asked where their ideas for Fox Island came from. She smiled. "We researched the experiences of artist, explorer, and pioneer Rockwell Kent, who lived on the island with his son from August 1918 to March 1919. (Wilderness: A Quiet Journey of Adventure in Alaska) We hope visitors will connect with the land and seascapes, unplug and find renewal in this special place. Someone once told me, be true to the land; be true to the story of the land. That's what we strive to do."
Kenai Fjords Tours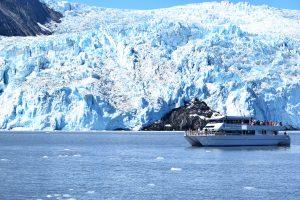 We stopped at the beautiful Aialik glacier and were able to witness the glacier calving into the sea.
Youngsters aboard completed the Kenai Fjords Junior Ranger program and received a ranger badge and certificate. Dinner at Fox Island included a brief history talk by a National Park Service ranger. Recycling efforts included reusable boarding passes and all products used on board.
Alaska Wildland Adventures (AWA)
Each person I met at AWA was enthusiastic and knowledgeable, not only about his or her job, but about the company's mission. They love what they do! Everyone is excited and serious about ecotourism: protecting remote wild areas, treading lightly, and setting limits on human use. This vision and commitment is top down and bottom up. Kirk Hoessle, the Chief Exploration Officer, as the staff calls him, interviews employees in depth, making sure it's a great match not only for the company, but for the individual as well. AWA evaluates all operations and minimizes its impact on the environment through their "Greenworks Program."
Rafting to the Backcountry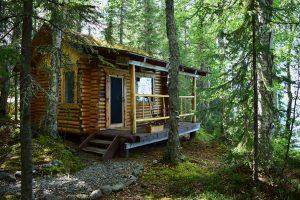 Kenai Backcountry Lodge cabins are located on the beautiful, glacier-carved Skilak Lake.
The lodge accommodates 12-18 guests a night. Keeping numbers small minimizes the impact on the land, maximizing each guest's connection to the wilderness.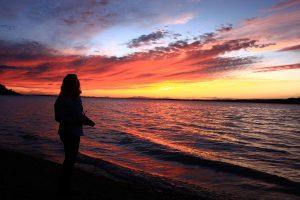 Alaska Wildland Adventures guest enjoys a beautiful sunset at Skilak Lake.

Ecotourism: A Good Idea
Sustainable or ecotourism is one of the most progressive, responsible, and growing movements in the travel and tourism industry. A research report issued by Sustainable Travel International in May 2016 revealed sustainable practices are driving destination choices for a majority of travelers. According to their press release, "a large majority say they believe sustainable tourism means respecting and enhancing local community; helping to conserve heritage, nature, and wildlife; minimizing waste and all types of pollution as a result of their travel."
Adventure Green Alaska works with businesses to support ecotourism. If you are planning a trip to Alaska and looking for tourism businesses that care for the environment, are sensitive to Alaska's Native cultures, and are good community citizens, go to http://www.adventuregreenalaska.org and start planning your trip tod